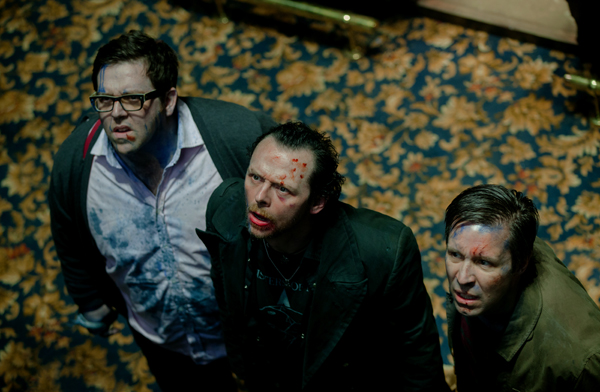 Hey, Toronto: Get ready for Barmageddon and total annihilation as Dork Shelf and eOne Films want to send ten lucky winners to an extra special screening and the Toronto premiere of the long awaited final film in director Edgar Wright's Cornetto Trilogy, THE WORLD'S END on Wednesday, August 7th.
The third instalment of director Edgar Wright's trilogy of comedies starring Simon Pegg and Nick Frost, following the successes SHAUN OF THE DEAD (2004) and HOT FUZZ (2007). In THE WORLD'S END, 20 years after attempting an epic pub crawl, five childhood friends reunite when one of them becomes hellbent on trying the drinking marathon again. They are convinced to stage an encore by Gary King (Simon Pegg), a 40-year-old man trapped at the cigarette end of his teens, who drags his reluctant pals to their hometown and once again attempts to reach the fabled pub – The World's End. As they attempt to reconcile the past and present, they realize the real struggle is for the future, not just theirs but humankind's. Reaching The World's End is the least of their worries.
Screening might be attended by a special guest. Maybe more than one special guest. We can not confirm nor deny the appearance of special guests. Those who confirm or deny the existence of special guests may themselves be special guests.
The World's End opens in theatres everywhere on Friday, August 23rd, but here's how you can be the first of your mates to see it! Simply email contest@dorkshelf.com with THE WORLD'S END in the subject line. Please only one entry per household. Multiple entries will be deleted. For additional chances to win, simply like the contest announcement on our Facebook page and/or re-Tweet the announcement from our Twitter! Deadline for entries is 11:59pm on Sunday, August 4th.
Good luck, good health, and drink responsibly. And remember to stay tuned to Dork Shelf for all the latest news, reviews, interviews, features, and more great contests!
And do please enjoy this lovely video sent to us from the Newton Haven Board of Tourism.
Advertisement
---
---
Advertisement
---
FROM AROUND THE WEB
Advertisement