Father's Day is now upon us and while we'll spend this day honouring some of the best dad's alive, we must remember the work put in by those who never seem to get a day off. People like John McClane, one of the best dads in the world despite always being in the wrong place at the wrong time.
To celebrate our dearest dads and to also herald the release of A GOOD DAY TO DIE HARD on DVD and Blu-Ray TODAY, we've teamed up with 20th Century Fox Home Entertainment to give away a copy of John McClane's latest adventure on Blu-Ray.
Bruce Willis is back in action — mind-blowing, heart-stopping, rip-roaring action — as John McClane, the heroic New York cop with a knack for being in the wrong place at the right time. John's latest predicament takes him all the way to Russia to track down his estranged son, Jack (Jai Courtney), who has been imprisoned in Moscow.  But the mission takes a deadly turn as father and son must join forces to thwart a nuclear weapons heist that could trigger World War III!
Twenty-five years after the classic thriller Die Hard was released, A GOOD DAY TO DIE HARD takes the action to a whole new level with the 2-disc Blu-Ray Extended Edition featuring over two hours of intense extras.  Between the Anatomy of a Car Chase, an hour long behind-the-scenes documentary that looks at the making of the movie, commentary with the Director and deleted scenes, the Blu-Ray proves that two McClanes are better than one.
A GOOD DAY TO DIE HARD 2-Disc BD/Ultraviolet/DVD & DC
·        Disc 1: Blu-ray
o       Extended Cut of the Film
o       Deleted Scenes
§         Jack Scopes Out Courthouse
§         Collins Gets Approval to Move
§         John McClane Original Introduction
§         Russian Girls on Plane
§         Safe House Intrusion
§         Gun Store
§         Fight with Anton
o       Making it Hard to Die
§         Introduction
§         Stunts
§         Helicopters and Aerial
§         Special Effects
§         Motion Base
§         Armoury
§         Russia and Budapest
§         The Look of the Movie
§         Chernobyl
§         Camera Work
§         Editorial Los Angeles
§         Color Grading
§         Visual Effects
§         Film Scoring
§         Wrap Up
o       Anatomy of a Car Chase
o       Two of a Kind
o       Back in Action
o       The New Face of Evil
o       Pre-vis
§         Cold Opening
§         Desert Heist
§         Truck Chase
o       VFX Sequences
o       Stills: Gallery
§         Storyboards
§         Concept Art
o       Theatrical trailers
o       Commentary by Director John Moore and First Assistant Director Mark Cotone
o       Maximum McClane
·        Disc 2: DVD & Digital Copy (Film only)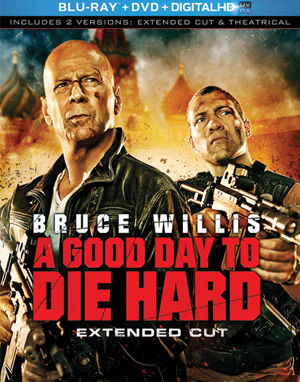 A Good Day to Die Hard explodes onto home video today, but here's how you can grab a copy for yourself (or for that special dad in your life). Simply email contest@dorkshelf.com with A GOOD DAY TO DIE HARD in the subject line and tell us what you would do if John McClane was your father. Please only one entry per household. Multiple entries will be deleted. Contest open to all residents of the U.S. and Canada. For additional chances to win, simply like the contest announcement on our Facebook page and/or re-Tweet the announcement from our Twitter! Deadline for entries is 11:59pm on Tuesday, June 11th.
Good luck and Happy Fathers Day from all of us here at Dork Shelf. Remember to stay tuned to us all throughout the summer for all the latest news, reviews, features, interviews, and of course, more great contests.
Advertisement
---
---
Advertisement
---
FROM AROUND THE WEB
Advertisement