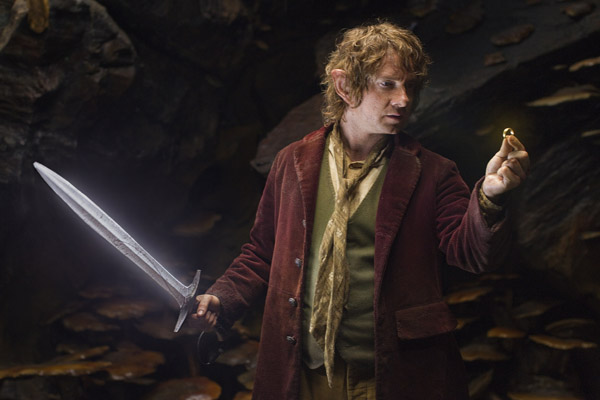 To celebrate the release of The Hobbit: An Unexpected Journey on December 14, Dork Shelf and Warner Bros. Pictures Canada want to send two lucky winners a copy of Warner Bros. Interactive Entertainment's GUARDIANS OF MIDDLE-EARTH for PS3!
Guardians of Middle-earth is a multiplayer arena battle game that puts players in the role of various heroes and villains from Tolkien lore, including characters from the Lord of the Rings trilogy and the new Hobbit film.
To enter, simply email [email protected] with HOBBIT in the subject line. Please only one entry per household.
For additional chances to win, simply like the contest announcement on our Facebook page and/or re-Tweet the announcement from our Twitter account. Deadline for entries is Sunday, December 16 at 11:59 PM, so hurry!
From Academy Award®-winning filmmaker Peter Jackson comes "The Hobbit: An Unexpected Journey," the first of a trilogy of films adapting the enduringly popular masterpiece The Hobbit, by J.R.R. Tolkien. 
The three films tell a continuous story set in Middle-earth 60 years before "The Lord of the Rings," which Jackson and his filmmaking team brought to the big screen in the blockbuster trilogy that culminated with the Oscar®-winning "The Lord of the Rings: The Return of the King." 
The adventure follows the journey of title character Bilbo Baggins, who is swept into an epic quest to reclaim the lost Dwarf Kingdom of Erebor from the fearsome dragon Smaug.  Approached out of the blue by the wizard Gandalf the Grey, Bilbo finds himself joining a company of thirteen dwarves led by the legendary warrior, Thorin Oakenshield.  Their journey will take them into the Wild; through treacherous lands swarming with Goblins and Orcs, deadly Wargs and Sorcerers.
Although their goal lies to the East and the wastelands of the Lonely Mountain, first they must escape the goblin tunnels, where Bilbo meets the creature that will change his life forever…Gollum.  
Here, alone with Gollum, on the shores of an underground lake, the unassuming Bilbo Baggins not only discovers depths of ingenuity and courage that surprise even him, he also gains possession of Gollum's "precious" ring that holds unexpected and useful qualities… A simple, gold ring that is tied to the fate of all Middle-earth in ways Bilbo cannot begin to know. 
And as always stay tuned to Dork Shelf throughout the month of December for more great news, reviews, interviews and contests.
Advertisement
---
---
Advertisement
---
FROM AROUND THE WEB
Advertisement