Uncharted 4: A Thief's End is the best game I played all year. That makes it Dork Shelf's Game of the Year choice for 2016.
So why does that feel like a lazy selection?
It probably has a lot to do with the way we think about awards. Most people assume that a Game of the Year should be memorable, a game that does something unique or innovative that sets it apart from its peers. I'm no exception. Last year, our Game of the Year was Dontnod Entertainment's superb Life is Strange, a flawed but fascinating tale about time travel and learning to live with the consequences of your actions.
Uncharted 4 just isn't that type of game. The final chapter of Naughty Dog's Nathan Drake saga is as mainstream as it gets, a glitzy extravaganza stuffed with explosions and breathtaking panoramas. The gameplay is virtually indistinguishable from scores of other action games in which the bulk of your time is spent shooting anything that moves.
With that in mind, why is Uncharted 4 getting the nod here?
The simplest excuse is that while Uncharted 4 did things we've seen before, it did most of those things better than the competition. The visuals are a little crisper. The voice acting and the motion capture are a little more believable. After four games, Nolan North, Emily Rose, and Richard McGonagle inhabit their characters with a confidence and a familiarity rarely seen in gaming. The addition of Troy Baker as Nate's long lost brother Sam only adds to the embarrassment of riches.
However, that alone would be an insufficient explanation, especially as it relates to Uncharted. The series has traditionally offered a specific kind of cinematic experience, and while the result was entertaining, it was often more likeable than ambitious. Uncharted prioritized spectacle over character. The stories, though well integrated into the gameplay, were too insubstantial and generic to warrant serious year end consideration.
Naughty Dog broke that trend with Uncharted 4, again demonstrating that the studio's storytelling now rivals its technical brilliance in the wake of The Last of Us. Other franchises lose urgency as they go through the motions with each successive iteration. Naughty Dog managed to make the fourth installment feel just as imperative as the first, tapping into the previous three games to convey a sense of weariness and ennui that amplifies the stakes for everyone involved. Beneath all of the traps and treasure, Uncharted 4 is a game about relationships and the lies we tell when we're afraid to disappoint the people we love. How do you return to a normal life after you've discovered El Dorado? What happens when you love the person you're with but not the life that you're leading together?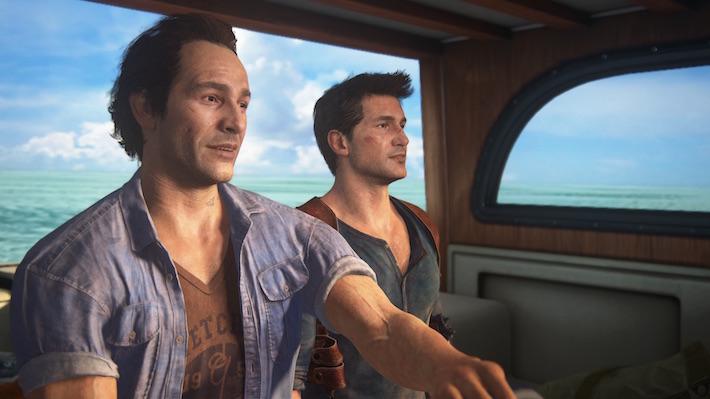 Nathan's foolish attempt to ignore those questions provides a surprisingly relatable emotional core once his lies start to crumble. Uncharted 4 understands that people are imperfect, and that any relationship demands an ongoing calculus about whether or not we choose to tolerate those imperfections. Naughty Dog happens to explore those ideas during a quest for lost pirate gold, but the arc is still predicated on the fact that healthy relationships require the maturity to fix the things we can change, as well as the wisdom to forgive the ones we can't.
Uncharted 4 isn't the first game to tackle such issues, but it is one of the few to do so on such a grand scale. That's why Uncharted 4: A Thief's End is our choice for 2016 Game of the Year. Other games were more innovative or experimental, but Uncharted 4 is so well executed that it carries its themes with an unrivaled (and uncommonly satisfying) sense of clarity. That's no mean accomplishment. Naughty Dog uses spectacle to complement its narrative, finding a balance that resonates just as strongly as subtler narrative experiences.
Uncharted 4 is remarkable because it could only work as the fourth game in a franchise. It's a feel-good action blockbuster that nevertheless has something meaningful to say about learning to prioritize the things that truly matter, and that makes it one of the best examples of intelligent big-budget storytelling in the history of the medium.
Advertisement
---
---
Advertisement
---
FROM AROUND THE WEB
Advertisement