You didn't think we were going to let 2016 arrive without telling you what we thought were the best films of 2015 did you? In an effort to make this special event last as long as possible, we've split this post into two parts: The Critics and The Editors.
Between our principal critics Phil Brown and Jason Gorber, there's barely an outlet not written for or a film not seen. Phil has shelves upon shelves of movies that would make any dork jealous, and Jason hits every festival like it's his job (it is). Both contributed dozens of reviews and interviews to Dork Shelf this year, if you click on their names below, you'll get a pretty good idea of what this past year in film brought to our site and our lives.
Another year has come and gone, so the time has come for film critics to inundate the internet with top ten lists. I'm certainly not above the trend. As a matter of fact, I'm about to slap you all with a top ten list right now. That's right, the ten of the finest flicks to grace screens this year according to yours truly along with a handful of guilty honourable mentions. I should also make it clear that this is a purely selfish list mixing art with trashy entertainment that tickled me in the most personal ways possible. In hindsight, it proved to be a stronger year than I'd remembered, with oddball collections of new classics that will end up regularly rewatched by yours truly. In fact, do check out any of the honourable mentions you haven't seen, even if they didn't get a token paragraph of me slobbering over their greatness. Seriously, there's some good stuff in there. However, now it's time to count down the big ten. Buckle up kiddies. 
10) The Editor
To be clear, The Editor is really only one of the finest movies of the year if the word "giallo" means anything to you. For those with a sweet tooth for that dirty little horror genre, the movie drunk geniuses at Astron-6 provided one hell of a treat. This pitch perfect parody/homage of the Italian horror flicks from the 60s-80s is filled with all the hallmarks from bad dubbing and ludicrous dialogue to beautiful cinematography and intriguing surrealism. The Astron-6 boys nail the Eurohorror tone and style better than any of their previous (and admittedly accomplished) parody projects and the results are almost unfairly hilarious. In fact, the humor reaches such delightfully ludicrous heights that I'd imagine most folks would get a kick out of The Editor regardless of whether or not they get the in jokes. However, if you're almost unhealthily obsessed with Italian exploitation movies like me, prepare for one hell of a great n' greasy night at the movies. Filthy fun from start to finish.
9) Ex Machina
After years of scripting clever genre yarns for other directors to elevate or ruin, Alex Garland finally just decided to direct one himself. The result is, perhaps unsurprisingly, the best film he's been involved with to date. This strange sci-fi AI thought experiment only features three significant characters, yet each role is so perfectly cast (Alicia VIkander, Domhnall Gleeson, and Oscar Isaac) and bizarrely defined that Ex Machina features more clever twists that films ten times it's scale. Garland teases out notions of gender, manipulation, and control through nightmarish explorations of technology that functions as top tier sci-fi, horror, and chamber piece simultaneously. A fascinating, freaky, and oddly funny film featuring a stunning performance from Alicia Vikander that will hopefully earn her a handful of awards despite being released in the spring (generally speaking, the attention spans for most awards voters doesn't last longer than a few months).  
8) Star Wars: The Force Awakens
That's right. I'm going out on a limb and courting controversy by admitting I both watched and enjoyed the new Star Wars movie. Insane, right? Yep, but I'm willing to say it. JJ Abrams delivered us all the fan service nostalgia fest that we wanted, along with some exciting new characters that we deserved. The result is an absurdly entertaining rush of pure, unadulterated Star Wars-iness designed to make fanboys weak at the knees. Granted, it's tough to tell the plot holes from the mysteries set up for the sequels and some of the callbacks n' echoes of the original movies can get a little tedious. But still, the movie served up a blast of Star Wars bliss that most folks thought we'd never see again after the dark days of Jar Jar. That's undeniably special and quite an achievement given the overwhelming expectations. 
7) Kingsman: The Secret Service
Anyone who complains about a lack of R-rated action movies these days needs only to see Matthew Vaughn's Kingsman to realize that the genre is thankfully far from dead. Based on a comic that he conceived with Mark Millar, Kingsman sees Vaughn apply his patented brand of sarcastic, retro genre games (see Kick-Ass and X-Men: First Class) to the spy genre. Specifically, Vaughn is lovingly taking the piss out of James Bond. Not just any Bond either, but the big cartoonish Roger Moore-style Bond vehicles featuring massive underground layers, ridiculous henchmen, silly master plans and all those 70s excesses. To say Vaughn succeeded is an understatement. This wilfully ridiculous and gently subversive romp actually proved to be a far more satisfying James Bond movie than Spectre and served as proof that the franchise needs to lighten up. In a perfect world, the folks at EON/Sony would just hand Vaughn the keys to the Bond kingdom right now. But it's not a perfect world. So we'll have to make do with a Kingsman sequel instead. Provided that Vaughn can keep his franchise this inventively and irreverently insane, that should be a more than worthy substitute. 
6) Spotlight
From the exaggerated worlds of space operas and superspies, we now come crashing down to the tiny (and sadly shrinking) world of investigative journalists. This tale of journalistic gruntwork in Boston that dug up some horribly uncomfortable truths about the Catholic Church is potently power. The fact that this might be one of the last great feats of old school investigative journalism as newspapers slash budgets to unsettling degrees was not lost on anyone involved with the project. And yet, there's also thankfully no nagging sense of tedious prestige picture fatigue here. Writer/director Tom McCarthy (The Station Agent, Win Win) doesn't have a self important or soapy bone in his body. Instead, the filmmaker and his extraordinary ensemble cast (Michael Keaton, Rachel McAdams, Mark Ruffalo, etc.) finds the small, human, and true core of the story. The result is a delicate character piece of remarkable power and one of the finest films of the year without a single act of superheroics in sight.  
Read Phil's full review of Spotlight here.
5) Sicario 
Leave it to director Denis Villeneuve to make on of the most thrilling and suspenseful movies of the year that's also one of the most depressing (there's a reason why he's so ideally suited to making the new Blade Runner movie, folks). The French Canadian maverick's take on the war against the Mexican drug cartels is a vicious, nasty, propulsive, and sweaty tale of liars, cheats, and murderers. Featuring some fantastic performances from a burned out Emily Blunt, a cockily cockeyed Josh Brolin, and Benicio Del Toro in quiet killer mode, it's a riveting character study in between the explosions of violence. And thanks to some downright astounding cinematography by the genius that is Roger Deakins, it's also an absolutely beautiful film about ugly realities. Few movies this year were so gripping and compelling. Even though Sicario likely won't figure into much awards talk since it's too much of a genre effort to be taken seriously. That's a shame, but for those who aren't particularly snobby about genre films, there' no denying that Villeneuve and co. delivered something truly special here. 
4) The Hateful Eight
Good old Quentin Tarantino. Who else could make a movie about such horrible, hateful, and downright nasty people this funny and entertainin?. A 70mm epic that spends most of it's running time in a single room, a Western with no hero, a violent thriller requiring patience, a vicious portrait of America filled with humour, and a romp that leaves a nasty taste in the mouth, The Hateful Eight is a movie filled with contradictions. After dabbling in subversively fact-free historical fiction, Tarantino has returned with a headfirst plunge into genre games again. Some might be disappointed, while others will appreciate all the complicated mind games and contemplations on violence in play. It's certainly an indulgent and excessive movie, frequently pushing the limits of good taste and butt-numbing theatrical stamina. Still, it's a wild and fascinating ride that no one other than Tarantino possibly could have gotten made. In theory, the guy only has two movies left in his career. Hopefully their both as good as this. 
3) Inside Out
From Tarantino filth to Pixar whimsy, now there's a tonal shift. After years of sullying their exemplary track record with a few unnecessary sequels and tiresome retreads, Pixar finally returned at the top of their game this year with Inside Out. As usual, the company took a fairly goofy sitcom premise (what if all the emotions inside a child's heads could talk!) and transformed it into a surprisingly mature story about accepting sadness as a necessary part of life. Paced and delivered like a colourful comedy, but featuring a dark core exploring emotional trauma, the movie is vintage Pixar and also one of their finest outings to date. It's a beautiful movie that (to borrow a phrase from Terry Gilliam) is smart enough for kids and entertaining enough for adults. Hopefully the wait for the next bit of Pixar beauty won't be nearly as long.
2) Anomalisa
Charlie Kaufman is a sad and strange little man. Based purely on his movies (Kaufman doesn't tend to release much information about his actual life), we can all assume that. We can also assume that he's a bit of a genius. His latest film is a stop motion effort about a depressed man for whom every person on earth looks and sounds the same until he finally (and almost accidentally) finds a woman who is different. That's a beautiful little metaphor for love, but Kaufman being Kaufman complicates that theme with deadpan surrealism and an unforgivingly narcissistic protagonist unworthy of the fairy tale he's been given. The result is a complicatedly adult fantasy delivered in a stunning 3D printed stop motion animation that blurs the line between reality and puppetry in ways entirely appropriate to Charlie Kaufman's very specific aesthetic of mundane surrealism. There's no more magical of a way to get depressed in a movie theater this year than through Anomalisa. Yes, that's a good thing. 
Read Phil's full review of Anomalisa here.
1) Mad Max: Fury Road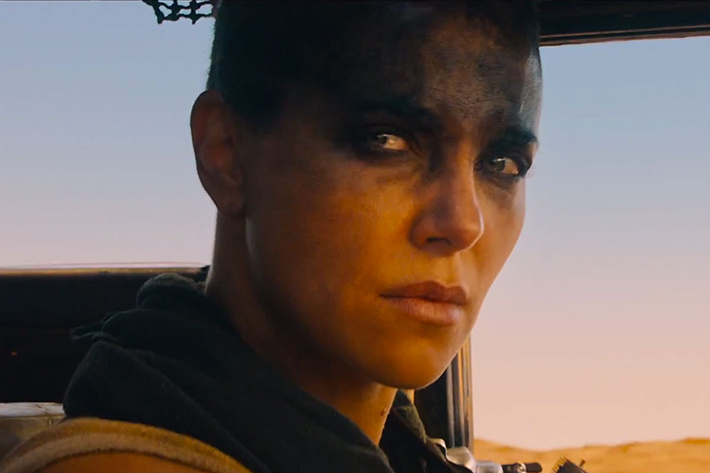 Finally, we come to the only possible choice to top this list. Sure, given that it's a popcorn action movie that's the fourth chapter to an ancient franchise, it shouldn't have been the obvious pick for the best film of the year. However, when audiences finally got to see what George Miller had been planning for over a decade, there was no doubt. Mad Max: Fury Road isn't just an astounding feat of action filmmaking that delivers an unrelenting barrage of visceral thrills and mind-boggling stunts. It's also a film loaded with potent subtext and symbolism, enough to launch a thousand think pieces. And yet, somehow Miller manages to balance both of those elements perfectly. His gut-punch entertainment instincts and intellectual preoccupations are inseparable and the film quite simply wouldn't work without either element balancing the other. Mad Max: Fury Road is a masterpiece and a milestone of blockbuster/action filmmaking that likely won't be topped for some time. This one will be remembered fondly, in fact I think I may as well go and watch it again right now. It's been too long.
Honourable Mentions (you can't go wrong with any of these flicks either, regardless or what you may or may not have heard): Ant Man, The Big Short, Bridge Of Spies, Call Me Lucky, Creed, Crimson Peak, Furious 7, The Green Inferno, It Follows, Krampus, The Martian, Mississippi Grind, Mistress America, Slow West, Steve Jobs, What We Do In The Shadows, Welcome To Me, While We're Young
We can fight over what these end-of-year lists mean – Are they the best? Must sees? Is there a difference? Should films be treated like sport? – but it's tedious enough to worry about from the sea of releases which ones rise to the top. I'm bad at lists usually anyway, second guessing myself as soon as I craft a grouping. A few films, like my number one, have stayed that way since I saw, some are on here because they're deserving of a shout-out more than others that are equally fine.
2015 on the whole held a few terrific surprises and a whole bunch of exactly-as-expected moments. When you're seeing hundreds of films a year sometimes you prioritize those that surprise, and forget to fully laud those works that are simply excellent as you hoped they'd be. This was a year where numerous films from the 70s were redone by new generation of filmmaker raised on the works they were now spearheading, while they were all trumped by a redux by a filmmaker less precious with the world he had helped create.
Here, at least for the moment, is my own top-10 of 2015.
10) Crimson Peak
There were a few things going for Guillermo del Toro's latest for me. First, I preceded the screening with his lecture series at TIFF, being able to contextualize the film with respect to the greater Gothic Romance genre. Tying it to the likes of Rebecca is a must, and I did everything I could to remind people of this fact. Second, I had a chance to see it in IMAX with Laser project, a sublime way to fall into the craft of the piece. Thirdly, I had a chance to see it before I saw Devil's Backbone – my second screening of Peak after Backbone solidified my belief that the film's not on an extraordinary achievement, but surpassing the film for which del Toro is often lauded. The reason? I'm convinced that people take in art films differently when they're in English. It's a tough case to make, but let's leave it as this – there was no prettier, weirder, and more del Toro film made this year, and it's deserving of celebration.
9) 45 Years
Like Peak this is another ghost story, yet this one even more subtle and thrilling. A wonderfully realized character piece, the dynamic between Tom Courtenay and Charlotte Rampling was the most effective pairing of the year, taking what easily could have been kitchen sink melodrama and crafting something for the ages. Andrew Haigh's direction is perfect, keeping the tension without appearing showy. It's a simple story with amazing depth, opening up an emotional chasm as deep as the one at the heart of the tale.
8) Z for Zachariah
It seems nobody loves this movie as much as I do, and I think that's a shame. Ever since seeing it last Sundance I've been trumpeting its success, adoring this follow-up to Craig Zobel's Compliance. This for me is the work that truly made me fall for the talents of Margot Robbie, and Chiwetel Ejiofor and Chris Pine nail their respective parts as well. An amazing allegory with deeply complicated moral collisions, I feel the film was taken on by many on its superficial surface, ignoring how creatively and effectively Zobel's tale ratcheted up the philosophical issues he presented.
7) Room
I've been saying since TIFF that the best part of Room is that the film starts when you think it would end. Super smart, convincingly portrayed and with a standout performance by Brie Larson, this is a film that easily could have felt small and brutal and instead soars.
Read Jason's full review of Room here
6 ) Beasts of No Nation
I loved the hell out of this flick, even if it really only had a theatrical run at a couple festivals before hitting Netflix. On TV I'm sure it's okay, but as a theatrical experience it's among the tops of the year. Idris Elba is electric, and young Abraham Attah is ace in the lead role. Cary Fukunaga displays deft direction, creating a mood that's haunting and entirely believable in this grand allegory.
5) The Big Short
No film surprised me more than this in 2015 – I feared, I guess, some dry and drab film about the financial crisis, or some slapdash, slapstick film that talked down to the audience. Instead we get a film that perfectly encapsulates the absurdity of Credit Default Swaps, told with the acerbic attitude of a Brecht play or Kubrick's Doctor Strangelove. Adam McKay, aka the guy that directed Anchorman, shows amazing craft in balancing all these pieces and tonal shifts, allowing some terrific performances to sway back and forth from tragedy to comedy without ever losing focus.
Read Jason's full review of The Big Short here
4) Sicario
Denis Villeneuve's film also feels like it's out of its time, a work that years from now someone will rediscover and completely fall in love with. Its photography by Roger Deakins is breathtaking, and the peformances by Benicio Del Toro, Josh Brolin and Emily Blunt are among the most complex, nuanced takes of the entire year. A stunning work, it's the best from this fantastic director, a wonderful collision between art and action.
3) The Look of Silence
The culmination of one of the most important non-fiction projects in cinema history, Joshua Oppenheimer's companion film to the Act of Killing immediately establishes itself as a true classic. If the other film was relentless and kinetic, then this film is all about moments of silent contemplation. As a standalone piece it's one of the most poetic of the year, combined with its sibling film it's one of the greatest works ever made.
2) Son of Saul
I saw this film in the most perfect setting – at Cannes, knowing nothing about it, not even its title – and promptly fell into what was one of the most harrowing experiences I've ever had in a theatre. The fact that this is a debut film is even more astonishing, but what's truly cause for celebration is the film's capacity to use its form (closeup shots with soft focus in the background) to perhaps for the first time on film represent the very intangibility of witnessing an event like the holocaust. The moral ambivalence of watching a traitor to his own people seek out grace is gut wrenching while never being gratuitous. It's a film of supreme intelligence, and like Oppenheimer's docs a truly unique look into the constellation of effects that surround acts of evil.
1) Mad Max: Fury Road
If what we want from a great film is a mix of both art and artifice, there's no film that better accomplished this balance than George Miller's take on his own mythology. The film on paper sounds like a dud – they go there, then they go back – but it's portrayed in a way that makes both petrol heads and beret-wearing existentialists whoop in equal measure. A film that's easy to dismiss as mere spectacle, this is a film that uses action to elucidate character. There are no wasted shots, and the choreography of both pacing and narrative is pure genius. Thanks to Tom Hardy and Charlize Theron the film gets its grit and edge, thanks to some amazing stunt work the film gets its sense of grandeur. It's a film that we witness more than we watch, taking in the heart of cinematic expression in its finest, uncut form.
Read our editor's picks for best films of 2015 here.
Advertisement
---
---
Advertisement
---
FROM AROUND THE WEB
Advertisement