Yesterday we posted our Critics' picks for the best films of 2015 so that the ones with "real" power, the Editors, could have one more day to think on it (aka catch a last minute screening of The Hateful Eight). With just hours to spare before 2016, we've finally settled on our choices. There's a clear winner here, as all five of the lists created by Dork Shelf's critics and editors named the same film as number one, which is a first and in my opinion, better than an Oscar. Congratulations Mr. Miller, and thank you for entertaining us with something a little different than the typical action blockbuster we normally settle for.
Will Perkins – Dork Shelf Editor-in-Chief
10) Lost River
It's safe to assume that collaborating with directors like Nicolas Winding Refn (Drive) and Derek Cianfrance (The Place Beyond the Pines) amounts to one a hell of a film school. Actor-turned-filmmaker Ryan Gosling wears those influences proudly on his sleeve for Lost River, an urban fantasy that plays like a cross between David Lynch and a post-apocalyptic fairy tale. Does it work? Almost. Visually striking but utterly bewildering, it sneaks into my top 10 list on the strength of Johnny Jewel's fantastic score and Ben Mendelsohn's skin-crawling dance moves. If anything Lost River makes me extremely eager to see what Gosling does next.
9) Eden
Around the world, around the world. Around the world, around the world. Instant Crush. Lose Yourself to Dance. Around the world, around the world. Doin' it right. Get Lucky. Around the world, around the world. Around the world, around the world. High Life. Around the world, around the world. Harder, Better, Faster Stronger. Around the world, around the world. Too Long. Short Circuit. One More Time. Alive.
8) Love
Don't forget to bring a poncho! Director Gaspar Noé latest cinematic experiment Love is certainly less of an endurance test than his previous efforts. but the deluge of melodrama and bodily fluids (IN 3D!) is definitely not for everyone. It's hard not to feel like a voyeur watching people fight and fuck for nearly two and a half hours – or feel turned off by Noé's self-referential musings – but that's kind of the point. Thanks, I guess.
7) Spotlight
Are you sure this is the same guy who made The Cobbler? Just as hardcore investigative print journalism seems to be going the way of the dodo, so too are big screen dramas about print journalists doing what they do best. With a stellar cast (Mark Ruffalo, Michael Keaton, Rachel McAdams) sporting their best beer guts, bad haircuts, and Bahston accents, Tom McCarthy's Spotlight tackles some extremely tough subject matter with all the hard-nosed determination of the newspaper folk at its heart. Sure, the film channels Alan J. Pakula's classic potboiler All the President's Men so hard it hurts (there's even a familial link with John Slattery's Ben Bradlee Jr.), but that's okay when the results are so damned watchable.
6) Kumiko, the Treasure Hunter
What if the Coen bros. classic Fargo was actually a treasure map on a VHS tape? Director David Zellner's latest film is sure is a peculiar thing, but the snowbound journey of the titular treasure hunter (Rinko Kikuchi) is pure magic to watch.
5) Star Wars: The Force Awakens
So that's what it feels like to leave a cinema after watching a good Star Wars movie! Like everyone else on the planet, I'd been waiting for this one since The Phantom Menace left me dejected and questioning my fandom way back in 1999. Thanks JJ! Now let Rian Johnson drive.
4) The Hateful Eight
Quentin Tarantino does The Thing by way of Reservoir Dogs. While I don't think The Hateful Eight will ever have the infinite rewatch value of Pulp Fiction or Inglourious Basterds, like a great stage play there's something to be said for making a movie that I feel extremely satisfied only seeing once. Go watch the 70mm Roadshow version or don't bother.
3) The Martian
Funny, harrowing, and gorgeous, The Martian is easily one of Ridley Scott's best efforts in years. It's a wonderful showcase for all involved, particularly Matt Damon and screenwriter Drew Goddard. Scott has never had trouble attracting acting talent (dat ensemble!), but the director proves once again that he can really do no wrong when paired with a great script. Aside from The Hateful Eight you'll be hard pressed to find a better looking Hollywood movie released this year. Firing on all cylinders!
2) Ex Machina
Full of big ideas and three bravura performances, writer/director Alex Garland's small scale sci-fi pic Ex Machina almost earned the top spot on my list – but I didn't want to break Mad Max's streak. Garland's continued dedication to science fiction genre is most welcome here, proving yet again that sci-fi doesn't always have to be a world-shattering, laser-blasting affair. It can be quiet, unsettling, and thought-provoking. Oscar Isaac nearly steals the show from Domnhall Gleeson, but it's Alicia Vikander as Ava who upstages everyone. Ex Machina is yet another 2015 film that gets high marks for its unpleasant but memorable dance moves.
1) Mad Max: Fury Road
We're past the halfway point, so I'll say it: Mad Max: Fury Road is the best time I've had at the movies this decade. Your move, 2016.
—
Noah R. Taylor – Dork Shelf Film Editor
By my estimation, I saw about 100 new films this year. To a casual moviegoer, this may sound like a lot, but the pros know this is a drop in the bucket of the world's cinematic offerings. Between Hollywood, the indies, foreign cinema, local efforts, festival fare, documentaries, etc, there are literally thousands to choose from. So while I may be more qualified than most to make this list, I still can't help but feel like a fraud every time I compile something like this. My tastes tend towards the mainstream and not much comes out of left field here, but hopefully you'll see something that wasn't on your radar before.
10) Creed
Talk about an underdog story. Who expected that what is essentially the 7th Rocky movie would actually be the best film since the original? Everything about this movie impressed me. Ryan Coogler's script and direction paired with great the performances gave the material a fresh take while remaining true to the original. Creed's first real fight contained some of the best steadicam work and choreography that I've ever seen, and Sly deserves a best supporting actor nom for some truly touching moments.
9) The Overnight 
Creed may have been an underdog, but after all its great press, it's gained the respect (and box office returns) of a legit award contender. The Overnight remains an underdog and that's one of the reasons for its inclusion on this list. This isn't Oscar material, but a little indie comedy about the awkwardness of making friends as an adult. Jason Schwartzman has never been used this well outside of a Wes Anderson film, he steals the movie with his improv and weird charm. There's no shortage of big, unexpected laughs in this underrated comedy.
Read Noah's full review of The Overnight here.
8) Star Wars: The Force Awakens
We all knew Episode VII would be a hit the moment it was announced. Having seen it twice now and read a plethora of opinion pieces, I feel like the smoke of marketing and anticipation has cleared and I can see it for it is: a prequel apology that puts the wheels in motion for a giant Intergalactic Disney machine heading our way. The first Star Wars was Lucas' successful experiment, his second experiment (the prequels) blew up in his face, so Abrams is just following the formula of the first successful series, except risk is now replaced with a knowing self-awareness. There are major issues with the film, but I can't ignore the pure pleasure points it hit and the fact that I know this is a film I'll likely revisit periodically for the rest of my life.
Read Noah's full review of Star Wars: The Force Awakens  here
7) What We Do In The Shadows
What We Do In The Shadows was the most inventive comedy of the year. If you only saw it once, there's a good chance you were laughing too hard to catch just how clever creators Jemaine Clement and Taika Watiti were being with the camera. It truly is a film that marches to the beat of its own hilarious drum. A sequel has been announced, which is great news but I would have preferred a series. Until then, I'll settle for rewatching this one a few more times.
Read Noah's full review of What We Do In The Shadows here
6) Spotlight
Spotlight lives up to everything you've heard about it: a brilliantly executed ensemble piece about the team of investigative journalists that blew the roof off the vatican's crimes and subsequent cover-ups. It tackles the social issue without getting preachy and is much about the dying of art of real journalism as it is about the tragedy they're uncovering. It feels like the kind of film that would have award competition from several similar films almost every year, yet now we're lucky to get one every five years. It was also great to see Michael Keaton follow up Birdman with another prestigious film to solidify his long overdue comeback.
5) Sicario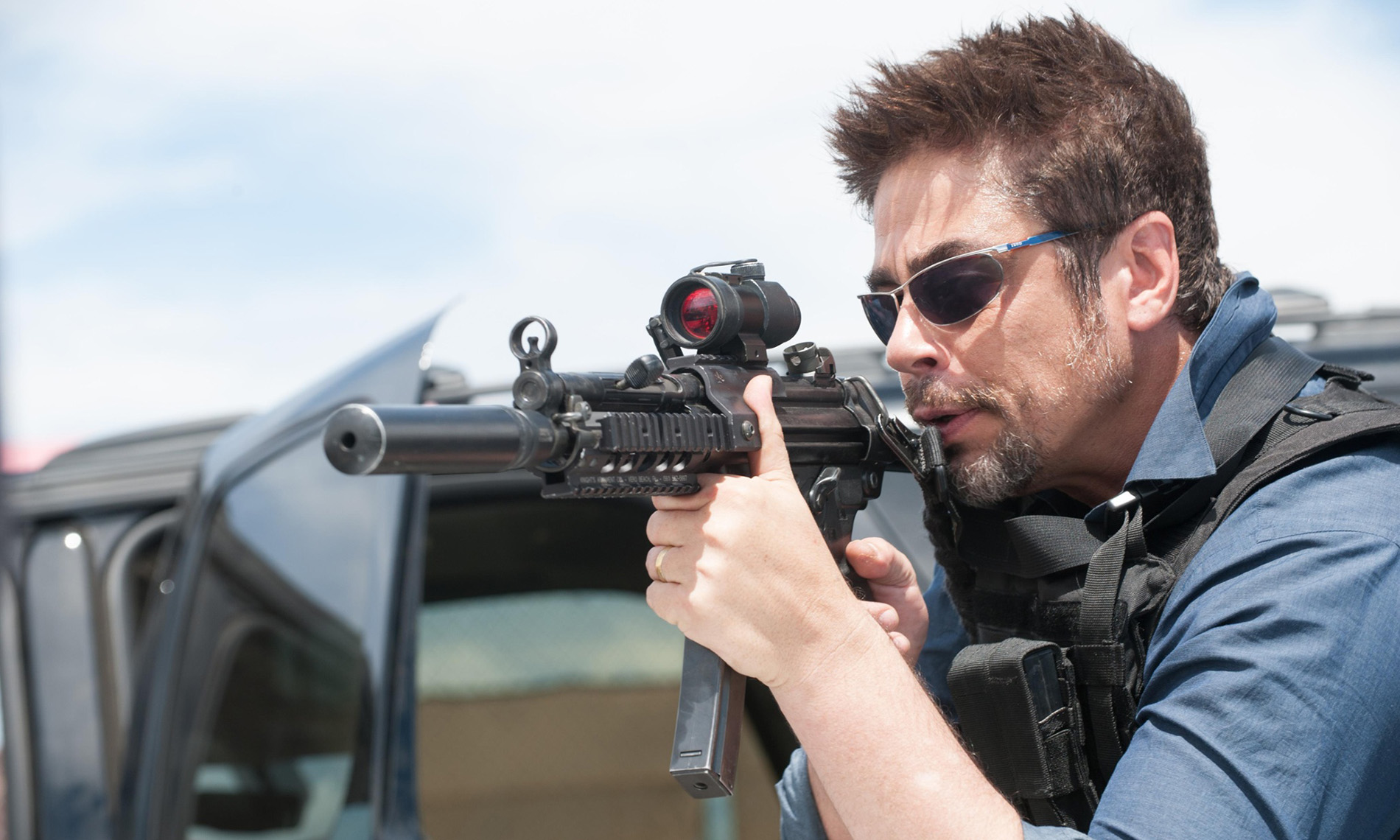 I'm not sure what I can say about this film that hasn't already been said about it on both of our critics' lists. This was the first TIFF film I saw this year and  3 dozen movies later it was still the first that came to mind when people asked me what were the best ones I saw. What impressed me the most was Roger Deakins' cinematography, but without the benefit of a compelling story and stellar performance, Sicario would have have just been pretty pictures, which it certainly is not. A real action thriller that may not be realistic or even completely original, but damned if it didn't have me on the edge of my seat for its tight 121 minutes.
Read Noah's full review of Sicario here
4) The Hateful Eight 
It may be self indulgent, overlong, counterintuitive, and absurd, but The Hateful Eight is my cup of coffee. As someone who has been trying to write a similar script for years now, I admire the apparent ease with which Tarantino creates characters and has them bounce off one another. I understand why this film would rub many the wrong way and maybe my opinion will change with subsequent viewings, but this was easily one of my favourite viewing experiences of the year. I highly recommend seeing it on the big screen, 70mm or otherwise… if for no other reason that to not have the option to pause it when you're feeling uncomfortable or bored. That's what the intermission is for.
Read Noah's full review of The Hateful Eight here
3) Inside Out 
This is the Pixar film I waited five years for. Easily their most complex film to date, this couldn't be further from the pablum of Cars. Inside Out may be a little too lofty or melancholy for Pixar's usual demographic, but that's why adult Pixar fans like myself have been singing its praises since last spring. The Good Dinosaur was definitely one for the kids and didn't do nearly as well at the box office nor does it have the awards potential of Inside Out, so hopefully this informs Pixar's future projects.
2) Anomalisa
If one film can give Inside Out a run for its money in the Best Animated Feature category, it's Anomalisa. Anomalisa was probably the most original film I saw all year. It combines two of my favourite things that I feel like we never get enough of: Charlie Kaufman and stop-motion. Like Kaufman's best work (Being John Malkovich, Adaptation, Eternal Sunshine of the Spotless Mind), Anomalisa is sad, funny, touching, dense, cryptic and rich. If you haven't heard about it yet, that's probably because it doesn't get a wide release until next month. If it doesn't generate some real buzz then, I will be very disappointed in all of you.
1) Mad Max: Fury Road
Sure, I could have gone controversial when picking my favourite movie of the year and said it was Ryan Gosling's Lost River (which I actually did really like), but there's a reason Max Max: Fury Road is topping everyone's lists: it's fucking awesome. I don't need to tell you why it's fucking awesome, you know why, you've seen it at least once, and if you haven't, what the fuck are you waiting for?
Read Noah's full review of Mad Max: Fury Road here
Honourable Mentions:  Cinderella (read review here), Kingsman: The Secret Service (read review here) Lost River (read review here), The Night Before (read review here), Steve Jobs (read review here), Straight Outta Compton.  
still really need to see: Bridge of Spies
—
Eric Weiss – Dork Shelf Games Editor
2015 was a banner year for progressive, well-constructed genre fare that proved that fans of action, horror, and science fiction should never have to settle for less intelligent cinema. As the Games Editor here at Dork Shelf, I haven't yet had the chance to see most of the top Oscar contenders. But these are the best movies I saw in 2015, and I'd argue that these are all awesome films that are just as deserving of year-end recognition.
10) TBD
Yes, I saw more than ten films in 2015. The rest just didn't seem worthy of inclusion on any list of the year's best. Instead of giving the ten-spot to a lesser film by default, I'm leaving the space blank to account for the movies that I haven't seen that are probably better than the ones I did. If I had to guess, I'd say that Creed, Room, and The Hateful Eight are frontrunners for the final spot (they could even usurp some of the ones above them), but this is not E3 and I refuse to hand out an award based on a trailer. 
I mean, sure. I liked Age of Ultron. But it's not one of the ten best films of 2015 and I'd rather not live with the embarrassment of claiming otherwise.        
9) Star Wars: The Force Awakens
Thanks to the Star Wars brand, the long-awaited reboot was always destined to go down as one of the biggest and most enduring films of the year, but J.J. Abrams exceeded expectations with a loving tribute that expertly capitalizes on the multipronged nature of fandom in 2015. The Force Awakens is designed as much for the Internet as it is for theatres, a self-aware manifestation of popular culture that weaves the real life history of the Star Wars franchise into the narrative of the Star Wars universe. Though it has its shortcomings as a standalone film, The Force Awakens succeeds as a triumphant paean to modern spectacle. 
8) Magic Mike XXL
Magic Mike XXL oozes estrogen and testosterone in roughly equal measure, flipping the traditional Hollywood script while allowing its toy aisle of muscle-bound Ken dolls to resolve conflict with voices instead of fists. The Magic Mike sequel displays unexpected emotional maturity that belies the dazzling display of eye candy, encouraging men and women alike to be more open with their feelings and suggesting that better communication is the key to healthier, happier relationships. 
7) Furious 7
Furious 7 is a great action flick with clever stunts in which every member of its diverse cast gets a moment in the spotlight. The family philosophy sessions may be a little heavy handed, but they're always sincere and they help explain the ongoing appeal of the franchise. Furious 7 genuinely loves its cast and treats them with respect, and that deep affection translates directly to the audience in the entertaining sequel.
6) It Follows
Some problems just refuse to go away. Though it occasionally gets so caught up in the mechanics of its premise that it loses sight of the metaphor, It Follows breaks with the clichés so popular in lesser horror movies and generates plenty of scares in broad daylight in a way that makes even the most mundane settings seem frightening. The camera makes excellent use of backgrounds to hide monsters in plain sight, and the unrelenting, uncompromising antagonist memorably demonstrates how futile it is to run away from the issues we have to deal with.
5) Crimson Peak
Incorrectly marketed as a horror movie, Crimson Peak is a ghost story that recognizes that humanity is far more terrifying than the supernatural. The characters walk around in a lush, bloody dollhouse that further cements Guillermo del Toro's reputation as one of the most visually creative filmmakers on the planet, elevating pulp romance to high art through its honest, non-judgmental portrayal of desire.  
Read Eric's full review of Crimson Peak here
4) Ex Machina
Ex Machina is a provocative exploration of gender and humanity with Oscar Isaac, Domhnall Gleeson, and Alicia Vikander in three of the most arresting performances of the year. The ending is more than a little unsettling (and I'm still not totally sure how I feel about it), but it makes an undeniable impression and you have to appreciate the audacity. Ex Machina is riveting from start to finish, a thrilling and intelligent movie that stays with you long after the final credits have rolled.
3) Kingsman: The Secret Service
Kingsman may not be high cinema, but it is one of the most deliriously fun and eminently rewatchable films of the year, a scathing indictment of elitist class sensibilities implausibly hidden within a spy romp that revels in the luxuries of high society. It holds together because it carefully distinguishes the outer trappings of wealth from any measures of inner worth. Sure, expensive toys are awesome, but only an asshole thinks that makes them better than someone else. 
2) Inside Out
Though the tribulations of Joy and Sadness are amusing in their own right, the true genius of Inside Out is the way that it deconstructs the human mind and makes abstract emotional states so readily comprehensible. Inside Out is one of the most accessible explorations of mental illness and depression that I've ever seen, an invaluable entry point for what can often be painful and difficult conversations. Inside Out wasn't the most consistent movie of the year, but I wouldn't be surprised if it's the one that proves to be the most influential moving forward.
1) Mad Max: Fury Road
What is there to say that hasn't already been said? Mad Max: Fury Road is as close to perfect as any movie I've ever seen, a tightly crafted and beautifully shot masterpiece with pulsing action and enough thematic heft to justify the mayhem. The incredibly detailed production design suggests an expansive world that goes well beyond the one we see in frame. Mad Max: Fury Road is a car chase sequel that nevertheless stands as the most singular cinematic accomplishment of the year. 
Advertisement
---
---
Advertisement
---
FROM AROUND THE WEB
Advertisement