Every year, with some degree of resigned resignation, I make my Oscar picks, but as much as I admittedly enjoy watching the show every year and seeing another year in film history get etched into the history books, I'm terrible at picking winners. In fact, this post is mostly just to solidify my own personal Oscar pool of one and so people can follow along while I live-Tweet the proceedings tomorrow night.
I can listen to all of the "buzz," political though processes, and "honest" Academy voter interviews conducted in secret, but none of that really means anything in the long run. Every year, even if I miss one category and get the rest of them right (something that actually happened once in my life eight years ago), people will still scoff and say "Hmpf. Thought you were an expert."
At any rate, for those who enjoy playing along at home as much as I do, here's my predictions for this year's Oscar categories and what I think will go down.
Best Picture
Nominees: Her, Gravity, 12 Years a Slave, The Wolf of Wall Street, American Hustle, Captain Phillips, Dallas Buyers Club, Nebraska, Philomena
Prediction: 12 Years a Slave
The Academy really loves their historical message movies, and there hasn't been one as almost universally beloved as this one. It's perhaps a bit too heavy and on the nose for everyone to get behind, but it certainly seems to be the one people have the least of a problem with. The next closest competitors are Gravity, which suffers from being science fiction and a blockbuster, two things The Academy has more of an aversion to than anything else in the world, and American Hustle, which could sadly squeak in because it's so mediocre that really no one has worked up any hate for it. Hustle has great production design, great performances, and precious little else, but quite often that's enough to win an award.
Too many people have their knives out and sharpened for The Wolf of Wall Street and Dallas Buyers Club for either one to mount a serious fight. Despite what I think about Her being the best film of the year, it's something that most people I know appreciate more in theory than in execution. Nebraska and Philomena are alright movies, but both are too "small" to really compete here. As for Captain Phillips, it's great, but it's lucky to be nominated.
Best Director
Nominees: Alfonso Cuaron (Gravity), Steve McQueen (12 Years a Slave), David O. Russell (American Hustle), Martin Scorsese (The Wolf of Wall Street), Alexander Payne (Nebraska)
Prediction: Alfonso Cuaron
Even though Gravity is too genre based to probably land Best Picture, there is a huge amount of support for Cuaron that goes back for years, and the effort that he put into his sparse space drama is something truly incredible.
My calling for a split year between Best Picture and Best Director comes solely because voters themselves are polarized on Steve McQueen and David O. Russell as people. McQueen is often quite prickly and outspoken in terms of how little he wants to promote his own films. As for O. Russell, despite moving into safer, more crowd pleasing fare in the past several years, he still hasn't shaken the image of a man who got choked out by George Clooney on the set of Three Kings for ripping Lily Tomlin about six new assholes on the set of I Heart Huckabees. Neither have that many friends, and in some respects a win from either could be seen as an upset.
The real dark horse here isn't Payne – who does put in good work – but Scorsese, who despite making a film that many people despise on subject matter alone, proved once and for all that he can still make a movie that throws any and all caution to the wind. I would actually put him right behind Cuaron to be the favourite.
Best Actor
Nominees: Christian Bale (American Hustle), Bruce Dern (Nebraska), Leonardo DiCaprio (The Wolf of Wall Street), Chiwetel Ejiofor (12 Years a Slave), Matthew McConaughey (Dallas Buyers Club)
Prediction: Leonardo DiCaprio
This one is tough; easily the toughest and most competitive of the night, with four out of five of these performances being more than deserving enough of the award and the other one still being a favourite that can't be counted out.
The one I am not that thrilled with is Bale, who I am honestly getting really tired of. His approach to acting these days is to hide behind some make-up (or in this case a hideous wig, a beer gut, and some avaiators) and putting on a funny voice. It has gotten to a point where I really feel like I have seen all the guy has to offer. Sure, he has a major screen presence, but I have honestly stopped caring.
As for the other four, it would be awesome to see Dern pull off the upset, especially since he's getting on in years and this year's Oscar telecast is shaping up to be one of the most mournful ones in history when we get to the In Memorium section. His portrait of a stubborn old man fading away is heartbreaking and humorous in equal amounts.
In a perfect year, Ejiofor wouldn't have to deal with such competition against his brave performance in 12 Years a Slave. He gets to emotional depths that most actors could only dream of, and he's probably overall the most deserving.
There is no actor on more of a hot streak right now than McConaughey, and his physical transformation and current standing as an actor are the kinds of things the Academy salivates over. His recent win at the Golden Globes probably didn't hurt his chances, either. He has momentum on his side and that's something that can never, ever be discounted.
But then there's DiCaprio, who has also netted a Golden Globe award for a film that people think he's wonderful in even if they didn't like it all that much. Much like Ejiofor and McConaughey, it's a brave performance, but it's also one where the actor isn't afraid to look more than a little silly. The biggest thing against him is that he's acting in a film that's ostensibly a comedy, something that Academy hates almost more than they hate science fiction. Still there has been a lot of commenting along the lines of "Tell me again why we haven't given this guy an Oscar yet?" going around. Even if that picture of a pre-stamped name plate with DiCaprio's name on it was a proven hoax, I like to think he's got this one. He's been beating the drum and getting his face out there more than the other nominees, and if he loses this one, it certainly won't be from a lack of trying.
Best Actress
Nominees: Amy Adams (American Hustle), Cate Blanchett (Blue Jasmine), Sandra Bullock (Gravity), Judi Dench (Philomena), Meryl Streep (August: Osage County)
Prediction: Cate Blanchett
Thanks for coming Amy, Sandra, Judi, and Meryl. Your efforts are appreciated. This race was over before any of your films even came out. Blanchett has had this one locked up for quite some time, with no one really coming close to touching her. The only way that she can lose is if the renewed interest in Blue Jasmine director Woody Allen's sex scandals actually swayed enough voters to tip the scales pretty drastically to someone else, but as history has shown the Academy pays very little attention to such things or is at least able to somehow keep it out of sight and mind. It's her's to lose, and look for this award to be handed out pretty early in the night due to lack of suspense.
But on a side note, I really want to see Amy Adams get the Oscar she has coming to her soon. She's always great and fun to watch and she's on her way to getting shut out after five nominations in a still young career. Those are some impressive numbers, and she really is the best thing about American Hustle. I will keep my fingers crossed for her as hard as I can.
Best Supporting Actor
Nominees: Barkhad Abdi (Captain Phillips), Bradley Cooper (American Hustle), Jonah Hill (The Wolf of Wall Street), Michael Fassbender (12 Years a Slave), Jared Leto (Dallas Buyers Club)
Prediction: Jared Leto
Leto has simply won too many times to stop losing now. I wish that wasn't the case and that more people paid attention to Fassbender's chilling slave owner or Hill's motormouthed big shot wannabe, but that's just the way it goes. Abdi is a bit of an upset in the making and he'd be a great choice for a film that likely won't win anything else at the ceremony. As for Cooper, he's probably the least heralded member of his cast next to Jeremy Renner who couldn't get nominated. Not that he's a bad choice, though.
Best Supporting Actress
Nominees: Sally Hawkins (Blue Jasmine), Julia Roberts (August: Osage County), Lupita Nyong'o (12 Years a Slave), Jennifer Lawrence (American Hustle), June Squibb (Nebraska)
Prediction: Jennifer Lawrence
While I have been sentimentally on the side of the scene stealing Squibb every step of the way, and while I felt a punch in the gut watching Nyong'o, everyone here will be undone simply by Lawrence's pitch perfect vamping and he love of her "science oven." She's pretty great. Roberts has no chance here since no one really loves that film all that much. As for Hawkins, she would be a really interesting choice because Blue Jasmine would have failed as a movie without her, no matter how good Blanchett was.
Best Original Screenplay
Nominees: American Hustle, Blue Jasmine, Her, Nebraska, Dallas Buyers Club
Prediction: Her
Spike Jonze should take home the award for her because this is precisely the category most people believe it should be honoured in. It's the perfect place to reward films with heady concepts. American Hustle and Nebraska have chances to steal this one away, though. Dallas Buyers Club and Blue Jasmine are films that are more performance based than they are well written.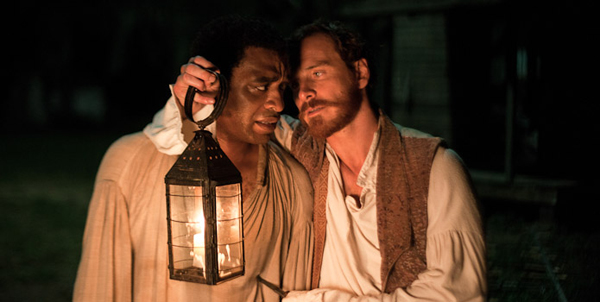 Best Adapted Screenplay
Nominees: Before Midnight, Captain Phillips, 12 Years a Slave, The Wolf of Wall Street, Philomena
Prediction: 12 Years a Slave
The on point attention to detail, dialogue, and themes should give John Ridley the advantage here, slightly edging out Terence Winter's witty Wolf script. Philomena writers Steve Coogan and Jeff Pope could slip in there, though, thanks to a story that disposes of its most game changing twist in the first 30 minutes and still manages to be a well crafted final product. Captain Phillips is more of a directorial effort, and as happy as I am to see Before Midnight in here, that's a collaborative effort that's really more improvised than it is written. If that one does pull off the upset, though (and it would be a huge one), it's a great way to honour one of the best trilogies in motion picture history.
Best Animated Feature
Nominees: The Croods, Despicable Me 2, Ernest & Celestine, Frozen, The Wind Rises
Prediction: The Wind Rises
Whenever you say something is the LAST film any iconic filmmaker will make (and that film just so happens to be good), that makes it an automatic favourite, and sensing the chance that they'll probably never have a chance to honour Hayao Miyazaki again, look for the Academy to seize the opportunity. Frozen has a lot appeal and the box office to put up a heck of a fight. The Croods has become a bit of an also-ran, coming out too early in 2013 for most people to remember it all that fondly. I doubt enough people have even heard of the delightful Ernest & Celestine, let alone seen the thing. As for Despicable Me 2, I just can't see voters awarding a lighthearted sequel anything, even in a category as traditionally fun loving as this one.
Best Foreign Language Film
Nominees: The Broken Circle Breakdown, The Missing Picture, The Hunt, The Great Beauty, Omar
Prediction: The Great Beauty
I would like to make this perfectly clear. I fucking abhor Paolo Sorrentino's The Great Beauty. It's a work of such incredible arrogance and flippancy that I despise every single simpering thing that it stands for. It was one of the worst films of last year, but thanks to the Academy always skewing older and generally always picking the best looking film to win this award instead of anything even approaching a good film, it will be destined to always be something I will think is one of the absolute worst films to ever win an Oscar. It is the award I am least looking forward to.
Having said that, I pray deep down for a surprise from the tearjerker The Broken Circle Breakdown or the stomach churning drama of The Hunt. They pose the sanest counterpoints to Sorrentino's hack work, but both are often derided for being melodramatic. The Missing Picture is exceptional, but probably would have had more luck in the Best Documentary Feature category where it belongs (and which is overcrowded as it is) and with a bigger push. As for Omar, it's just okay; not good enough to compete here.
Best Documentary Feature
Nominees: The Act of Killing, Cutie and the Boxer, Dirty Wars, The Square, Twenty Feet From Stardom
Prediction: The Act of Killing
This is another tough one to gauge. Really, there is no real way to lose here provided that the dreary polemic Dirty Wars doesn't miraculously pull off an upset. (Seriously, that movie is bad.) Cutie and the Boxer and 20 Feet From Stardom are both well done, feel good movies that are backed by Harvey Weinstein, so both stand good shots of pulling something off. But the degrees of difficultly involved in making The Act of Killing (sitting down with warlords that have massacred millions and getting them to be uncomfortably candid about it) and The Square (being in the thick of the Egyptian revolution) make both tough acts to follow. Look for Joshua Oppenheimer's film to have just enough momentum to pull off a hard fought win.
Best Cinematography
Nominees: Gravity, Inside Llewyn Davis, Nebraska, Prisoners, The Grandmaster
Prediction: Gravity
Masterful cinematographer Roger Deakins will get screwed for an 11th time without a win simply because there's no way that Prisoners could ever compete with the slick look of Gravity. Inside Llewyn Davis and The Grandmaster look good, but don't stand much of a fight considering the lack of love the received in other categories. As for Nebraska, the black and white is gorgeous, but that was all done in post since it was actually filmed in colour, which might turn some purists off. If they can get around it, Nebraska will become Option C at best.
Best Achievement in Editing
Nominees: 12 Years a Slave, American Hustle, Gravity, Captain Phillips, Dallas Buyers Club
Prediction: 12 Years a Slave
The safest bet you can ever make is picking the same choice for Best Editing as you do for Best Picture. It is statistically the best indicator of what film will take home the biggest prize of the night.
Best Production Design
Nominees: 12 Years a Slave, American Hustle, Gravity, The Great Gatsby, Her
Prediction: Her
Even people who were turned off by Her's story have found a lot of nice things to say about the design of the film. That might be enough to give the film the edge over the almost entirely computer created realm of Gravity (something that once again The Academy frowns upon) and the period details of American Hustle, 12 Years a Slave, and The Great Gatsby.
Best Costume Design
Nominees: American Hustle, The Great Gatsby, 12 Years a Slave, The Grandmaster, The Invisible Woman
Prediction: American Hustle
Seriously, those clothes pretty much make the movie. Upsets could really only come in the form of The Grandmaster and 12 Years a Slave.
Best Make-up and Hairstyling
Nominees: Dallas Buyers Club, Jackass Presents: Bad Grandpa, The Lone Ranger
Prediction: Dallas Buyers Club
Everyone loves the story of how the make-up budget for Dallas Buyers Club was only $250, and considering how great McConaughey and Leto look in their roles, that's an accomplishment. Don't count out Bad Grandpa, but unless Johnny Knoxville comes up and accepts as Irving Zissman, that would be kind of a wasted moment. Meanwhile, Lone Ranger has the slot that should have gone to American Hustle.
Best Original Score
Nominees: The Book Thief, Gravity, Her, Saving Mr. Banks, Philomena
Prediction: Gravity
Steven Price's music gets used to great effect in a film that takes place in a setting largely devoid of sound. The Book Thief has a chance simply because it's John Williams, but that one is a bit overblown. Her might be too hip for the older voters. Saving Mr. Banks and Philomena have their moments, especially the former, which is a film about the creation of an iconic musical.
Best Original Song
Nominees: Despicable Me 2 ("Happy"), Frozen ("Let it Go"), Mandela: Long Walk to Freedom ("Ordinary Love"), Her ("The Moon Song")
Prediction: Frozen
Good luck ever getting "Let it Go" out of your head. Again, Her is too hip for this category and "Happy" is by definition a really bad song. It's a two song race between "Let it Go" and "Ordinary Love," which is a mediocre U2 song from a sadly mediocre biopic, but if there's one thing I've learned in life it's that people will gladly give U2 an award (*cough* or the opening night of a film festival *cough*) just so they can get Bono on stage.
Best Sound Mixing
Nominees: Gravity, The Hobbit: The Desolation of Smaug, Captain Phillips, Inside Llewyn Davis, Lone Survivor
Prediction: Captain Phillips
It sounds great, and this would be a perfect consolation prize. Wouldn't be shocked if Gravity or Hobbit eke out the win.
Best Sound Editing
Nominees: All is Lost, Captain Phillips, Gravity, The Hobbit: The Desolation of Smaug, Lone Survivor
Prediction: Captain Phillips
I can't explain exactly why, but Paul Greengrass films always end up in these two sound categories, and they usually perform well. I'd say this is a two-fer, with all of the provisions stated above.
Best Visual Effects
Nominees: Gravity, The Hobbit: The Desolation of Smaug, Iron Man 3, The Lone Ranger, Star Trek Into Darkness
Prediction: Gravity
People will see Gravity on the ballot and vote for it almost without thinking twice. But seriously, how did Star Trek get on here and not Pacific Rim?
Best Documentary Short Subject
Nominees: Cavedigger, Facing Fear, Karama Has No Walls, The Lady in Number 6, Prison Terminal: The Last Days of Private Jack Hall
Prediction: Facing Fear
A truly harrowing look at a homeless gay teen that was beat at the hand of Neo-Nazis who confronts one of his attackers years later, Jason Cohen's heartbreaking work says more about uneasy reconciliation in just over 20 minutes than many other films in this category can do in twice the time. Look for the largely first person and quite intense Karama Has No Walls and the HBO crafted Prison Terminal to challenge.
Best Animated Short Film
Nominees: Feral, Get a Horse!, Mr. Hublot, Possessions, Room on the Broom
Prediction: Get a Horse!
It's Mickey Mouse and it's the one film that most voters probably saw. Still, Mr. Hublot is the best of the bunch.
Best Live Action Short Film
Nominees: That Wasn't Me, Just Before Losing Everything, Helium, Do I Have to Take Care of Everything?, The Voorman Problem
Prediction: Just Before Losing Everything
This French made short from Xavier LeGrand has filmmaking acumen in spades and establishes its filmmaker as someone to keep an eye on in the future. It's easily the best and most widely noted short from an otherwise somewhat suspect lineup of shorts. Dutch film Helium and the Martin Freeman starring Voorman Problem offer up the best competition, but both are just okay at best.
Advertisement
---
---
Advertisement
---
FROM AROUND THE WEB
Advertisement