If you read comics and identify as female, understand gravity or how spines work, or dislike sexism, then you'll understand why the way women are largely represented in comics is problematic. Not blind to the rampant misogyny and awkwardness faced by female characters in comics, Noelle Stevenson – creator of the hilarious and excellent webcomic Nimona – proposed to Tumblr that all "Empowered Women" striking "Strong Female" poses in comics should be replaced by Hawkeye in the exact same position. Because Tumblr is both powerful and terrifying, it took almost no time before user hoursago took Stevenson's suggestion to heart, and posted this piece of brilliance on the internet forever:
hoursago's re-draw of the October 2011 issue of Marvel Adventures Super Heroes quickly spread across the better parts of the internet, inspiring other artists to post their own Hawkeye-substituted versions of their favourite Strong Female Character poses. A day later, Skjaldmeyja had created and developed a full website, and with a Middletone theme and Stevenson's help, they launched a blog entitled "The Hawkeye Initiative," dedicated to posting as many images of Hawkeye in ridiculous Empowered Female stances as possible. Using the ridiculousness of the art to "draw attention to how deformed, hypersexualized, and unrealistically dressed women are drawn in comics," The Hawkeye Initiative suggests implementing "The Hawkeye Test" for comic artists: "If your female character can be replaced by Hawkeye in the same pose without looking silly or stupid, then it's acceptable and probably non-sexist."
Active for three months now, The Hawkeye Initiative remains as hilarious as ever, but it's important to think critically about what you're laughing at, while you imagine Jeremy Renner striking a mid-air booty pop. Women are wildly underrepresented as both readers and creators of comics, and the art which The Hawkeye Initiative makes such excellent fun of only serves to further alienate women from the genre as a whole. I realize it might be naïve to look forward to a day when "sex sells" doesn't have to apply to comics, but I live in hope. Thankfully, we have The Hawkeye Initiative to help get us there.
For now, let's take a look at some of the most important "lessons" women can learn from comics, as illustrated by some of The Hawkeye Initiative's best work.
Lesson #1: Always be sure your opponent can see your boobs and your butt simultaneously.
.
Lesson #2: If you have a fully-functional spine, you might not be ready for duty as a superheroine.
.
Lesson #3: Loincloths are perfect for battle!
.
Lesson #4: If it's not anatomically impossible, you're not trying hard enough!
.
Lesson #5: Be super-hot. Not "con-hot," but actually hot. For clarification, please see Tony Harris.
.
Lesson #6: Never forget your most powerful weapon is your vagina!
.
Lesson #7: If your supersuit is in the wash, your bra and underwear are just as effective.
.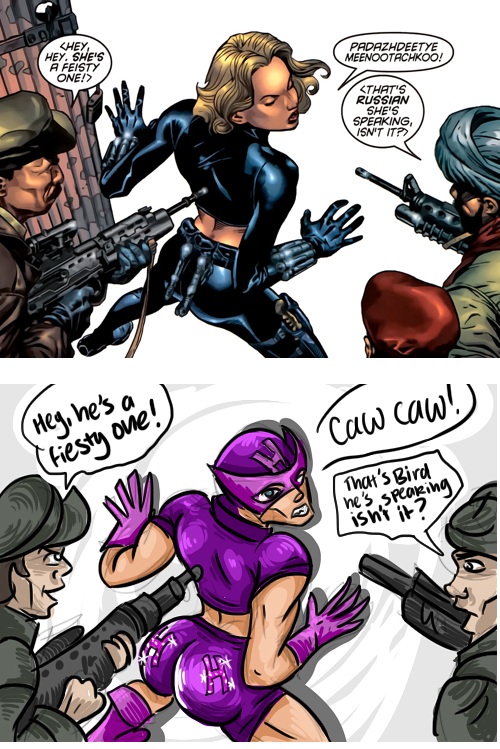 Lesson #8: You worked hard in the gym for that booty – show it off!
.
Lesson #9: Don't be afraid to objectify yourself for the male gaze on your days off!
.
Lesson #10: Pulling a sex face will make your attack at least 30% more effective.
.
Lesson #11: Clothes just stay like that!
.
Lesson #12: Flight powers come straight from the nips!
.
Lesson #13: If you don't know how to do a handstand, what are you waiting for? Gymnastics are traditionally far more effective than guns.
.
Lesson #14: Squat! You're far more terrifying with your legs open.
.
Lesson #15: Make sure your giant, impractical implants come with anti-gravity boosters.
.
But most of all…
Be ready for your close-up at any moment!
Advertisement
---
---
Advertisement
---
FROM AROUND THE WEB
Advertisement