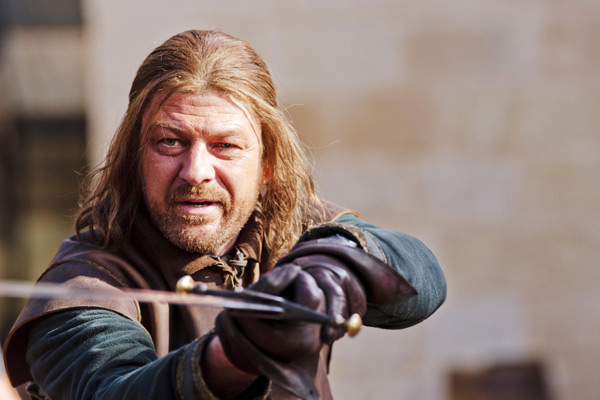 When TIFF announced earlier this year that A Song of Ice and Fire author George R. R. Martin would be coming to the Bell Lightbox in Toronto for a speaking engagement, fans of his novels – and the HBO series that it spawned – were elated. The "In Conversation…" event sounded great, but we knew that a simple visit would not be the only thing that the film fest group had in store for Game of Thrones fans. And boy, did they not disappoint.
TIFF has teamed with HBO Canada and Random House to produce Game of Thrones: The Exhibition, a free exhibition that includes a number of props, weapons, and costumes from the HBO series, as well as a wealth of behind-the-scenes photos and video. The titular Iron Throne, focal point for all that novelized and televised drama, will anchor the exhibit. Fans of the series will even be able to sit on the throne made from the swords of the defeated.
Some of the other highlights include the red priestess Melisandre's costume from season two, one of Daenerys' dragon eggs, Ned Stark's "Hand of the King" badge, and the King Robert Baratheon's stag crown. TIFF has also announced another event featuring Martin, a "Higher Learning: Master Class" with the author, designed for academics and post-secondary students.
It sounds like TIFF has a pretty awesome slate of Game of Thrones-related programming lined up for March. Sadly, admission to the exhibition will not get you access to either of the Martin talks. The "In Conversation…" event sold out extremely quickly. Obviously the icing on the cake would be an early screening of the season two premiere at the Lightbox with Martin in attendance, but nothing like that has been announced. Oh well, a dork can dream.
Game of Thrones: The Exhibition runs March 9 – 18 at the TIFF Bell Lightbox. Free tickets will be available starting February 27.
Season two of HBO's Game of Thrones kicks off on April 1.
Advertisement
---
---
Advertisement
---
FROM AROUND THE WEB
Advertisement