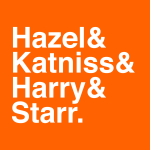 Hazel & Katniss & Harry & Starr is a weekly Canadian podcast about young adult literature, their film and television adaptations, and everything in between. Now in its sixth season, the podcast—hosted by film critic Joe Lipsett and English professor Brenna Clarke-Gray—aims to highlight the cultural worth of young adult and middle-grade texts, with a focus on Canadian, Indigenous and minority creatives and stories.
Join us weekly for deep dives, as well as a round of YA BINGO.
Book Six, Chapter 4: The House with a Clock in Its Walls feat. Dede Crimmins
Spooky Season begins with a look at John Bellairs' 1973 franchise starter The House with a Clock in Its Walls, as well as Eli Roth's 2018 adaptation. Joining us for the ride is film critic Dede Crimmins, who brings a unique POV because she saw the film first.
The book is *very* '70s and features surprisingly little character development, despite oozing atmosphere (that car chase!).
The film is far more male-centric, but fleshes out its characters and set pieces while (obviously) giving stars Cate Blanchett and Jack Black much more to do, including turning the latter into a baby with an adult face! Creepy indeed!
Read on for more about this week's episode from co-host Joe Lipsett:
Every year I force my co-host Brenna to program a month of Spooky titles for October. I love horror films; she does not. So it's something of a compromise to find interesting texts that will work for both of us. This year the calendar configuration ensures that we'll have five (!) weeks of horror, which is exciting for me and daunting for her.
First up is a classic of '70s young adult literature and its much more contemporary film, which is transformed into both a family friendly adventure and a big starring vehicle for comedian Jack Black. It's emblematic of the many adaptation challenges we tend to see in YA texts: films that lean into action, FX, and spectacle, though (ironically enough) the film offers more character development than the book.
Blame the 1970s, I guess! –JL
Subscribe to HKHS Pod: Apple Podcasts  | Spotify (or anywhere else you get your podcasts!)
Follow the pod on Twitter, Instagram and BlueSky.
Advertisement
---
---
Advertisement
---
FROM AROUND THE WEB
Advertisement