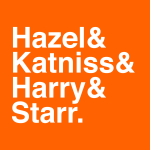 Hazel & Katniss & Harry & Starr is a weekly Canadian podcast about young adult literature, their film and television adaptations, and everything in between. Now in its sixth season, the podcast—hosted by film critic Joe Lipsett and English professor Brenna Clarke-Gray—aims to highlight the cultural worth of young adult and middle-grade texts, with a focus on Canadian, Indigenous and minority creatives and stories.
Join us weekly for deep dives, as well as a round of YA BINGO.
Book Six, Chapter 5: Love and Monsters
Spooky Month continues, but we're moving away from scares into drippy monsters!
Thankfully Michael Matthews's Love and Monsters features plenty of comedy and heart, courtesy of star Dylan O'Brien's voice over and a script from Matthew Robinson and Brian Duffield (the latter wrote previous episode Spontaenous).
We're big fans of the best good boy, Dog, the way the film handles Joel's relationship with Aimee, and the Oscar-nominated realism of the CGI.
Read on for more about this week's episode from co-host Joe Lipsett:
For the second week of Spooky season, I choose an easy win for Brenna: a monster movie (where the monsters aren't scary), a good deal of sentimentality, solid special effects, and a bit with a dog.
And while she had an issue with the sliminess of the creatures, thankfully the cartoonish opening sequence covering the exposition and the comeuppance of the film's Australian villain wound up winning her over.
It doesn't hurt that Dylan O'Brien – aka one of my favourite YA actors – is so earnest and likeable in the lead role, or that the film's unconventional ending refutes simple resolutions while still feeling satisfying.
If only this film hadn't been released during the pandemic, we could be seeing sequels! –JL
Subscribe to HKHS Pod: Apple Podcasts  | Spotify (or anywhere else you get your podcasts!)
Follow the pod on Twitter, Instagram and BlueSky.
Advertisement
---
---
Advertisement
---
FROM AROUND THE WEB
Advertisement