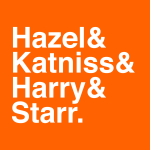 Hazel & Katniss & Harry & Starr is a weekly Canadian podcast about young adult literature, their film and television adaptations, and everything in between. Now in its sixth season, the podcast—hosted by film critic Joe Lipsett and English professor Brenna Clarke-Gray—aims to highlight the cultural worth of young adult and middle-grade texts, with a focus on Canadian, Indigenous and minority creatives and stories.
Join us weekly for deep dives, as well as a round of YA BINGO.
Book Six, Chapter 6: Scary Stories to Tell in the Dark
Spooky Season continues as Brenna and Joe tackle Alvin Schwartz's collection of folklore urban legends, as well as André Øvredal's 2019 adaptation.
We heap praise on the illustrations by Stephen Gammell and acknowledge Schwartz's campfire tales as gateway horror.
The film doesn't work as well, though. The Vietnam backstory is undercooked and villain Tommy is dispatched too early. Plus: the monsters aren't persuasive to Brenna.
Also up for discussion: Joe's fave sequence, ableism/abuse, and that bizarre sequel tease.
Read on for more about this week's episode from co-host Joe Lipsett:
For the third week of Spooky season (see weeks 1 & 2), I'm turning up the creepy factor on Brenna with Scary Stories to Tell in the Dark. It's another monster movie, but unlike Love and Monsters, this time the monsters are scary. I'm especially fond of the Pale Lady from the hospital sequence.
What's odd about this adaptation of the classic campfire stories is that it resolutely refuses to take the most straightforward adaptation choice. Instead of going the anthology route, the creative team opts for a single narrative. This helps with Stella's story because she's present for most of the film, but it harms several supporting characters.
Then there's the way that Vietnam is used as both a shorthand for Otherness and a narrative crutch, and how the only racialized character is sent to war at the end. It's all a little uncomfortable in ways that the creative team clearly didn't think through. –JL
Subscribe to HKHS Pod: Apple Podcasts  | Spotify (or anywhere else you get your podcasts!)
Follow the pod on Twitter, Instagram and BlueSky.
Advertisement
---
---
Advertisement
---
FROM AROUND THE WEB
Advertisement