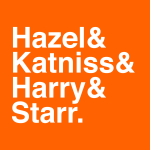 Hazel & Katniss & Harry & Starr is a weekly Canadian podcast about young adult literature, their film and television adaptations, and everything in between. Now in its sixth season, the podcast—hosted by film critic Joe Lipsett and English professor Brenna Clarke-Gray—aims to highlight the cultural worth of young adult and middle-grade texts, with a focus on Canadian, Indigenous and minority creatives and stories.
Join us weekly for deep dives, as well as a round of YA BINGO.
Book 6, Chapter 7: Goosebumps feat. Paul Farrell
We're still on the gateway horror track with a look at three R.L. Stine texts and Rob Letterman's 2015 film adaptation, starring Jack Black (again!)
Guiding the discussion with encyclopedic knowledge is Goosebumps super fan Paul Farrell, who advised Brenna and Joe to read The Ghost Next Door, The Blob That Ate Everyone, and Night of the Living Dummy 2 to prepare.
Plus: terrible families, brightly coloured cover art, the new Disney+ show, and Stine's approach to hooking young readers.
Read on for more about this week's episode from co-host Joe Lipsett:
So far for Spooky Season 2023, we've had episodes on The House with a Clock in Its Walls, Love and Monsters, and Scary Stories to Tell in the Dark. For the second last entry, Brenna and I wanted to tackle R.L. Stine. He's a hugely important figure for middle school readers. Between Goosebumps and Fear Street, the author has been writing gateway horror for decades.
While we read three books for the episode, this is a broadly inclusive Goosebumps episode. Thanks to expert Paul Farrell, we also touch on the Canadian TV series, the new Disney+ series and even the second film. It's pretty all-encompassing and a great listen. Paul is a fantastic guest who knows his stuff! –JL
Subscribe to HKHS Pod: Apple Podcasts  | Spotify (or anywhere else you get your podcasts!)
Follow the pod on Twitter, Instagram and BlueSky.
Advertisement
---
---
Advertisement
---
FROM AROUND THE WEB
Advertisement