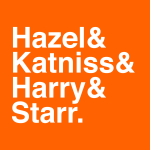 Hazel & Katniss & Harry & Starr is a weekly Canadian podcast about young adult literature, their film and television adaptations, and everything in between. Now in its sixth season, the podcast—hosted by film critic Joe Lipsett and English professor Brenna Clarke-Gray—aims to highlight the cultural worth of young adult and middle-grade texts, with a focus on Canadian, Indigenous and minority creatives and stories.
Join us weekly for deep dives, as well as a round of YA BINGO.
Book 6, Chapter 10: Mockingjay Part 2 feat. Alex Heeney
We're wrapping up Mockingjay which means our resident The Hunger Games expert Alex Heeney of Seventh Row, is back!
We're closing out the back half of Suzanne Collins' book (Chapter 13 -> End) and Francis Lawrence's Mockingjay Part 2 (2015) with a discussion about PTSD, the Capitol as an arena, and the heteronormative baby-centric ending.
Plus, settling the Peeta vs. Gale debate once and for all, the ugly visual palette of the film, and Katniss as a soldier.
Read on for more about this week's episode from co-host Joe Lipsett:
After covering The Hunger Games, Catching Fire, and Mockingjay Part 1, it's time to wrap up our coverage of the original Hunger Games trilogy.
These titles have never been Brenna's favourite, in part because Katniss Everdeen can be a stubborn, frustrating character, but also because author Suzanne Collins seems to delight in half-baked dystopian ideas and child murder. This is a great conversation about how the Capitol section of the final book fails a lot of the trilogy's themes, and where Francis Lawrence's film suffers as a result.
It'll be interesting to compare to the new prequel, which is where we're headed next week! –JL
Subscribe to HKHS Pod: Apple Podcasts  | Spotify (or anywhere else you get your podcasts!)
Follow the pod on Twitter, Instagram and BlueSky.
Advertisement
---
---
Advertisement
---
FROM AROUND THE WEB
Advertisement