The 21st annual Hot Docs Canadian International Documentary Film Festival, the largest festival for documentary filmmaking in North America, will kick off on Thursday, April 24th with the International premiere of The Internet's Own Boy: The Story of Aaron Swartz as announced this morning at the grand unveiling of all 197 films programmed for this year's 11 day festival.
The Internet's Own Boy tells the tragic and complex story of Aaron Swartz, an internet wonderboy, developer of Reddit, and a creative commons licensing pioneer and anti-SOPA activist who committed suicide in his Brooklyn apartment in early 2013. Not only does the film seek to look into how the anti-surveillance advocate lived his life up until the end when he was looking at a string of felonies that could land him 35 years in prison, but it also comes from a filmmaker that many Hot Docs followers will remember: Brian Knappenberger, who most recently came to the festival with another look at the internet in We Are Legion: The Story of the Hacktivists in 2012. The Internet's Own Boy comes to Hot Docs fresh off its premiere at this year's Sundance film festival where it was a nominee for the Grand Jury Prize.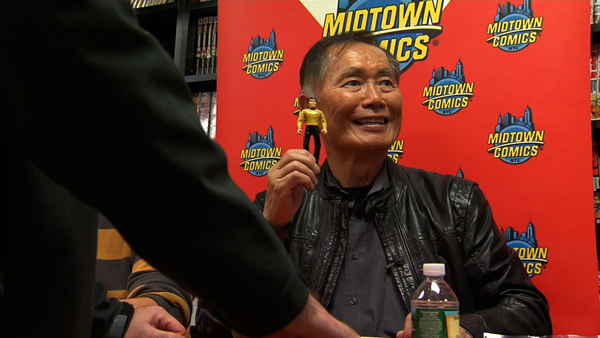 In addition to being the opening night film, The Internet's Own Boy will also be one of the film's featured in the returning Scotiabank Big Ideas series, which includes lengthy discussions with the subjects of films and the issues surrounding them, on April 30th with a panel discussion following the film with Knappenberger, best selling writer Cory Doctorow, Harvard Law Professor Lawrence Lessig, and hacker culture expert Gabriella Coleman about the late Swartz's life and his impact on our culture. Also in this series are appearances by one of the most beloved members of the Starship Enterprise (George Takei, subject of To Be Takei), one of the world's most beloved Muppets (Carol Spinney for the previously announced I am Big Bird, made by former Hot Docs volunteers Chad Walker and Dave LaMattina), a world renowned oceanographer and environmental activist (Sylvia Earle, subject of Robert Nixon and Fisher Stevens' Mission Blue), and the couples who stood up for the rights of gay marriage in California (in The Case Against 8, which started its life at the Hot Docs Forum).
Not that there isn't star power to be found elsewhere throughout the line-up. Famed shock rocker Alice Cooper will be appearing both at the festival and live via satellite to over 40 Cineplex locations across the country for a heavily stylized and entirely made from archival footage look at his life in Super Duper Alice Cooper, from the people who brought the world Metal: A Headbangers Journey and the popular Metal Evolution TV series. Also just as much of a rockstar in his own way, professional wrestling and social media icon The Iron Sheik with be on hand for the world premiere of his life story in The Sheik. Community creator Dan Harmon will being viewers to Harmontown at this year's festival; a film that has also been selected as this year's special outdoor screening. The Wire actress Brandy Bird watches her return to acting after having a child documented in Robert Green's Actress.
For those who like their cinema to be a bit more spontaneous and interactive, there will be a one night only screening of Sam Green's The Measure of All Things on April 26th. A live documentary that will be narrated as it unfolds on screen by Green, the film is inspired by some of the more outlandish stories in the Guinness Book of World Records. It will also have a live soundtrack provided, courtesy of The Quivers, in something that's the very definition of a one-time-only experience.
The festival's Canadian Spectrum programming includes 49 homegrown documentaries (27 of which are features, and 11 of those are from Quebec) including the documentary debut of Sundance award winner Julia Kwon as she looks at Vancouver's Chinatown in Everything Will Be. Also coming to the festival are noted Canadian auteur Denis Cote with Joy of Man's Desiring and Hot Docs alum John Kastner with another look inside the mental health system, Out of Mind, Out of Sight. There's also an appearance from the Doc Ignite funded The Secret Trial 5, which looks at the shady business of detaining Canadian citizens with security certificates.
We'll have a look at our most anticipated titles from around the world that have been selected for Hot Docs 2014 this weekend once we've had a chance to go through the line-up (which is pretty stacked and featuring a lot of depth this year), but for more information on all things Hot Docs, head to their festival website. Tickets are also available now both online and via the Hot Docs box office (located on the lower level of Cumberland Terrace at 2 Bloor Street West) And stay tuned throughout this year's festival as we cover as much as we can this Hot Docs season.
Advertisement
---
---
Advertisement
---
FROM AROUND THE WEB
Advertisement