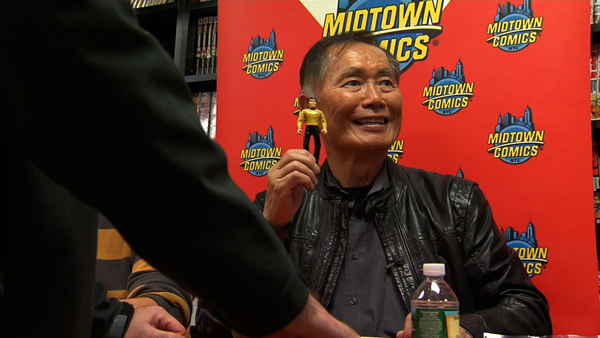 To Be Takei
Special Presentations
While director Jennifer Kroot and co-director/editor Bill Webber do a fine job of showcasing what makes actor, writer, and human rights activist George Takei such a fascinating and important historical figure when it comes to Asian and gay actors, the movie they made around him is a maddeningly disjointed mess.
Kroot follows Takei and his husband/manager Brad Altman around through their domestic and professional lives while talking about George's childhood spent in U.S. internment camps for Japanese citizens during World War II (the subject of his latest musical, also a large part of the film), his struggles with staying in the closet, his resurgence to become a modern day internet and TV celebrity, and, of course, a little bit here and there about Star Trek.
The elements of a good biopic are all here, and George and Brad are fascinating subjects (especially Brad, who balances his love of George with a hard, business-like edge), but the film is all over the map. Rather than establishing any sort of framing device or even a coherent timeline, Kroot and Webber just slap together anecdotes and important life moments at random. They'll start telling a story, stop to tell another, and go back to the one they were telling 20 minutes ago. It's frustrating, making the film really hard to get invested in. For die hard Takei fans only.
Remaining screenings
Sunday, April 27th, Bloor Hot Docs Cinema, 1:00pm (RUSH ONLY)
Advertisement
---
---
Advertisement
---
FROM AROUND THE WEB
Advertisement