There is a moment in Sin señas particulares (Identifying Features) that took my breath away. Halfway between a gasp and a sigh, a muffled scream and a wail, I found myself enraptured with what filmmaker Fernanda Valadez had so carefully constructed. This Sundance winner for the World Cinema Audience Award is an intimate epic. Identifying Features is at once wholly devoted to telling the story of a mother searching for her son and a wide-ranging indictment of a system that's left too many to fend for themselves.
Magdalena (Mercedes Hernández) is searching for her son Jesús. He and a friend departed their town in Guanajuato in search of a better life across the border. But while the body of his friend has been found in a shallow grave, Magdalena is committed to not losing hope. Despite being called to admit that her son should be legally pronounced dead (giving that his bag was found in that same grave), this stoic Mexican woman refuses to let go of her hope that he may still be alive. She therefore begins a journey to find out what really happened to Jesús, unearthing the way her tragedy remains all too common, if too often subsumed in statistics and lurid news stories.
Part of the horror of Magdalena's story is the sheer banality of the bureaucracy that's sprung up around identifying bodies found alongside the border. Blood samples, DNA tests, photo albums of dead bodies, and makeshift morgues in moving trucks are presented as everyday occurrences. The likes of Magdalena come looking for closure, even when they know they're confronting equally horrifying scenarios: either identifying their loved ones (or a piece of clothing) or coming to terms with the fact that they may never be sure.
But eventually the horror extends to the culture of silence and impunity that her journey captures, especially as she comes in contact with another mother and later Miguel (David Illescas), a recently deported young man. As she stares out at him in the middle of an empty plain, Magdalena can't help but see her son. "We all look alike," he tells her. And the more we learn about Miguel's own trek across the border and the desolation that since took over the home and community he left behind, the more we realize how much his story is similar to Jesús's story, a reminder of the scant choices these young men have in front of them.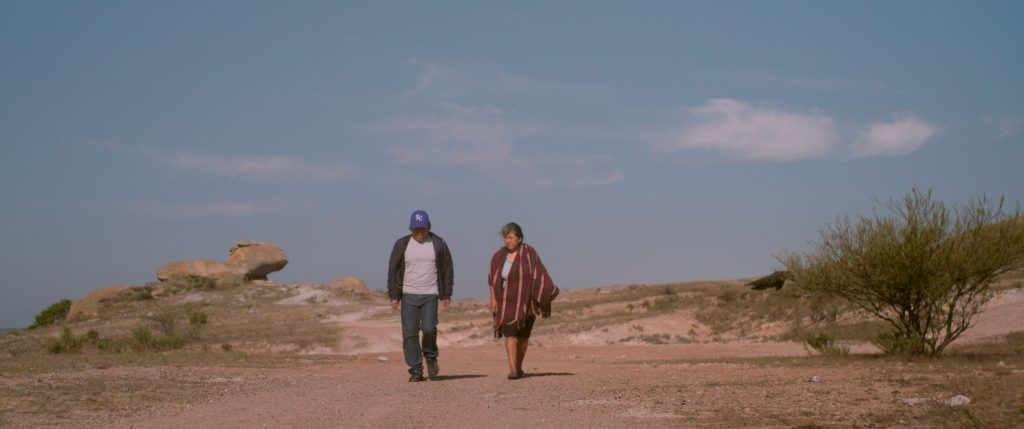 As much as Identifying Features deserves acclaim for its ability to reframe in many viewers' eyes what comes to mind when they think of "cartel violence," it succeeds because of its masterful ability to do so without any resort to didactic storytelling. Valadez's camera is often still and unflinching. It stays on its characters with the chilling indifference that meets Magdalena at every turn. Some images are indelible, many of them weighted with fleeting symbolism: a moth trapped in candle wax, an animal's skull burning in the fire, an arid landscape reflected on the water. This is a tragedy in its most elemental form.
With no musical score to underline its emotional beats, Identifying Features leaves us — for much of its runtime — unmoored. It lets the encroaching tension build up slowly around a viewer, eventually leading one to a point where its sucker punch of a revelation feels like the most dispiriting kind of release. Valadez makes the silence around Magdalena feel deafening, like an aural abyss she cannot escape. The deployment of a lyrical track in its final climactic moments further makes its choice all the more unnerving.
Ultimately, it is no hyperbole to say that is a masterclass in filmmaking from a director whose vision feels very much driven by righteous anger and hardened sadness. Its ending is gasp-inducing precisely because it feels so disheartening yet so familiar. Valadez has crafted an instant classic, a quiet achievement that will echo thunderously for decades to come. Both open wound and jagged scar, Identifying Features is a masterpiece.
Identifying Features opens in virtual theaters January 22, 2021, including in Canada via http://digital.tiff.net/ 
Advertisement
---
---
Advertisement
---
FROM AROUND THE WEB
Advertisement