Every year the Toronto International Film Festival offers patrons, visitors, and cinephiles of all kinds a chance to experience the programming that the world renowned TIFF Cinematheque provides to local audiences throughout the year. If you partook in any of the retrospectives or series that had so many local film buffs frothing at the mouth over the past couple of years, it's more than likely that the tireless efforts of the Cinematheque helped programmers and curators find and source the best possible images and sounds from films that time might not have been as kind to.
One of the biggest figures in the Cinematheque's efforts is TIFF programmer Brad Deane, the head of Cinematheque programming since 2012. In 2009, alongside Senior Programmer and legendary film scholar James Quandt, Deane helped programme the successful Nouvelle Vague: The French New Wave, Then and Now. He has also helped bring to Toronto the largest and most complete retrospective of the works of John Cassavetes in the past twenty years. Most recently at the festival's new hub, the TIFF Bell Lightbox, Deane has honoured the works of exceptional up and coming filmmakers Mia Hansen-Love and Nicolas Pereda with their own retrospectives.
Starting on the festival's opening day with a screening of a restored digital print of David Cronenberg's Shivers (technically the first film to play the festival this year on the afternoon of Thursday, September 5th), the Cinematheque programme offers free screenings of seven select restorations designed to bring classics – both well known and underappreciated – back to life on the big screen.
Dork Shelf talked to Deane about how the TIFF Cinematheque sources their prints, why he feels strange watching things on his computer, which film he's most excited to share this year, a bit about this year's line-up, a few tidbits about TIFF's upcoming David Cronenberg retrospective, and what films he would love to see restored so he can share them in the future with festival audiences.
Dork Shelf: People might know you a little better from the day to day programming as part of the TIFF Cinematheque. What really differs between what you select for the festival and what you work on with the regular Lightbox programming team?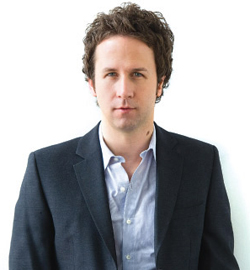 Brad Deane: Actually, they're really similar, but the festival is focused more on brand new restorations, which we bring it throughout the year normally, but here we give a bit more of a spotlight to some of the newer ones. A lot of the films that we do show are still a lot of the big classics that you would still see here at the Cinamatheque.
DS: When it comes to these restorations do you find out about these a lot like how the other TIFF programmers will find the films they select for the festival? Do people come to you directly and tell you what restorations are currently in the pipeline and what would be newest and most available or is there a lot more searching and active research?
BD: You know, it's probably both, and it really depends on the title. There are some that you know of ahead of time and some that you find out in the trade magazines. Gun Crazy (Monday, September 9th, TIFF Bell Lightbox 4, 12:00pm) was one that when I was out at UCLA last year before the festival and I was told they were working on a restoration of it that would be ready for next year, and we would have loved to shown that in a restored print.
Sometimes you go to different festivals and you'll find these new, restored prints. Again, you do a lot of the seeking, but sometimes they come to us directly. It all depends.
DS: In your TIFF bio on the festival website, it says that the strangest place you've ever watched a movie is on your computer screen. I find that sort of telling by that answer that you would end up being the programmer for the Cinematheque line-up. What is it about booking these films and putting them back into cinemas that you find personally exciting and joyful?
BD: (laughs) There's nothing like seeing something on the big screen. There just isn't, you know? I think that's something that gets lost now with phones and computers. It's true that I barely ever watch any movies on a computer. I have trouble sitting down and focusing on them when I do. You know this because I'm sure you have you have to watch screeners that way sometimes, and it's just so normal for people today. Maybe I'm going to have to adjust at some point, but there's nothing like being in an audience and seeing a film. It affects you in such a different way. It's huge to watch and the sound is huge. I remember the first time I saw (Ingmar Bergman's) Persona was on DVD or VHS or something like that and the film was just lost on me. I never thought it was all that great. Then I saw it on the big screen at the Cinematheque and I just saw the power it could have over people. It's so much more of an emotional impact on screen, and so much of that gets lost already on video and even more on a computer.
DS: Is there any film in this year's line-up that you're extremely proud of getting into the festival?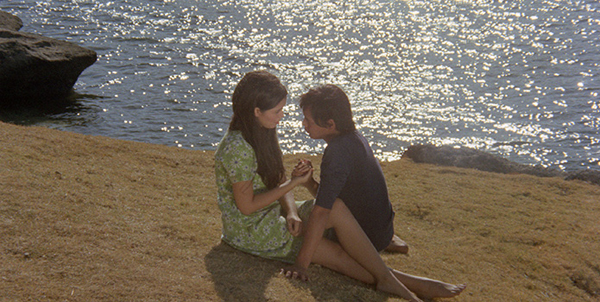 BD: Of course I love them all, but there's definitely a couple I'm really happy to see come back. One that I really love that I think most people won't know is Manila in the Claws of Light (Friday, September 6th, TIFF Bell Lightbox 4, 12:15pm), the Lino Brocka film. He's a filmmaker who over 20 years ago would have been a regular on the festival circuit. The circuit was a lot smaller back then, but I believe his work has played in the past at TIFF. He was a great Filipino director who unfortunately died young, and just as unfortunately his films have been out of circulation for quite a while. Here at Cinematheque we have always talked about wanting to do a retrospective, but there are just never any good prints. When we heard that Martin Scorsese's film foundation was actually restoring this one, we knew it was a great opportunity to bring this filmmaker back into the spotlight. Again, it's really something, the emotional power that this film has, and how it was made under the Marcos regime. I really hope that people will see this and say they want to see more Lino Brocka films and hopefully there will be a lot more to see. (laughs) I hope they keep up the restorations on his stuff.
DS: These restorations can't be cheap to do even when converting them to 4K digital, and while it's certainly convenient to do not a lot of people would want to make the investment to make these digital prints and especially harder to get anyone to agree to put a film on 35mm anymore. Do you find your job a little bit easier now in the digital age than having to try to source good looking prints from all over the world?
BD: You know, what? We are in a really strange period right now. I think a few years ago it was actually easier in a lot of ways because the prints were still around and people were still making 35mm prints. There was an era before me in the 1980s where tons and tons of stuff were still available because the rep houses were always playing these films.
It's getting better now, but it was a bit strange for a few recent years when it was getting really difficult. People weren't making DCPs a lot and a lot of people were waiting it out to see exactly what it was that they needed to do, but now the studios have said "Okay, we're going to do this and start converting to DCP." It's moving along, but it's not easier just yet. I think down the road it will be, but I think this will open up a lot of new access for a lot of different kinds of venues to start showing these films. My hope is that we head back towards that era where you could go back to any number of different cinemas to watch a great classic film.
DS: We already talked about Gun Crazy and Manila in the Claws of Light, but I wanted to talk to you about the other films that have been programmed in this year's festival and get a sense of why they were picked and where they're coming from when they arrive at this year's festival. I think a good place to start would be with The Lovely Month of May (Saturday, September 7th, TIFF Bell Lightbox 4, 12:45pm), because after he passed away recently Chris Marker has seen a bit of a re-examination of his works. Was that something in the back of your mind when it came to programming this one?
BD: We kind of had our eye on it for a little bit. I mean, the film and Marker in general is a real favourite of our Cinematheque. We always have Maker on our mind. (laughs) I'm trying to think if we really had it on our minds before. I believe the restoration was finished sometime shortly before May because it premiered at the Cannes Film Festival. It looks beautiful on DCP, and this will actually be the first time it's been projected with an English language voiceover by Simone Signoret, and in the past it was always in French. Marker always loved to have voiceovers done in the native language of the audience whenever possible, so this was all done to his instructions. The restoration was also overseen by Pierre Lhomme, who was a famous cinematographer that worked with tons of important French filmmakers and worked really closely with Marker several times, and was a co-director on this film. It's really great to bring something like this back that was worked on so closely with what the filmmaker intended the film to be like.
DS: If I were to pick a single film that I was most excited for out of this year's line-up it would be Alain Resnais' Hiroshima mon amour (Sunday, September 8th, TIFF Bell Lightbox 3, 9:45am), who also stars someone who a lot of people started taking notice of again after last year, Emmanuelle Riva.
BD: I think Riva had a lot to do with choosing this one. Fortunately, it was a film that was just restored, and of course we thought about how Riva was being recognized by North American audiences for maybe the first time in a lot of cases last year. She had always been more recognized in Europe, so it was great that the Haneke film (Amour) created a whole new introduction and hopefully it created enough interest for audiences to go back and watch this where she gives one of her best performances. Funny side note: This is actually the first film that I ever saw at the TIFF Cinematheque. (laughs)
DS: Rome, Open City (Tuesday, September 10th, TIFF Bell Lightbox 4, 5:15pm) is an interesting choice because it's not the first Roberto Rossellini film that I think springs readily to mind. When you're dealing with someone who has that kind of filmography, where do you start looking in terms of figuring out which of their films you want to book?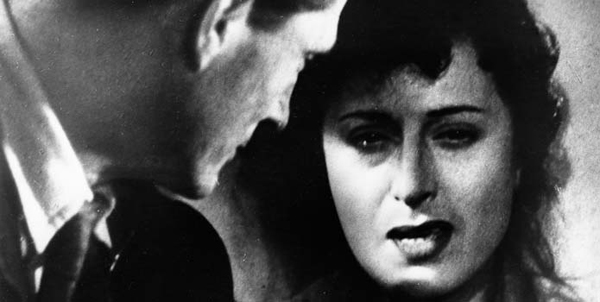 BD: James Quandt, who also works on the programming here, has been a huge champion of Rossellini for a while now. He did a huge retrospective on him at the Cinamatheque, and since then an initiative was started where they began restoring 10 Rossellini films, and Rome, Open City was one of the new ones this year. One of the things that's really great about having this one, though, is that it's long been available, but only with these really terrible prints, which really feeds into its reputation of being this rough film shot on the streets, and it was, but when you see the restoration it just underlines that everyone involved really knew how to shoot a film. It looks gorgeous now, and it's actually pristine looking now. So a lot of those flaws that we had gotten used to over the years really aren't there. A lot of that was just from bad prints that were made or everyday wear and tear on them. The restoration on this one is really great because it is a case of showing a film how it was meant to be seen.
DS: Equally underrated when you talk about major auteurs and films that they've done is An Autumn Afternoon (Wednesday, September 11th, TIFF Bell Lightbox 4, 4:00pm), which is a film that I've loved for a long time, but when people talk about Yasujiro Ozu, it's not one that I think often gets proper due.
BD: Exactly. That was our thought with Autumn Afternoon. Everyone knows Tokyo Story, and while that's a great, great film, we wanted to show Autumn Afternoon just because of that. It's a final film, it's a bit lesser known, it's a beautiful colour film, and it deals with a lot of the themes he always looked at throughout his career. Part of the thing that we love doing is giving a spotlight to these kinds of films. We really wanted to single out Autumn Afternoon and we hope that through this maybe we can get people to start talking about in the same breath that they talk about Tokyo Story or Early Summer or Late Spring. We hope to make it a bit more familiar.
DS: That brings us to the final film to talk about in the line-up, which is tied to the much larger David Cronenberg retrospective and showcase that you have coming up in the future, and that's the restoration of Shivers (Thursday, September 5th, TIFF Bell Lightbox 3, 3:30pm). When you talk about Canadian genre cinema and Cronenberg's career, the film itself doesn't really need much of an introduction anymore. How did the restoration for that one come about since TIFF and David worked so closely together on it?
BD: This one we did ourselves here, so obviously we're very excited to share it. The opportunity with the exhibition and the upcoming retrospective allowed us to go back and look at his films, and we found out that some of them really weren't in the greatest shape anymore. There was never really any time to make new prints of these films, and Shivers in particular needed a lot of restoration done to it. It was restored frame-by-frame to digital.
Actually, the title sequence might have been the hardest part to restore. (laughs) We couldn't find the original titles which was the one that David insisted upon. We could only find the American title treatment for It Came from Within, so we had to go back and digitally reconstruct it the way that David wanted it, and he was actually very involved with it. He oversaw the colour timing and the transfer of it quite heavily. But were thrilled to do this and we hope we can keep restoring things like this in the future.
DS: If you don't mind me asking, what other titles from the upcoming Cronenberg retrospective did you guys have to restore just as heavily?
BD: I would say that Shivers really was one of, if not the biggest, restoration project out of all of them. There was so much work that had to be done on the image. A lot of them were mostly just cleaning up existing prints and putting them through washes and putting them to DCP for the first time so they would be able to remain in great condition for a long time to come.
There was also a few with some sound issues. I believe it was Dead Ringers that we had to do a bit of sound work on, but otherwise the image was gorgeous. It probably looked like one of the best when we started, but the sound needed some work to repair a bit of damage.
Videodrome was a very special case, too, because I believe it's the first time the director's cut has ever been available on film. I think it's on DVD, but I believe this is the first time it's ever been on a film print in its entirety. We had to go back and get that footage and put it back into the film and that stuff was all on 35mm.
His early shorts had to be transferred to digital and cleaned up a lot because those were shot on 16mm. A lot of these things are just new prints to replace the older ones that were just worn down. A lot of studios helped collaborate with us, too, to make these new prints. The retrospective will be great because people will be seeing these in the best possible conditions.
DS: If you could choose three films that you would love to see restored and bring to the Cinematheque what would they be?
BD: (laughs) Oh God, that's tough. This really is the toughest question because it really is like a dream.
 One off the top of my head that I know of because I did the retrospective recently and I know it's not restored is The Killing of a Chinese Bookie. Hopefully that one is in the slate sometime soon, because I know there's been a lot of restoration of Cassavetes lately. The print was fine that we got, it was just a bit worn, but it would be great to see that in a restoration. Hopefully someone will get around to that one soon.
I would love to see Napoleon, the Abel Gance film, in the long version of it. The longest version I can get. I've seen the four hour version, but I think there's a five and a half hour version. That would definitely be up there. There's actually a lot of silent films that aren't in the greatest shape though. There would be too many of those to choose from because there's so many that need a lot of care.
Actually, a lot of restorations for a lot more recent stuff would be kind of nice, too, because for the past twenty years there's kind of this window where they aren't quite old enough to restore but they would be getting harder and harder to find.
DS: And a lot of those are from there era where films started getting shipped to over a thousand screens at a time and prints were just getting thrown out all the time to save space.
BD: Yeah, and oddly enough it's those films where we often run into the most maddening trouble. Sometimes it's hard to say if something needs restoration or not because I'm not always privy to the information on what kind of condition all the different elements are in. I know a film I would love to see restored that was a lot more widely seen would be Claire Denis' US Go Home, an hour long film that she made. It's rarely ever seen here in North America. It's extremely hard to find a print of it. It was made for television and I think it's up there with her best work and I would love to bring it here. I'm not quite sure if it needs restoration though, probably because it's so hard to track down in the first place. (laughs) But that definitely needs to be seen here in North America.
Advertisement
---
---
Advertisement
---
FROM AROUND THE WEB
Advertisement