A generation of moviegoers grew up with Kate Winslet. From the moment Titanic set sail in 1997, Winslet assured her star status. Titanic-o-mania captured the planet in a way that few movies do. The epic romance brought audiences back to the multiplex for repeat screenings. Whether hocking loogies with Leo, posing in a scene that would make Monet blush, or spreading her wings to fly, Kate Winslet stole the hearts of all moviegoers who weren't fainting over Leonardo DiCaprio. But even with just a few credits to her name by the time Titanic drew more fanfare than the boat for which it's named, Winslet transformed from an ingénue into an icon.
Winslet's post-Titanic career continually demonstrates a hunger to go deeper. While many critics define Winslet's filmography by its fondness for corsets and sensational hats, many of her best performances are those that reject everyday comforts. Characters like Sarah Pierce, Hanna Schmitz, April Wheeler, and Clementine come brilliantly alive with Winslet's ability to be both strong and fragile with a single flick of the eye, creating layers of complexity in ways that few actors do.
The career of this year's TIFF Tribute Actor Award recipient defines itself with risks and rewards. With seven Oscar nominations and one win, four Golden Globes, a BAFTA, an Emmy, and at least one generation-defining blockbuster to her name, Kate Winslet has nothing left to prove. The 45-year-old star shows no signs of slowing down, though. Kate's back at TIFF (virtually) with Ammonite, one of the most hotly anticipated films of the festival. Playing a middle-aged woman confronting pangs of forbidden love alongside Saoirse Ronan, Ammonite has all the ingredients to bring Winslet back to the Oscars: period garb, understated desire, and a fine balance of vulnerability and strength—and that's just in the trailer.
To salute the career of 2020 TIFF Tribute Actor Award winner Kate Winslet, the team at That Shelf happily looks back on the career of one of the best stars of this or any generation. And we promise, Kate: We'll never let go.  – Pat Mullen
The Essential Winslet: Kate's Canon
Heavenly Creatures (1994)
A breakthrough for everyone involved, this critical hit put Peter Jackson on the international scene and established the careers of its two stars, Kate Winslet and Melanie Lynskey, as Juliet and Pauline. They play two schoolgirls who become best friends. Hormonally charged by their development into adulthood and finding shelter in each other's outsider status, they form a devoted friendship that becomes obsessively symbiotic. Creating an entire imaginary universe (with claymation sequences bringing them to life), Pauline and Juliet are devastated when the latter's parents announce that they are moving her to South Africa. They come up with a plan to stay together that can only make sense to a teenaged brain. Based on a true-life murder case (Juliet grew up to become mystery writer Anne Perry), this stunning drama is extravagant and exciting but sympathizes with the mysteries of the adolescent mind while holding the characters to account for their behaviour. Winslet, in her first feature film role, establishes herself as someone who isn't afraid of a character's negative edge. Her Juliet is delightful and dazzling but at times bratty, and the combination is a terrifying but irresistible character. – Bil Antoniou
Sense and Sensibility (1995)
Following the arthouse hit of Heavenly Creatures, Winslet reached international acclaim with her first Oscar-nominated performance. Winslet plays the exuberant younger sister to the more staid Emma Thompson in Ang Lee's Sense and Sensibility, still the finest adaptation of a Jane Austen novel (except, of course, for Clueless). Thompson's adaptation sharply captures both Austen's warmth and wit but also includes plenty of room for the dark side of her exploration of the precarious circumstances for England's socially well-placed women, who need to get married or risk doom. While one sister cares a great deal for propriety, Winslet's Marianne is only interested in pursuing her interests and passions. While Thompson's Elinor is blinded to a man's passion for her by her own reserve, Marianne can't see the insubstantiality of her own suitor's personality as he shares her love for sonnets and running in the rain.  A character that could easily be made bratty or flimsy by a lesser actor is turned into a complex and considerate exploration of youthful naiveté that moves towards wisdom and maturity by the film's very satisfying conclusion. – BA
Hamlet (1996)
Kenneth Branagh's adaptation of William Shakespeare's Hamlet is epic in every sense of the word. Clocking in at a hefty 4-hours and utilizing every aspect of the grand lush Blenheim Palace, where many of the interior scenes were filmed, Hamlet is a visual feast for the senses. Branagh brings a lot of flair to the production as both the director and the lead actor. However, the film is far from a vanity project.   By allowing the film to breathe, the weight of the betrayal that Hamlet feels resonates in a way that few adaptations of play achieve.
In a film packed with so many talented performers, and the likes of Charlton Heston, Robin Williams and Billy Crystal are reduced to supporting roles, Kate Winslet manages to hold her own in her brief time on screen.  Winslet's Ophelia is the real heart of the film. Ophelia's descent into madness, including a brilliant moment when she sings a haunting tune, is gripping because one truly believes her love for Hamlet.  –Courtney Small
Titanic (1997)
The sincerity of Kate Winslet's performance is why Titanic still resonates with viewers today. Yes, the technical wizardry of the film is still impressive, but nothing comes close to the doomed romance of two captivating leads who grew into superstardom. Rose and Jack's relationship can't succeed; they're from two different worlds, one rich and the other only onboard the Titanic due to a card game. They discover each other in the bubble of a grand escape, clashing against the forces that would tear them apart. The audience is so wrapped up in their whirlwind romance that it's easy to forget that the film will assuredly end in the deaths of 1,200 people. When the film shifts suddenly from a period romance to a horrific disaster, it's clear just how engaged viewers are with the palpable chemistry of Leonardo DiCaprio and Kate Winslet. Heartbreak inevitably follows the devastating separation at the lifeboats and, later, when Rose pleads in a near-whisper for the lifeboat to "come back." There's not a dry eye in the house when audiences realize that "come back" could also be meant for Jack, who just gave his life to save Rose. Titanic sealed Winslet's status as a superstar, but it's also proof that gigantic-budgeted Oscar-bait means nothing without an amazing performance to see it through. – Colin Biggs
Eternal Sunshine of the Spotless Mind (2004)
Charlie Kaufman's mind-bending tale of love and heartbreak is endlessly watchable. Blending science fiction, absurd comedy, and drama, the film offers a unique approach to the complexities of romantic relationships. For a film about a couple, Joel (Jim Carrey) and Clementine (Kate Winslet), trying to literally scrub the other from their mind, Kaufman's twisty tale is deeply romantic. In its own odd way, the film solidifies that some people are destined to be together no matter what self-inflicted adversities that may occur.
Kaufman's film also shows just how versatile Carrey and Winslet are as actors. While Carrey brings a vulnerability rarely seen in his comedic works, Winslet skillfully navigates a wide range of emotions. As the impulsive and emotionally volatile Clementine, Winslet makes us understand why, despite her quirks, a guy like Joel would fall madly in love with her. Though she received an Academy Award nomination in the Best Actress category for this role, it truly takes multiple viewings to appreciate just how difficult it was for Winslet to pull off the character so flawlessly. -CS
Little Children (2006)
"No, no, it's not the cheating," says Winslet's Sarah Pierce in Little Children. "It's the hunger. The hunger for an alternative, and the refusal to accept a life of unhappiness." When Sarah defiantly confronts a gossipy neighbour whilst discussing Madame Bovary in their book club, rationalising her own infidelity to her husband, Winslet delivers the best scene of her career. Capturing the double meaning of her reading with equal measures of simmering anger and restrained satisfaction, Sarah gains the upper hand on a community that suffocates her.
My favourite Kate Winslet performance in my favourite Kate Winslet film, Little Children bristles with repressed longing. Todd Field's suburban tragedy has echoes of Madame Bovary throughout as it brilliantly adapts Tom Perotta's novel, zeroing in on the hot summer fling between Sarah and her Ken doll neighbour (Patrick Wilson). This performance features some of Winslet's most restrained and quietly effective work as Sarah wrestles her desires with the soul-crushing disappointment of suburban life. But it also gives Winslet some of her juiciest moments with scenes like the book club smackdown all but ready to be celebrated at award shows and career tributes. – PM
The Reader (2008)
Ricky Gervais told Kate Winslet on Extras that all her had to do to win an Oscar was star in a Holocaust drama. Four years later, she did and she won. Her steamy turn as the predatory Nazi frau Hanna Schmitz was one for the books. Although I would have given her the Oscar that year for Revolutionary Road over The Reader—she won both Golden Globes, though, in lead for Road and supporting for Reader—it's hard to argue with the Academy's vote. Her Hanna Schmitz is the banality of evil incarnate. As the woman stands trial for being a cog in the Nazi machine, Stephen Daldry's film weaves between past and present as Michael (David Kross) recalls his sordid affair with an older woman who got off with a few passages of prose. The awards circuit of 2008-9 trucked out the "What would you have done?" scene that accentuated Hanna's coldness, but Winslet's performance is at its best when it reveals the human beneath the unwitting monster. There is a scene late in the film when Hanna and David visit a church. Bathed in crisp white light, Hanna unravels as she faces the harsh reality that she's surely going to hell for her crimes. Winslet lets the waterworks flow while realizing her character's complete and total psychological annihilation. -PM
Revolutionary Road (2008)
The suburbs will kill your soul. Just ask April Wheeler. Kate Winslet's statuesque housewife is married to the man of her dreams (Leonardo DiCaprio), lives on a quiet tree-lined street where their kids can play, and feels dead on the inside. If April and Frank seem like Rose and Jack when Revolutionary Road begins, though, don't be fooled. Revolutionary Road features a brilliant fusion of star persona and performance by casting Winslet and her Titanic co-star in this tale of shattered dreams. The youthful innocence and optimism of Jack and Rose yields to the hardened misery of George and Martha as Winslet and DiCaprio have explosive scenes that evoke the bitterest of showdowns between Elizabeth Taylor and Richard Burton in Who's Afraid of Virginia Woolf?. Winslet and DiCaprio deliver some of the best work of their careers and demonstrating their growth and maturity since their (already impressive) Titanic days. For audiences who grew up with Kate and Leo, the transformation at the heart of Revolutionary Road could not have been achieved with another pair of stars. Winslet won a well-deserved Golden Globe for her performance and likely would have netted the Oscar had she not won for The Reader instead. -PM
Mildred Pierce (2011)
It takes stones to step into the shoes of another star's Oscar-winning and career-defining role. It requires talent to take said role and reinvent it anew. Winslet's interpretation of Mildred Pierce, the pie-maven/chicken joint restaurateur who gave Joan Crawford the performance of her career, honours its predecessor while doubling down on Kate's status as one of cinema's true stars. Like Crawford, her work will endure. Her lead role in Todd Haynes's ravishing mini-series hews closer to melodrama while Michael Curtiz's feature favours the film noir trappings of the era. Winslet appears in every frame of the series, anchoring the story of the mother's devotion to her spoiled brat of a daughter, Veda (Evan Rachel Wood). Seeing each scene of the show from Mildred's eyes, Winslet makes viewers feel and experience the exhausting struggle of giving so much and receiving so little. The star has called Mildred Pierce her most difficult shoot since Titanic, but unlike her character's thankless toils that landed her at rock bottom, Winslet wound up with her first and only Emmy win to date. – PM
Based on Walter Isaacson's biography of the co-founder of Apple Computers, Danny Boyle's film offers a complicated look at an ionic visionary. Examining three key periods over a fourteen-year span, Steve Jobs captures the highs and lows of a man whose work defined a generation.  While the film unfairly drew comparison to The Social Network, Boyle's tale travels down its own distinct path. The film does not shy from painting Steve Jobs (played by Michael Fassbender) as a brilliant and egotistical man whose obsession with achieving greatness made him socially cold to everyone he encountered. However, by incorporating his turbulent relationship with his daughter Lisa, the film manages to humanize Jobs.
Despite his problematic actions at times, the audience remains invested in Jobs journey partly due to Kate Winslet's understated performance. Winslet is the moral conscious of the film.  As marketing expert Joanna Hoffman, she continually keeps the ship sailing smoothly in the press, even when it threatens to sink behind the scenes, and delivers the hard truths needed to ensure Jobs never loses sight of his humanity. Winslet won a Golden Globe and BAFTA for her performance, but missed the Oscar, unfortunately not making to the stage the same night that Leo did. – CS
Festival Favourites: Kate Winslet at TIFF
All the King's Men (2006)
Movie 43 isn't the biggest star-studded flop in Winslet's filmography. Winslet fared better than co-stars Sean Penn, Jude Law, and Anthony Hopkins in an ensemble riddled with bizarre accents and overcooked performances. The TIFF premiere of All the King's Men gutted expectations that this remake could follow the Oscar-winning original to a Best Picture win. At least Winslet had Little Children to make her the best of the fest that year. – PM
I don't mind saying that I was the one person who unabashedly loved Labor Day when it premiered at TIFF 2013. Jason Reitman's Stockholm Syndrome romance starring Kate Winslet and Josh Brolin really deserves a second chance. The character and performance admittedly have echoes of Winslet's superior work in Little Children, but they ring with heartbreaking poignancy. Winslet rarely lets herself be so vulnerable on screen. That peach pie scene is pure cinema, and anyone who says otherwise can shove some cobbler down his or her pie hole. -PM
A Little Chaos (2014)
Winslet suits period pieces better than any other A-list actress of her generation, so it's always a particular shame when they don't work. The second and last of the films directed by the late, great Alan Rickman (who directed his other Sense and Sensibility co-star Emma Thompson in his first, The Winter Guest), this closing night gala of TIFF 2014 takes place in the court of Louis XIV (Rickman), who has decided to get away from the filth of Paris and turn his hunting lodge in Versailles into a palace that will be the envy of Europe. Wanting his garden to be a part of the palace's dazzle, he commissions his designer (Matthias Schoenaerts) to create something memorable but the man needs help, so he hires Sabine De Barra (Winslet) to brings her gifts to the operation. The idea of a low-class woman being given this job and being treated with any respect by her employees in this time and place is laughable, but it may have been the least bit convincing if we actually got more than a faint hint of her designs. There's little conflict in the story (she gets the job, falls in love, tells us about her sad past) and little drama concerning the act of creation, making for a very well-cast and aesthetically attractive dud. – BA
The Mountain Between Us (2017)
Oh, Kate, how could you do this to us? A so-so book gets made into an even worse movie as Idris Elba and Winslet are stranded on a snowy mountaintop after their small plane crashes. Unlike most survival films, the stakes never seem all that high, or perhaps, we just don't care enough—especially when it comes to the tacked-on romance that most can see coming a mile away. Winslet does her best to remain mostly unconscious for the film, which seems like a deliberate choice for this laughable story. – Rachel West
"You think a first class girl can't drink?": Kate Lets Loose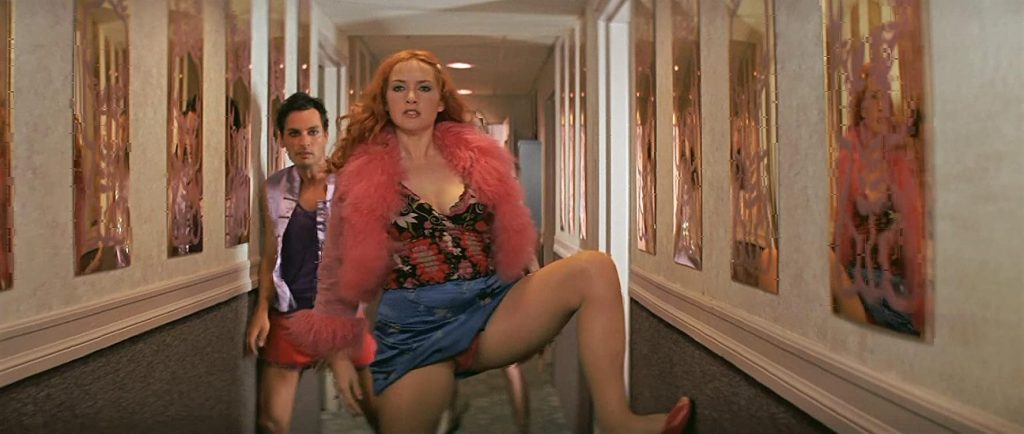 Romance and Cigarettes (2005)
Shaking her booty like a regular floozy, Kate is at her wildest in John Turturro's bizarre mobster musical Romance & Cigarettes. Winslet plays a sex shop hussy shacking up with Tony Soprano. She can't carry a tune, but is an endlessly watchable hoot in a hot mess of a movie. – PM
The Holiday (2006)
One wouldn't expect Kate Winslet to be funny based on the "Kate canon," but when she isn't deadly serious, she's warm, radiant, and effortlessly funny with the right material. As the hallmark of unrequited love in this effervescently charming Nancy Meyers flick co-starring Cameron Diaz, Winslet brings heart and humour to a feel good holiday confection. -PM
The Dressmaker (2015)
Kate Winslet cuts an incredibly glamorous figure in colourful gowns set against the dusty Australian backdrop of this thoroughly enjoyable adaptation of Rosalie Ham's novel. She returns to her middle-of-nowhere hometown in the early fifties after a long exile. Her mother (Judy Davis) lives like a madwoman in her house on the hill, surrounded by a town whose inhabitants are out to annihilate Winslet's Tilly before she can get the revenge on them that they all know they deserve for a past scandal. The tone isn't fully worked out, Hugo Weaving's goofy sidekick belongs in a different movie from the genuine menace of Kerry Fox's villain, but Winslet's power in the lead, and her sexy chemistry with Liam Hemsworth looking his finest, makes it one to cherish. – BA
"Wearing Only This": Kate Gets Freaky
Holy Smoke (1998)
Winslet's refusal to follow Titanic with Hollywood vanity projects saw her escape into the obscurity of two strange and underappreciated films, Gillies MacKinnon's Hideous Kinky and this curious and kinky project by Jane Campion. She plays a rebellious young woman who is brought home from India by her concerned Australian family who believe she has been indoctrinated into a cult, and who send her out into the desert with Harvey Keitel to be deprogrammed. The battle of wills that occurs between them isn't awe-inspiring, there's not much tension to be found between these two very different actors and characters, but the star's daring performance and the films' visual style (which includes a hallucination of Winslet as an Indian goddess singing "Baby It's You"), is well worth the price of admission. -BA
Quills (2001)
Pitting the appetite of a voluptuary as admirable the Marquis de Sade (Geoffrey Rush) against Winslet's irresistible physical and intellectual qualities as Madeline makes for something irresistible. She's no shrinking violet in her responses to his bawdy tales but she's not invulnerable either, working as charwoman in the Charenton madhouse where the notorious author is an inmate. The history of censorship is the history of class, and there was no concern with policing pornography until the lower classes began having access to literacy. Winslet's character is a reflection of the women in Sade's stories, fascinated by the adventures of liberating degradation that she always wants more of (and reads to her equally fascinated blind mother, played by the late, great Billie Whitelaw). She is eventually undone by the hypocrisy of the sexual obsession of Charenton's overseer (Joaquin Phoenix) and the witchfinder-level doctor (Michael Caine) who has come to shut the Marquis up for good. Winslet's performance is fearless (she was the first big name to back the project and Doug Wright says it only went forward because of her) and you can feel her performance emanating from every part of her confident body. – BA
Carnage (2011)
Carnage isn't going to appear in any Kate Winslet DVD four-pack (that reference definitely won't age), but it is a change of pace for the actress best known for period pieces. The default expression for her fellow castmates could only read as muted disgust, strained courtesy, and simmering rage, though Winslet offers a different track for her role in Roman Polanski's chamber piece about bickering parents of children who've spilled blood at school. You see, the parents are supposed to be the reasonable ones, but the broken nose that occurred can't match the horrors that four neurotics can inflict on each other. All the characters regress in Carnage, yet Winslet's Nancy Cowan tries to maintain some level of dignity amidst all the screaming. She winds up throwing up into a bucket, but, given the behaviour of the others, she still winds up on top. – CB
"To Making It Count": Kate the Scene-Stealer
Iris (2001)
One of Winslet's finest performances is the one that brought her a third Oscar nomination for playing the younger version of Iris Murdoch. She appears in flashbacks as Jim Broadbent's John Bayley remembers his relationship with the brilliant author. Judi Dench plays the elder Iris and gives a powerhouse performance as Murdoch falls apart with Alzheimer's, but it's important for to understand the value of what we lose. Winslet fulfills in delivering these stakes with a performance that is mercurial, witty, and confident. She fulfills our understanding of how this great mind could fill so many pages with her exceptional prose before being lost to the horrors of her illness. It's one of the finest artist biopics out there and one of the most devastating as well. – BA
Finding Neverland (2004)
It's hard not to be taken by Marc Forster's luminous look at playwright J.M. Barrie (Johnny Depp) and the origins of his most famous work, Peter Pan—unless you're a stickler for historical accuracy. The film can be forgiven for playing fast and loose with the facts, though, as it aims to be more of an ode to youth and the imagination than an actual biopic. We join Barrie's life in the midst of a serious case of writer's block and watch as he discovers his muses—a neighbouring family, the Llewellyn Davies. Barrie becomes a close friend of matriarch Sylvia (a radiant Winslet) and mentor to her four sons, Peter (Freddie Highmore), Michael, George, and Jack, who go on to inspire the children's classic tale of the boys who never grew up. What follows is both a wonderful and heartbreaking look at family and the loss of childhood innocence. Because the film stops short of telling the full and devastating story of the real Peter, it wisely chooses to leave things on a hopeful note. It remains a cinematic antidote to all things cynical. –Emma Badame
Kate Winslet's Dr. Erin Mears is a role model for the coronavirus pandemic in the 2011 disaster movie. Exhausted and up against a virus like no one has ever seen before, Dr. Mears works tirelessly to help stem the outbreak. Spoiler alert – it doesn't work out so well. I like to argue that the grim and stylish Contagion is Steven Soderbergh's only good film and that proclamation is largely based on how good Winslet's performance is in the ensemble. With a cast that includes Jude Law, Matt Damon, Laurence Fishburne, Marion Cotillard, and Gwyneth Paltrow. It takes a lot to stand out and Winslet does just that. -RW
Unimaginable Bastards: The Films Are Lousy, but Kate is Great!
Movie 43 (2013)
The star-studded Razzie winner is not the defining work of Winslet's filmography. But who could refuse a scene featuring Hugh Jackman with balls slapped to his neck? -PM
Who can blame Kate for wanting to jump on that sweet YA dystopian trend? In a world where people are divided into factions based on skills and aptitude, Winslet stands as the film's main antagonist. Sharp and ruthless, Winslet's character barely requires the actress to do much, other than plot and glare. She's phoning it in, which is what the rest of the franchise eventually did, scrapping the fourth film – the conclusion of the third book – entirely. – RW
Much like the various crime movies it emulates, Triple 9 looked flawless on paper, but somewhere in execution things just went south. To be fair, all the pieces were there.  Featuring an all-star cast, with Kate Winslet gloriously chewing up the scenery as the badass matriarch of the Russian mob, the film is filled with the right amount of action and double crosses that you expect from a heist film.  The problem is that, with all the various characters that the film attempts to juggles, the story is not well-suited for the cinematic format.  Triple 9 would have worked far better as a mini-series than as a film.  This would have allowed all the key players to be fleshed out in more detail, which would make the twists feel suspenseful rather than silly.   – CS
Wonder Wheel (2017)
I don't envy Kate Winslet for starring in a Woody Allen movie when shit hit the fan with #MeToo. However, she should have known from previous rounds on the awards circuits that the press-shy Allen generally leaves his actors holding the bag when interviewers inevitably ask about the allegations against him. It didn't help that Wonder Wheel was Allen at his most derivative and simply wasn't worth defending at the risk of cancellation. Winslet's performance as Ginny, however, is worth championing and merits consideration. She's a small hurricane as the tempestuous booze-hound of Coney Island itching for another sip from the fountain of youth. If one needs solid proof that Winslet can single-handedly transform a movie, this is it. – PM
The 2020 TIFF Tribute Awards air on CTV at 8:00pm on CTV. TIFF runs Sept. 9-19.
Advertisement
---
---
Advertisement
---
FROM AROUND THE WEB
Advertisement