A queen of the comic convention circuit, Agnes Garbowska is an incredibly talented (and exceptionally sweet) creator of some of the cutest comics around. Originally from Poland, Agnes currently hails from Toronto, where's she's created beloved webcomics like Waking Up Abbey, Imagination Station, and You, Me, and Zombie. It wasn't long before the mainstream caught wind of her talent, and Agnes is currently drawing up a storm for Marvel (Girl Comics, Red Sonja), IDW (My Little Pony), and Dynamite (Red Sonja). We got the chance to chat with Agnes at Fan Expo 2013, and asked her about where she found her love for the medium.
"I've always been a fan of animation and art and comics," said Agnes, her head bent over a watercoloured commission. "I was actually introduced to comics when I was a little kid, and I was really fascinated by the medium and the stories, so I was really a closet nerd as a little kid. I read a lot of Marvel comics; I didn't get introduced to DC until Supergirl in late grade school," she added.
Transitioning into the industry as a creator was a longer and more imaginative process for Agnes. "I thought [comics] were really awesome, but I never actually thought about a career in comics until I was in my early 20s. Originally I thought I wanted to go into animation, so I went to school for animation, graduated, and then I realized: I really hate animation!" she laughed. "So that didn't really work out. But at that time I was doing a lot of comic conventions, and meeting a lot of artists, and I was just really fascinated by the whole industry. I decided to do more research on it, and it was like, 'Well, I love storytelling and this is just another medium to tell stories – why not give it a shot?'" But her degree wasn't for nothing; Agnes's background in animation was helpful when she decided to make the transition to comics. "I started practicing sequential artwork," she said. "I was familiar with storyboarding, so you kind of apply the same concepts of storyboarding, and you practice a lot – I practiced more perspective, more figure drawing – and now I draw comics!" she said with a smile.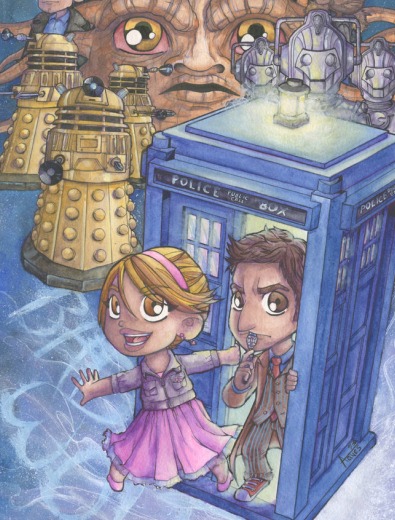 When we asked Agnes if she'd experienced any negativity from consumers or other creators as a female in the industry, she responded vehemently. "No, not really," said Agnes, shaking her head. "It doesn't matter if you're a guy or a woman, what matters is how hard you work. There's just a lot more men in this industry than there are women, especially in mainstream comics. In indie comics," she continued, "I find there's actually a lot of women. If you look at the My Little Pony creative team, we're actually mainly women; we've got Tony Fleecs, but then we've got Katie Cook, we have Brenda [Little], we have Amy [Mebberson], and myself, and Sara Richard, so ponies are being dominated by the women right now."
While ambivalent about whether or not the indie community is more "welcoming" of female creators, Agnes did say that she thinks the style of mainstream art doesn't always appeal to female artists. "I think a lot of females tend to adapt their own styles," Agnes said, "they don't always want to do the mainstream look – which is a shame, because there are amazing women who draw mainstream comics, and it would be really cool to have more of those. I like Nicola Scott – she draws very guy-like, her women and men look very traditional comics-style – and I also love Amanda Conner. You can see the woman's touch [in Amanda's work]; her art is really beautiful-looking, it's very different – especially how she draws very curvy women. I admire that, I think it's absolutely gorgeous."
But Agnes was unequivocal about the one woman she'd love to work with in the business. "Gail Simone!" she responded immediately. "I love Gail, and I'm lucky enough that she's a fan of my work, so we're trying to actually figure out what we can work on together. When I got asked to do the Red Sonja exclusive cover for the Phantom Variant, Gail Simone was like, 'Oh my god that is the awesomest thing ever!' and I was like 'Ahh! Gail thinks it's the awesomest thing ever!' I'm just waiting for an opportunity to draw something Gail writes, because she is one of my idols. I love her work; she's so talented."
And so are you, Agnes!
You can find Agnes on Twitter and Tumblr, and you can visit her website to keep up-to-date with her work and webseries.
Advertisement
---
---
Advertisement
---
FROM AROUND THE WEB
Advertisement