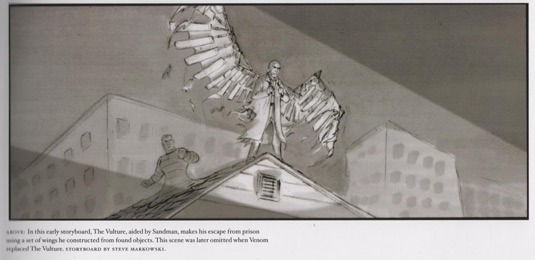 Movieline has posted a solid rumour regarding casting for Spider-Man 4.  Allegedly, the main villains on deck for the sequel are The Vulture and… The Vulturess?
John Malkovich and Anne Hathaway are rumoured to be in negotiations to play the Vulture and as the Vulturess respectively.  The Vulturess is being described as a sidekick/assistant to the Vulture.  This could be great, Malkovich was actually almost cast as the Green Goblin in the first film.  Many people are wondering why the Vulture keeps popping up as a villain;  Director Sam Raimi has always been a fan of the character and has stated previously that he wanted to have a villain with a human face/element rather than simply being overtly superhuman.  As for Anne Hathaway, I have no clue who the the Vulturess is, but she's a solid choice.
I was hoping Raimi would use the Lizard for Spider-Man 4, his character (pre-transformation) played by actor Dylan Baker has appeared all the previous movies.  People have also been rooting for fan-favorite Mysterio to have a role, naturally played by Bruce "The Chin" Campbell.  Personally, I think the Vulture sucks and that they should go for Kraven or Mysterio instead.  And isn't Black Cat supposed to be in the film too?  We saw what happened with too many villains/characters in Spider-Man 3.
Via Movie Line
Advertisement
---
---
Advertisement
---
FROM AROUND THE WEB
Advertisement