Never Have I Ever, created by Mindy Kaling and Lang Fisher, is back for its fourth and final season. Netflix's hit comedy series sees Devi Vishwakumar (Maitreyi Ramakrishnan) taking on her senior year of high school. As the series takes a final stroll down the halls of Sherman Oaks High School, it's important to note how much of Kaling's own life inspired by the series. It has become a predominant pattern in her work, including other series like The Mindy Project and Sex Lives of College Girls, almost glaringly so. Because of this, some of the show's themes are important to dissect through that lens.
Never Have I Ever ends on a satisfying enough note, however the spark is gone from what once made this series so special. Some of the jokes are too one-note and the stakes feel rather underwhelming Devi's academic future is essential to the story but, knowing Kaling's history with her leads, she'll end up in a prestigious Ivy League school – as do all her other female characters. 
The problem with any Kaling series has been her lead romantic storylines. They always come at the cost of her lead female characters, who also happen to be Indian and self-insert versions of Kaling. An ongoing trend within the canon of Kaling's work has been noted in the past. This same pattern spoils the final season of Never Have I Ever in the form of the Devi and Ben Gross' (Jaren Lewinson) romance. 
There's a difference between "enemies to lovers" and whatever Kaling is doing with Devi and Ben. Kaling's affliction for white men has been an issue in her previous shows, from the never-ending parade of white men Mindy dates on The Mindy Project to Bela's (Amrit Kaur) antagonistic-turned-friends-with-benefits relationship with Eric (Mekki Leeper) on The Sex Life of College Girls. It's clear Kaling has a thing for pairing her lead Indian characters with white men who spend a better half of the time debasing them. The problem is not that almost every romantic narrative Kaling writes is led by an interracial couple. It's more so how brown women in her stories must demean themselves to fit within the white male's purview of desire. 
The Devi and Ben romance starts and ends like any other one of Kaling's romances. Nothing new or innovative in their story is worth recounting. However, it is disappointing to see Kaling continuously subjugate her brown female leads into these kinds of relationships. They're not necessarily abusive (never to the extent of anything problematic), but they're off-putting. Even if you see Ben calling Devi "David" as a quirky, sly remark as a way of flirting, we have to wonder why the series would turn a racist play on Devi's name as a "cute" nickname. Hint: it's not supposed to be endearing, yet it's meant to be taken that way, leaving behind a bitter taste that's hard to get rid of.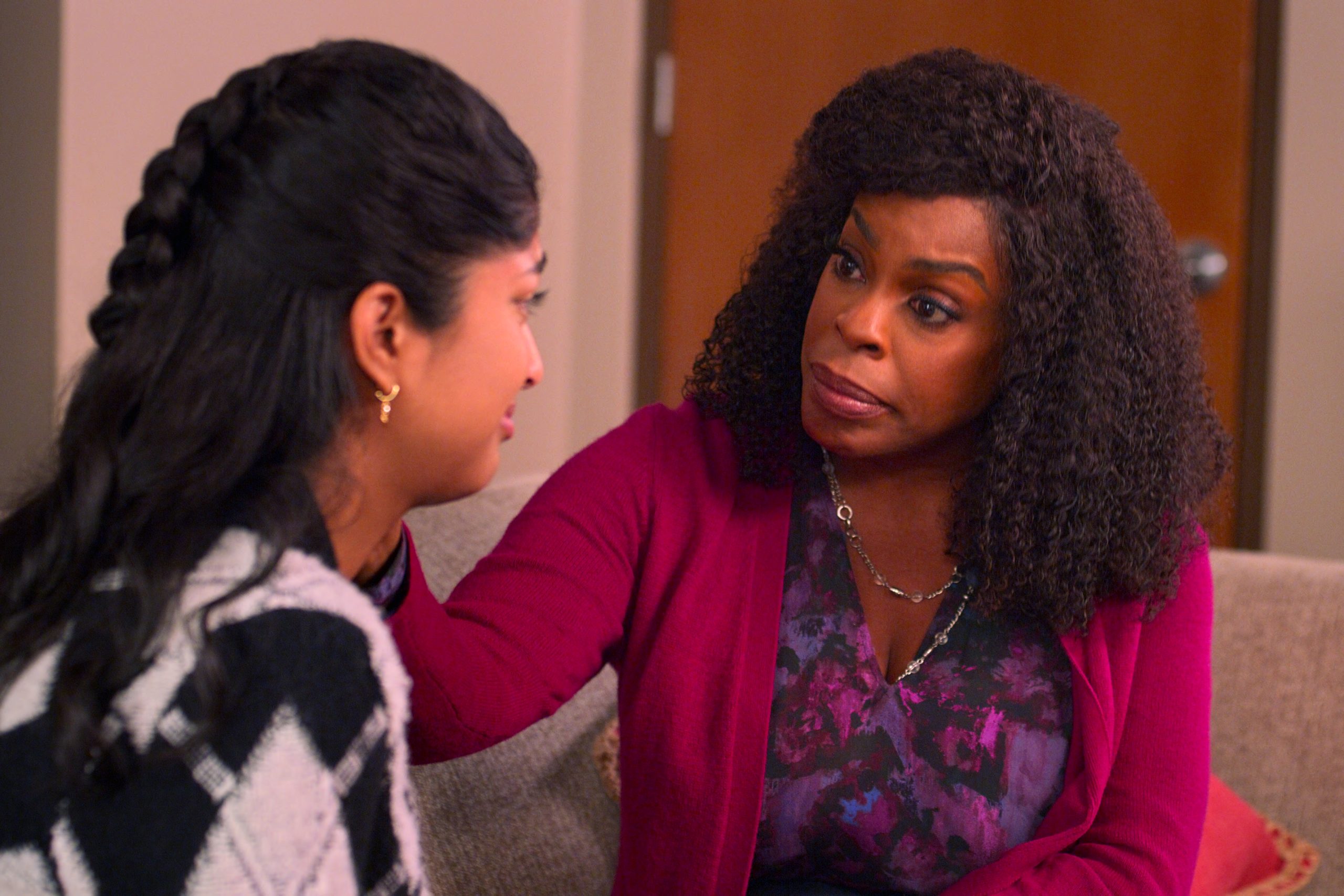 Never Have I Ever is at its best when it doesn't overly concern itself with Devi's many convoluted love stories. Almost every scene between Devi and her therapist Dr. Ryan, played by the always charming Niecy Nash, makes it all worth it. These insights into Devi's emotional state always invokes some of the show's best narrative work;  her grief after the traumatic loss of her father will always be the point of gravity for this show, no matter how many love triangles Devi is involved in, and there are plenty. The parts around Devi's traumatic subjectivity remain an essential part of this series and, while most of these moments take place in the latter half of the season, it was nice to see the series acknowledge what once made Devi's character so compelling. 
In the end, Never Have I Ever concludes with little fanfare. It's fine. Almost aggressively fine, neither here nor there. It sometimes feels like the showrunners undercut their own work when they don't focus their time and energy on a single project. Like Taylor Sheridan in the Yellowstone universe, Kaling's overcommitment to other projects may have left Never Have I Ever's final bow as an afterthought. If you've been following along since the beginning, it's an adequate end to what could've been a more memorable depiction of the coming-of-age genre. 
Never Have I Ever Season 4 is now streaming on Netflix.
Advertisement
---
---
Advertisement
---
FROM AROUND THE WEB
Advertisement