Everyone's favourite neighbourhood webslinger swings into theatres this week in Spider-Man: Far From Home, ushering audiences into the first post-Endgame MCU movie. In a world that's still reeling from the aftermath of "the blip" – the disappearance, absence, and sudden return of half the world's population – Peter is grappling with the loss of (yet another) surrogate dad: Tony Stark, aka Iron Man, his mentor and father figure.
So, should you take your kids to see it?
As parents and film fans, we want to share the best of the cinematic world with our kids. But when you haven't seen a new movie yet, how do you know if you should take your kids? Obviously every kid is different, and they change with age; the same child who had to be escorted, weeping, out of Guardians of the Galaxy might completely fall in love with Deadpool two years later (true story). But it's also true that movie marketing can be misleading – no-one wants to be that mom who had to leave Pan's Labyrinth with an emotionally-scarred 10-year-old. With this ongoing feature, we'll aim to offer some loose, spoiler-free, age-by-age guidelines as to what parents might expect from new features marketed to families, so you can make the best judgment call for your youngsters.
Warning: mild spoilers for Avengers: Endgame
Peter Parker (Tom Holland) aka Spider-Man is back! After being de-snaptured (trademark NPR's Glen Weldon) and helping every onscreen Marvel hero ever to defeat Thanos, Peter is slowly returning to his normal life, including crushing on a girl. His class including pals Ned (Jacob Batalon) and MJ (Zendaya) are on the first leg of a school trip to Europe when the requisite Big Bad shows up to wreak havoc, forcing Peter to web up.
In Spider-Man: Homecoming, Peter was desperate to prove his superhero mettle and join up with the Avengers. This time, after all the adventures he's had, Peter just wants to be a regular teen. He's even declining calls from Nick Fury in an effort to avoid the call of duty! But in a post-Endgame world without Iron Man or Steve Rogers, and the other heroes too busy or off-world to step in and save the day, he's the only man for the job and has no choice but to suit up.
As luck would have it, a new hero soon emerges: Mysterio (Jake Gyllenhaal) is a, well, mysterious figure with unspecified powers and murky origins. But why sweat the details when there's another super who can help take down the world-destroying monsters? Peter gladly latches on to his newest father figure and happily returns his attention to teen-movie concerns: getting the girl away from a romantic rival. But, he soon learns that he can't dodge Iron Man's legacy forever.
So, should you take your kids to see it?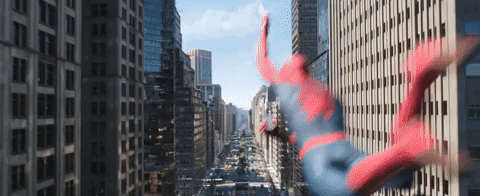 Under 10s
Although there are a few tense, mildly scary scenes of peril, and some sexual innuendo, there's nothing outside the usual Marvel lines. The many under-10s at the screening we attended laughed and gasped appreciatively.
Tweens and Teens
Whether they're into Marvel or not, this is an excellent teen movie that surpasses the superhero genre by touching on themes of grief, and the turning point in everyone's life when you have to step up and accept adult-level responsibilities. There's plenty here for teens to appreciate beyond the action and humour.
Adults
If you're a Marvel fan, you won't want to miss this. If you're not, it's still worth checking out – there's actually a lot to unpack with the emotional threads, and you could do a lot worse than spend two hours in an air-conditioned theatre watching Tom Holland be adorable while Jake Gyllenhaal chews the scenery.
Wee Time: It's a pretty tight 2 hours, but if your little one absolutely can't hold it, run for the washroom right after Peter gets off the phone with Aunt May in Venice. You'll miss a little bit of exposition and some funny banter, but nothing earth-shattering.
Bottom Line: See it. And stay to the bitter end of ALL the credits for a cliffhanger tease that will have you screaming for the next movie in the Marvel Cinematic Universe!
Jenny Bullough is a movie fan and mom based in Toronto. She has missed the middle 5 minutes of every kids' movie because of her kid's small bladder, and she let her kids watch Deadpool at an inappropriately young age and stands by her choices. 
Advertisement
---
---
Advertisement
---
FROM AROUND THE WEB
Advertisement