Bret McKenzie
Muppets Most Wanted is one of the most purely entertaining Muppet adventures ever conceived.
Muppets Most Wanted is to the Muppet franchise what A Good Day to Die Hard was to the John McClane films. A lazy, cynical mess (two things The Muppets should never be) that nearly made our Muppet loving film editor openly cry when he saw how far they have fallen.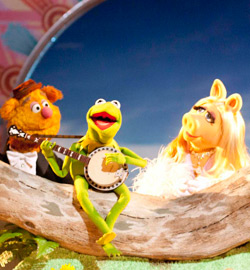 While it's as funny as one would hope a Muppet film would be, the rebooting of this finely-felted gang of friends does have a few fairly big problems. Structurally the film is a bit wonky and the script feels like the result of many different people having a lot of different feelings about the tone of the film. To call a film like The Muppets out on such seemingly trivial issues might sound like the groaning of Statler and Waldorf, but despite any such complaints The Muppets are undoubtedly back at the top of their game comedically.