I first fell in love with Lizzy Bennet when I was 16. That's not the outcome I was expecting when I was assigned Pride and Prejudice for English class, but that's what happened and Pride and Prejudice has been my favorite book ever since. I've read the classic tale of wit and false civility at least a dozen times and pretty much all of my romantic aspirations are invested in one day being the Fitzwilliam Darcy to someone else's Elizabeth Bennet.
All of which is to say that I am not an impartial observer when it comes to Pride and Prejudice. It's also the reason I've always had mixed feelings about Pride and Prejudice and Zombies. I just never saw the point. I've never read the mash-up by Seth Grahame-Smith because the source material cannot be improved and I don't see why anyone would tamper with perfection.
And yet, here we are in 2016, where Pride and Prejudice and Zombies arrives as full-fledged movie adaptation directed by Burr Steers. Starring Lily James and Bella Heathcote as Lizzy and Jane Bennet, Pride and Prejudice and Zombies is a spectacle of bloodshed and romance that suggests that people want to be sexy and feminine and dignified and violent all at the same time, and – more refreshingly – that there's nothing at all the matter with those seemingly contradictory desires.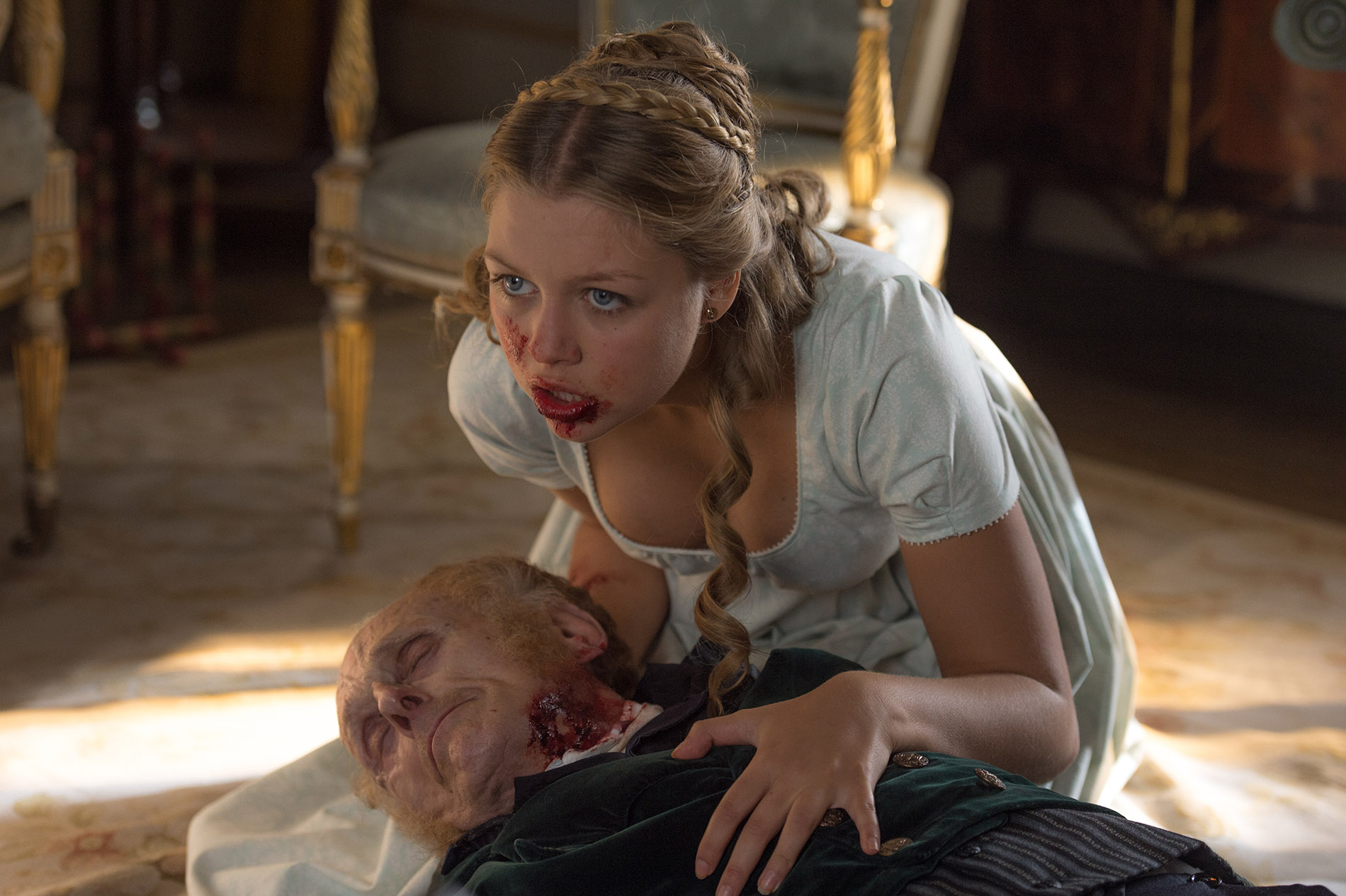 Even more unexpected? I actually like it. Pride and Prejudice and Zombies is a silly, unapologetic romp, the kind of movie that does things because it wants to and doesn't waste too much time worrying about the 'why.' It dresses characters up in lavish period garb with daggers hidden in garters and corsets while head-bursting splatter effects occur in close proximity to delicate and colorful evening gowns. It all looks and sounds like it was conceived in a swirl of bodily fluids after a ballroom dancing class during a Final Fantasy convention.
But I'm getting ahead of myself. Pride and Prejudice and Zombies is basically what you'd get if you crossed Pride and Prejudice with Attack on Titan (the human population has retreated behind a moat and a wall surrounding London). The narrative veers from the beaten path when zombies invade in the third act, but the movie otherwise follows familiar narrative beats, a greatest hits version of Austen's book in which dancing and decorum inevitably give way to zombies. The Bennets are a family of unwed daughters, here reimagined as five Shaolin-trained Kung Fu warriors. Though Lizzy and Jane are primarily interested in survival, that gets upended and romance ensues when suitors appear in the forms of Mr. Bingley (Douglas Booth) and Mr. Darcy (Sam Riley), the latter of whom is a particularly ruthless zombie hunter in his own right.
As much as I love Pride and Prejudice, there are some distinct challenges facing anyone who attempts to put the narrative on film. The 2005 Kiera Knightly picture is fine, but it misses what's truly great about Pride and Prejudice, which slyly captures the utter absurdity of human beings at every level of society. Jane Austen's prose achieves a biting universality as she shreds the pretentions of people who fancy themselves civilized.
Pride and Prejudice and Zombies strips away that sharp sense of social observation, focusing instead on the more famous love story between Darcy and Elizabeth. In the process, it actually manages to solve a lot of the source material's big screen problems. There's no room for extended detours about civility and manners, and in any case there's not much point when most of England has devolved into a raving, flesh-eating horde. Zombies don't care about the fine muslins you're wearing on your wedding day. They'll eat your brain regardless.
The latter approach works better on film because it's tough to communicate nuanced social observation in a two-hour period adaptation. Previous versions of Pride and Prejudice have suffered because you're expecting to see more of the book, where the wit is the appeal. Thanks to the supernatural element, Pride and Prejudice and Zombies has a different selling point that distances it from the novel. You're not really looking for finely worded barbs because you're waiting for the zombies and it becomes much easier to go along for the ride as a result.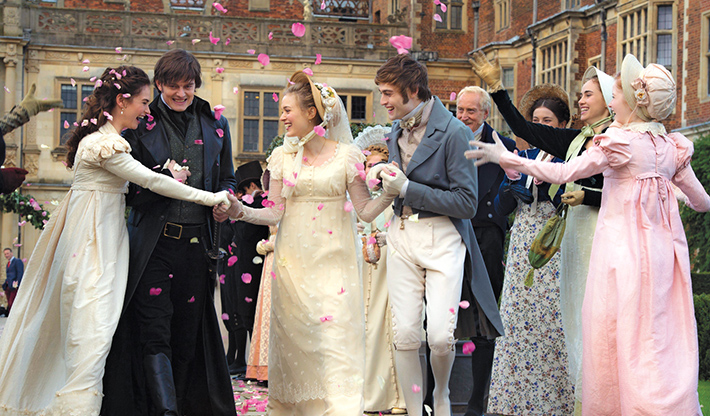 That's not to say that Pride and Prejudice and Zombies completely eschews Jane Austen's sense or sensibilities. The film has some excellent visual humor that makes better use of the medium, as well as an incredibly strong understanding of the characters and their relative positions to one another within the social hierarchy. Wickham (Jack Huston) is still a scheming, manipulative charlatan. Mr. Collins (Matt Smith) is still a wonderfully pompous buffoon, as well as the character most emblematic of the film's approach to adaptation. It amplifies the subtle absurdity of Austen's original, bringing the subtext to the surface and making it overt.
More importantly, the new movie understands exactly what makes Lizzy and Darcy such a memorable literary couple. Beyond wealth, beyond status, beyond physical appearance, their attraction is based on mutual competence and respect. They're always two of the smartest and most talented people in the room, and that has never been more obvious than it is when they team up as the two most ferocious zombie ass-kickers in all of England. Even Darcy's distaste for small talk makes more sense when he's worried that literal zombies will crash the party.
Lizzy, meanwhile, has never been more enchanting, anchoring the film and infusing it with a strong feminist undercurrent through her sheer presence. There's something charmingly subversive about watching the Bennet sisters gathered in the drawing room cleaning firearms instead of practicing needlepoint, but beyond that, Pride and Prejudice and Zombies is a movie about women decapitating the undead while also pursuing husbands and wearing corsets beneath the heavingest of heaving bosoms. Sexual desire, period cosplay, and violence are all given equal billing and depicted as equally seductive sources of escapism.
The movie does have a few flaws, and a Pride and Prejudice purist will notice some odd changes to the material. Lizzy is too easily rattled by Lydia in the introduction, while Lydia herself oddly becomes too talented and therefore less interesting. She's supposed to be selfish, ignorant, and reckless, and when she gets kidnapped (instead of eloping), she loses much of the agency that makes her character such a vital narrative foil. Lady Catherine de Bourgh similarly suffers when presented as a cross between Queen Elizabeth and King Arthur. Lena Headey's performance is fine, but the role feels underwritten and casting her as a mythic hero leaves the film without the book's primary social antagonist.
Fortunately, those quibbles vanish when I remember that the whole project is an exercise in fan-fiction, one that's more about empowerment than it is about authenticity. I'm not immune to the charms of sexy, badass versions of famous literary characters. If nothing else, I finally grasp the 'point' of Pride and Prejudice and Zombies. It lacks the depth and insight of Pride and Prejudice, but it brings the love story to the fore while still managing to capture the effervescent spirit of its progenitor. I don't know how well it will do in theatres, but the movie will definitely be a hit on tumblr because it suggests that there's nothing more attractive (in men or in women) than competence and confidence in one's abilities.
Either way, my literary crush on Lizzy Bennet continues unabated. When told that she'll never get a husband unless she abandons her warrior lifestyle, Lizzy simply replies that, "The right man wouldn't ask me to." It's a bold statement that informs every frame of the film, a declaration that love should never force anyone to compromise their identity. True love is about being yourself and finding someone who respects you for who you are, and that message resonates as strongly in Pride and Prejudice and Zombies as it does in the original Pride and Prejudice.
Advertisement
---
---
Advertisement
---
FROM AROUND THE WEB
Advertisement