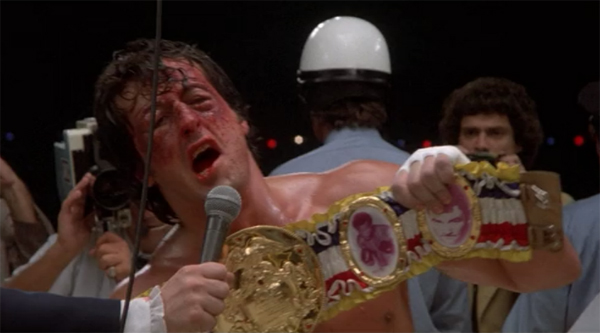 This might be a backhanded compliment, but part of Sylvester Stallone's particular storytelling talent comes from his mastery of tricking audiences into believing some ridiculous bullshit. All the Rocky movies, even the good ones, have at least a few completely unbelievable scenes that Stallone somehow gets away with. In the original, we are expected to believe that Apollo Creed, on a lark, picks a random Philly fighter for the World Heavyweight Championship, and that he stumbled on Rocky in a book of local fighters. The mind reels. How is Rocky Balboa in a book? What book is this? Are there telephone directories devoted only to obscure local boxers (the Black and Blue Pages, if you will)? Also: the World Heavyweight Championship? Really? That sounds like an important title to me. Is Apollo actually allowed to find some bum off the streets as a transparent ploy for an easy victory? Aren't there other, more qualified sportsmen who would cry foul? For crissakes, aren't there rules in place?
No matter. We buy it, because Stallone is one of cinema's foremost bullshit artists. We buy it for the same reason we buy that Rocky can go from an out-of-shape nobody to a lean, mean, fighting machine: because Stallone is ready with a training montage where he lifts weights, runs up steps, guzzles eggs, punches meat, etcetera etcetera etcetera. "There, look at all that training!" the movie implicitly tells us. "He can beat Drago now, right? Of course he can." We buy it for the same reason that Rocky can go from multi-millionaire to the poorhouse in Rocky V, without even landing an infomercial deal in the process. We buy it for the same reason that our 60-year-old hero can stage a triumphant comeback at the end of Rocky Balboa, despite being 60-years-old and looking like he could fall apart at any second. Granted, I never bought that stupid robot that Rocky gave Pauly in Rock IV, but clearly I'm a sophisticate.
I had this realization while watching the fight at the end of Rocky II (1979), a thoroughly inessential sequel that also happens to be kind of watchable. Through another ludicrous contrivance (Apollo is so humiliated by his narrow victory that he calls for a rematch to pummel Rocky once and for all), Rocky and Apollo are slugging it out in the ring, and Rocky is trying to prove to himself that he has what it takes to be a Real American Hero, or some such sentiment. Now, I already know that Rocky wins the fight (spoiler alert). I know this because I've already seen this crap on TBS a million times, and because he's obviously not going to lose, because this is Rocky II, not Rocky. And yet… and yet… at the end of the fifteenth round, as Apollo and Rocky are crawling on the mat, trying to muster the energy to stand before the bell… well, for god's sake, I started to get all worked up. And you know what's even worse? After his victory, when Rocky starts crying that this is the greatest moment in his life (next to the birth of his son), and then hollers, "Yo Adrian! I did it!" and it cuts to Adrian crying with joy at home…. Goddamn it, I started to tear up a little.
Stallone struck upon a winning formula with the first Rocky, and in Rocky II (which he also directed), he follows it note-by-note. That's good news and bad news. Like the first film, Stallone continues to foreground the affecting love story between Rocky and Adrian. In the first half, they are married, conceive a child, and struggle to transition into a post-fame life. As in the original, we spend a lot of time simply hanging out with Rocky, so by the time the fight comes along, we feel an emotional connection.
And yet compared to the original, with its transcendent story of a local nobody given a miraculous chance to validate his entire existence, Rocky II can't help but feel like pretty thin soup. One of the memorable moments from the first film was Rocky's anguished monologue to Adrian the night before the fight: "It really don't matter if I lose this fight. It really don't matter if this guy opens my head, either. 'Cause all I wanna do is go the distance. Nobody's ever gone the distance with Creed, and if I can go that distance, you see, and that bell rings and I'm still standin', I'm gonna know for the first time in my life, see, that I weren't just another bum from the neighborhood."
Compare that to Rocky's rationale for agreeing the rematch in Rocky II: "I don't wanna just get by the hard way. I want to have good things. I want the kid to have good things." So much for stakes.
But still, there are certain pleasures to be had, foremost among them a completely off-the-chain performance by Burgess Meredith as Mickey, Rocky's blistering trainer. His performance alternates between surprisingly touching moments of pathos ("He said you were a one time lucky bum! I think you're a hell of a lot more than that, kid! But now wait a minute, if you wanna blow this thing, if you wanna blow it, then dammit, I'm gonna blow it with ya"), and scenery-chewing that makes his work as the Penguin look positively Bressonian ("Yer gonna PISS LIGHTNING and CRAP THUNDER!"), and he's equally perfect at both speeds.
And there's the final fight. Consider: one of the masterstrokes of the first film was that Rocky didn't win the fight. He didn't need to – all he needed was to go the distance. For Rocky II to end with a rematch in which Rocky actually beats Apollo can't help but cheapen the impact of the original. And yet someone, the bastard makes it work.
***
If we were to attempt an auteurist reading of Staying Alive (1983) another Stallone directorial effort (and I defy you to come up with a better use of time), then Tony Manero (John Travolta) has spent the five years since Saturday Night Fever turning into an unmistakable Stallonian Protagonist. Since moving from Brooklyn to Manhattan to become a Broadway star, he has met with rejection after rejection, landing only a few small gigs as a back-up dancer (as opposed to co-starring in Death Race 2000 or Dillinger). Eventually, he gets a shot at the top, implausibly landing a leading roll in a Broadway superproduction that plays like a Jerry Bruckheimer imitation of Bob Fosse. And like Rocky, he spends a lot of time awkwardly hitting on girls, but where Rocky's pursuit of Adrian worked thanks to Stallone's strange innocence, Travolta's smug demeanor screams "Sexual Predator."
Travolta has little of the charisma he showed in Saturday Night Fever, but there are a lot of reasons why Staying Alive isn't a very good movie (I know, stop the presses). For its first half, Staying Alive is mostly a bore – a love triangle between Tony, a good-hearted singer/sorta girlfriend (Cynthia Rhodes), and a cool, unattainable dancer (Finola Hughes), in which none of the parties are likable or interesting. Then, around the midpoint, something magical happens. Starting with Travolta's sensual gymnastic dance with Rhodes, through his sultry, provocative dance-off with Hughes, all the way to the unbelievable Flashdance-meets-Showgirls-meets-Café Flesh Broadway climax, the film becomes something special. Even amidst Stallone's outrageous directorial career, Staying Alive is a camp treasure ripe for rediscovery.
Far be it for me to accuse any Travolta/Stallone collaboration of homoerotic overtones, but as Travolta pirouettes around the stage, all greased up and cavorting amidst the smoke and neon and backup dancers wearing leather S&M gear, the effect is just a little bit off-center. Granted, the situation is not helped by music – an unfortunate blend of 1983-era synth, plus a heavy reliance on the talents of – you guessed it – Frank Stallone. (Incidentally, Staying Alive was the movie that earned Frank Stallone his one and only Golden Globe nomination, for the immortal ditty "Far From Over." Incidentally, this was the same year that Flashdance won for Best Song and Fame won Best TV show, so clearly something was in the water).
***
To my eyes, Rocky II is the least interesting of the Rocky series, but it is also a necessary transitional work. The original was such a perfectly self-contained work that the only way to follow it would be to go in another direction entirely. In retrospect, Rocky II may have cheapened the Rocky brand, but it was a brand that required cheapening to prepare the world for the Reagan-era insanity of Rocky III and Rocky IV – films that seem to exist on another plane of reality altogether. Rocky II had to kill the franchise, but only so it could life.
As for Staying Alive, I've got no explanation for that one.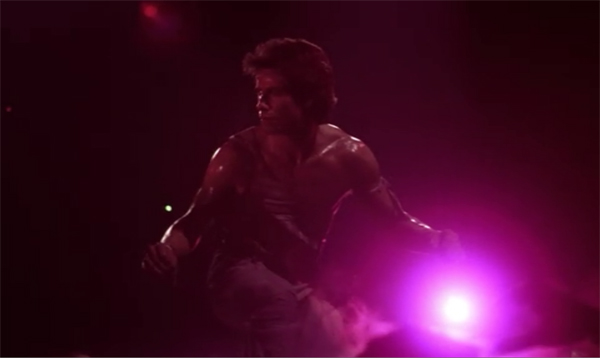 Advertisement
---
---
Advertisement
---
FROM AROUND THE WEB
Advertisement