This is it, guys. Our final round-up of reviews to lead you into the final weekend of the 2012 Toronto International Film Festival. Take a look back over the other 8 entries for other films showing on this final weekend, and for more information on films and last minute tickets, head on over to tiff.met. We hope you have enjoyed our coverage and stay tuned over the next few weeks and months to see who we sat down and talked to while they were in town!
The Paperboy
Special Presentation
Director: Lee Daniels
Pitched somewhere between a high minded period piece and a homage to 60s deep south sleaze flicks, Lee Daniels follows up Precious with the somewhat baffling and not all that great story of a young man's sexual liberation and fascination with an older woman.
Young Jack Jansen (Zac Efron, in way over his head and abilities) agrees to drive around his reporter older brother (Matthew McConaughey) and his editor (David Oyelowo) as they attempt to uncover the truth behind a potentially innocent, but severely creepy death row inmate (John Cusack) and the slaying of a local sheriff. Their in comes in the form of his sexpot pen pal (Nicole Kidman) who the young Jack becomes overwhelmingly lustful towards.
It starts and ends appropriately nutty with McConaughey and Kidman doing what they can, but deathly narration (from Macy Gray as a servant and clearly reading the script in one take) and a complete lack of interest in the actual story leads to an intensely dull middle hour that simply spins its wheels without going anywhere and only offering brief flashes of campy brilliance. And yes, Nicole Kidman pees on Zac Efron's face, but it's for a good reason and it's done very "tastefully".
Screens
Friday, September 14th, 6:00pm, Elgin (Visa Screening Room) PREMIUM
Saturday, September 15th, 6:00pm, Ryerson Theatre
Song for Marion
Gala (Closing Night Film)
Director: Paul Andrew Williams
It might sound like crowd pleasing pap on the surface, but Paul Andrew Williams (known mainly for suspense thrillers) delivers an emotionally weighty and well acted tale of love and loss that's bouyed by one of actor Terence Stamp's best performances.
When his wife (Vanessa Redgrave) joins a Young at Heart styled choir for the elderly singing pop hits despite her body being ravaged by terminal cancer, cantankerous and scared Arthur (Stamp) realizes that the glee club that brings his wife so much joy is his last chance of bonding with his wife. After her passing, Arthur begins to bond with the group's normally cheerful younger conductor (Gemma Arterton) while trying to make sense of his strained relationship to his son (Christopher Eccleston).
The four leads all have their moments of greatness, elevating the material to a plane higher than lesser hands could have ever hoped to achieve. While not all of them sing, they all have their solos and high notes. When Redgrave and Stamp get their solo musical numbers – both of which are positively devastating and beautiful – they become effective because Williams has actually been building to something rather than just stringing the audience along and plucking at their heartstrings. Stamp's performance here brilliantly showcases the grey area where love, loneliness, and impending sense of loss tragically meet; he's not morose, just confused and closed off. Even when things take a turn for the pat and obvious towards the end, Stamp and Williams go on with the show, keeping the film warm and vibrant.
Screens
Saturday, September 15th, 6:00pm Elgin (Visa Screening Room) PREMIUM
Saturday, September 15th, 8:00pm Roy Thompson Hall PREMIUM
Frances Ha
Special Presentation
Director: Noah Baumbach
Frances Ha is essentially the Noah Baumbach movie for people who don't like Noah Baumbach movies. His common milieu of privileged, over educated, and over-articulate 20somethings without much direction remains, yet the cynicism and dark neurosis is gone (well, for the most part). That can probably be associated directly with Baumbach's decision to partner up with indie cutie Greta Gerwig as both writer and star. Gerwig has a delightfully awkward adorkable charm, effortlessly creating the kind of presence that Zooey Dechanel tries way too damn hard to force. They worked together once before on the bitter comedy Greenberg and clearly Baumbach like everyone else realized she was the best part.
Shot in black and white on the streets of Brooklyn like a hipster version of Manhattan, Gerwig stars as the titular Frances. She's an apprentice dancer whose dreams of stardom have faded into hopes of making the touring company and lives with her old college roommate that she loves so dearly they describe their relationship as "a lesbian love affair without the sex." One day the roommate leaves, so Frances couch surfs with strangers until her job falls apart and only then does she face accepting adult responsibility for the first time. It's a story we've all heard before, but rarely done in a manner this sweetly insightful or caustically funny. The movie has little patience for adult children life-wasting, yet only gently mocks the lifestyle and acknowledges the struggle to get out. A small comedy that sneaks up on viewers with its emotional punch, this might be Baumbach's most widely appealing film to date (although The Squid and the Whale remains his best).  (Phil Brown)
Screens
Saturday, September 15, 6:15pm, The Bloor Hot Docs Cinema
Room 237
Vanguard
Director: Rodney Ascher
I'm sure your local pot brownie has a treasure chest of reasons why The Wizard of Oz magically syncs up The Best of Gowan, but if there's any catalogue of work more open interpretation they'll have to have a word or two with Stanley Kubrick. 2001 has kept academics and bored teens guessing for years, but a prized selection of people have dedicated their hours to cracking The Shining, which, according to testimonies in Rodney Ascher's film, tells a much different story than "all work and no play makes Jack a dull boy."
A baker's dozen of critics, journalists, cinephiles and conspiracy theorists have stated their case to Room 237, and how The Shining, the work of a "bored genius" fresh off Barry Lyndon, is a Where's Waldo of clues to a hidden meaning. Kubrick was always known to be a stickler for details, so the maddening amount of details, compiled upon a list of inconsistencies, have driven their imaginations wild with context. The Shining is, among other things:
– A metaphor for the holocaust.
– A metaphor for the slaughtered natives
– A retelling of the minotaur in the labyrinth
– An admission of faking the moon landing
– A big middle finger to Stephen King
And plenty more, Rodney Ascher letting each hypothesis sit equally, no matter how absurd they sound.
While this affair could have easily been another reel of talking heads, Ascher quirkily takes it in a far more endearing and entertaining corridor. The entire film is composed of clippings, more document than documentary. Certainly double dipping with Kubrick, 2001 and moreso Eyes Wide Shut, but also utilizing of Lamberto Bava's Demons and Scooby-Doo to recreate and react the arguments. The final product is a true delight, and buffs of both film and creating fantastical rhetoric around them owe it to themselves to dive face first into this torrent of weirdness. (Zack Kotzer)
Screens
Saturday, September 15th, 5:45pm, Cineplex Yonge & Dundas 2
Sunday, September 16th,  12:00pm, TIFF Bell Lightbox 3
The ABCs of Death
Midnight Madness
Directors: Kaare Andrews, Angela Bettis, Adrián García Bogliano, Bruno Forzani & Hélène Cattet, Ernesto Díaz Espinoza, Jason Eisener, Xavier Gens, Jorge Michel Grau, Lee Hardcastle, Noboru Iguchi, Thomas Cappelen Malling, Anders Morgenthaler, Yoshihiro Nishimura, Banjong Pisanthanakun, Simon Rumley, Marcel Sarmiento, Jon Schnepp, Srdjan Spasojevic, Timo Tjahjanto, Andrew Traucki, Nacho Vigalondo, Jake West, Ti West, Ben Wheatley, Adam Wingard, Yudai Yamaguchi
From the delightful folks at The Alamo Drafthouse comes this hysterical ode to joyous fatalities that sees no less than 26 of TIFF's most innovative death scenes unfold before the audience's eyes one letter at a time. Each of the hand picked sicko directors from around the world was assigned a letter of the alphabet to transform into the death scene of their choice and pretty well everything you could imagine unfolds from French cartoon silliness, to extreme Japanese perversion, sci-fi action, tongue-in-cheek comedy, gothic vampire shenanigans, surreal nightmares, and good old fashioned murder. The styles and tones are as varied as you'd expect from anything that combines that many directorial voices. Yet, fortunately for the audience's sake the dominant tone is darkly comedic. That's what you'd want. It would be overbearing otherwise.
Even though the producers had no control over the order of the madness given that they had no idea what each film would entail, the flow is surprisingly smooth. Highlights include an ode to the healing power of farts, Adam Wingard's glorious self-mockery, a sharp-blade based weight loss technique, and an entry entitled WTF that accurately describes the experience. For an anthology movie, the hit-to-miss ratio is uncommonly high and even though some might complain that it's all empty violence devoid of meaning, who the hell cares?   This is a party movie for genre fans and one practically designed to for hooting and hollering at a Midnight Madness screening. For those lucky enough to experience it for the first time with that giddy crowd of blood-thirsty insomniacs, know that I'm quite jealous. (Phil Brown)
Screens
Friday September 14, 11:59pm, Ryerson Theatre
Saturday September 15, 3:15pm, Scotiabank 9
Sunday September 16, 9:00pm, Scotiabank 9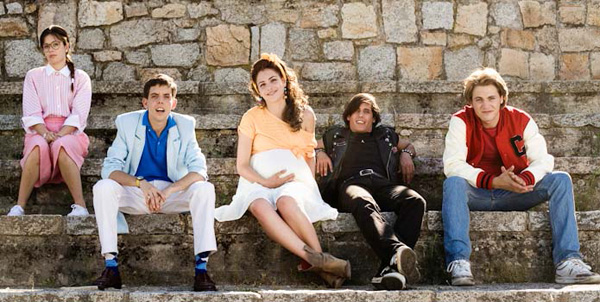 Ghost Graduation
Contemporary World Cinema
Director: Javier Ruiz Caldera
Look guys, I'm going to level with you and paraphrase a line from NOW Magazine's Norman Wilner (who used this line to refer to the almost equally awesome Premium Rush) when I say that while Ghost Graduation might not be the best film in this year's festival, but it's definitely my favourite. After nearly four (plus) weeks of screenings and pre-screenings of often depressing and heavy handed awards fare, watching a pitch perfect and flat out hilarious John Hughes homage mixed with The Frighteners was exactly what the doctor ordered. By the time this Spanish import was over I was practically crying tears of joy and I wanted to watch it again immediately.
Fledgling high school teacher Modesto finds himself in a deep depression not only because he sucks at what he does, but also because he can see ghosts and he thinks he's going mad. He's brought on board to a private school that has a legitimate ghost problem that it needs to have cleaned up before a huge ceremony honouring the founder of the school. Modesto stays on with hopes that by teaching these archetypal ghosts (a loner, a jock, a brainiac, a drunk, and a pregnant girl, all of whom died in a fire during detention in 1986) they can pass on into the afterlife and he can save the job of the principal he's sweet on in the process.
Everything goes almost perfectly according to plan, but that's part of the beauty of Ghost Graduation. The filmmakers never once hide their influences and wear their hearts on their sleeves for what amounts to the best 1980s film to not be made in the 1980s. There's a lot of heart, a lot of un-PC jokes, and a lot of laugh out loud moments. It's the perfect silly end to anyone that's sat through too much sadness and importance this festival. Sure, you could wait until the Will Smith produced remake comes out (that's not a joke, either), but you'll miss out on a grand old time and the perfect end to the summer. It also has the best ever use of "Total Eclipse of the Heart" I've ever seen and heard. and really, who in their right mind would miss that?
Screens
Friday, September 14th, 6:45pm, Scotiabank 4
The We and the I
Vanguard
Director: Michel Gondry
Gondry, always the uncanny director, set his own bar high in his features with the obsessed over Eternal Sunshine of the Spotless Mind, since then sliding down into Be Kind Rewind and eventually The Green Hornet. But at least all the while staying goofy. In all kinds of ways, The We and the I scales things back, focusing more on interpersonal drama than reliant on any outlandishness.
The We and the I concerns a bus on its route through the Bronx. It is the last day of school, and boarding the bus is an ensemble of kids (all playing themselves) carrying an ensemble of baggage that will fuel this film along. Some are bullies (or just pretending to be) and some can barely speak up (and maybe they don't want to) but in this small area of space on a long commute, lines will cross and lives spill over as they spray off into summer break.
It doesn't sound or even seem like a Gondry affair, but it is a refreshing tangent. The Gondry-isms, in fact, make for a refreshing change of pace, breaking up the claustrophobia of bus interiors with adorable segues instead of continuous eye-rolling. The cast of children, not all entirely rising to the occasion of being on a film, do make a good ensemble, and those that do tug at the emotions do it with claws out. As the film slows down, kids get off, the affair gets smaller, warmer, and eventually drops you where you're supposed to be. (Zack Kotzer)
Screens
Saturday, September 15th, 3:00pm, Scotiabank 1
Imogene
Special Presentation
Directors: Robert Pulcini and Shari Springer Berman
Imogene is this year's requisite indie quirk comedy at TIFF. All the usual warning signs are there from a depressed would-be artist lead, to a supporting cast of kooks and crazies, and all presented with deadpan "hilarious" tone. Kristen Wiig stars as Imogene, a former promising playwright and current Manhattan scenester who is quickly dumped by her boyfriend and fired, leading to a fake suicide attempt to get attention. Of course her stuffy NY friends don't care, so she's forced to move back in with her family including Annette Bening as a former go-go dancer mother with a ridiculous Jersey accent, Matt Dillon as her new stepdad who claims to be a CIA agent in hiding, a pretty new boy renting a room in a Backstreet Boys cover band, and her socially challenged brother who is so obsessed with mollusks that he's build his own mechanical shell to hide in when things get rough. Hmmm…think there might be redemption and a new play to be found in that house?
As far as this type of comedy goes, it could certainly be worse. The cast is strong enough to force a few laughs in amongst the groans. Wiig is certainly a major comedy talent who gets more laughs out of her shocked reactions to the explosions of quirk around her than should be possible, while Benning and Dillon dig into their biggest comedy roles in years (even though these are far from the best roles they've ever played). Imogene is more mediocre than bad and the trouble is that it's becoming increasingly difficult to determine what to make of co-directors Pulcini and Berman. Their feature debut American Splendor was an incredible adaptation of Harvey Pekar's underground comics that creatively combined documentary and fiction for one of the most creative comedies of the 2000s. Since then, their work has become increasingly tacky and predictable like Imogene. Hopefully, they aren't one-hit wonders like Imogene.
Screens
Sunday, September 16, 11:30am, Ryerson Theatre
Iceberg Slim: Portrait of a Pimp
TIFF Docs
Director: Jorge Hinojosa
Ice-T produces and appears in this talking heads documentary about one of the most fascinating characters in the literary world: Robert Beck, a.k.a. former pimp Iceberg Slim.
An inspiration to many young, urban writers, Iceberg Slim sold millions of books around the world chronicling just how hard pimping really is. The film goes beyond the boundaries of the books to look at Slim's rise from hard times in Chicago to his hard road back.
Aside from some really great academic looks at Slim's work, some of the people interviewed about the pimp game are more well versed than others (Snoop and Bishop Don Magic Juan run circles around the likes of Chris Rock and Henry Rollins). It also doesn't help that the film almost entirely glosses over the nastier side of the pimp game and the darker aspects of Slim's books to make him into a nicer seeming person. If Slim can admit that he wasn't a saint, the movie shouldn't really make him out to be one, either. Nonetheless, Robert Beck was a fascinating person and undeniably influential, so any historical and personal background on the man feels vital and important.
Screens
Sunday, September 16th, 4:00pm, Scotiabank 1
Outrage Beyond
Special Presentation
Director: "Beat" Takeshi Kitano
Only two years down the line, Beat Takeshi Kitano is following up his acclaimed Yakuza episode, Outrage, with what, in many ways, hits the ball back across the court. Dry but steady, Outrage Beyond offers theatrics to those who like crime with more flesh than blood.
Outliving his supposed death in the previous film, Ôtomo (Kitano), an unpredictable and weathered gangster, is back on the streets and less than sound with the growing Sanno clan administration. Which is fine to snivelling inspector Kataoka (Fumiyo Kohinata), who plays both sides of the fields and seeks leverage to scale back Sanno activity, if only to keep them under government radar. However, Ôtomo isn't about to start picking sides again, and if he is going to do in the now powerful Kato (Tomokazu Miura), it's going to be at his own speed.
Bloodhounds sniffing out a gloriously violent tale of torture will need to sit on their hands. The first and closing act of Outrage Beyond is set up and then striking, a lot of men in a lot of suits having stern discussions while sitting down.  There is a chewy, brutal center, but that serves as the wartime anchor to this tale of criminal feuding. Outrage Beyond is an animal in the wild instead of an animal going wild; not always mauling about, but intimidating as if it soon will. (Zack Kotzer)
Screens
Friday, September 14th, 3:45pm, Scotiabank 4
Saturday, September 15th, 9:00pm, TIFF Bell Lightbox 2
Come Out and Play
Midnight Madness
Director: Makinov
A remake of the Spanish chiller Who Could Kill a Child? set in Mexico from a mysterious, masked Russian director, the somewhat standard killer child film Come Out and Play has a much more interesting pedigree on paper than the movie actually suggests.
An American couple comprised of an uptight husband and a pregnant wife rent a boat to visit a remote island when they discover that all of the kids have turned on the adults and begun to kill, dismember, and collect trophies from them. There are a few other adults left on the island, but they're quickly dispatched.
Makinov crafts a very slow burn in that it take a full 45 minutes for our main characters to ever realize something's definitely amiss, and there's not too much to set this apart from The Village of the Damned, a Children of the Corn sequel, or even the original source material aside from some gorgeous cinematography, a suitable, but far too brief finale, and a nifty reference to The Birds. That's quite literally all there is to say on this one, but fans of this particular horror sub-genre that have been starved for anything at all relevant to their interest should have some fun with these creepy kids.
Screens
Friday, September 14th, 3:15pm, Cineplex Yonge and Dundas 10
Saturday, September 15th, 6:45pm, Scotiabank 11
The Lesser Blessed
Contemporary World Cinema
Director: Anita Doron
Canadian filmmaker Doron's adaptation of Richard Van Camp's novel about a emotionally and physically scarred teenager in the backwoods of the Northwest Territories comes in a well made package that's undone by a shaky lead actor and dialogue that has a complete tin ear for how young adults actually speak.
Larry (Joel Nathan Evans) has had trouble adjusting following a horrific accident that left his body scarred and his social skills stunted, but a new friendship with a new kid that turns out to be a bad ass and a burgeoning relationship with his long time female crush helps him come out of his shell before leading to some harsh consequences.
The biggest difference between Doron's film and the similarly themed TIFF entry The Perks of Being a Wallflower, comes from rookie actors in prominent roles that don't seem to have a lot of confidence and dialogue (also from Doron) that doesn't sound at all like what teenager normally sound like. It's forced to the point where it sometimes sounds like the actors are openly questioning what they are saying. The film does have a great performance from Benjamin Bratt as Larry's surrogate father figure, and it seems to come from a genuine place emotionally, but it's still pretty rough around the edges.
The Bay
Midnight Madness
Director: Barry Levinson
Don't let the found footage trappings of The Bay trick you into thinking it's just another shaky cam horror film. In the hands of renowned director Barry Levinson, this tale of flesh eating bacteria slowly killing off the residents of a community located on Maryland's Chesapeake Bay delivers more than a number of chills and scares while keeping the director's playfully pointed political viewpoints intact.
Structured as a faux-Wikileaks styled documentary, the footage edited together plays with time and comes from numerous different sources, but it comes together nicely. While it's patently implausible that even in 2009 when the film alleges the environmental disaster terrorizing the waters took hold, Levinson makes up for the more outlandish elements of the film by using wit and effective shocks in equal part. It's hard not to read into the film as being subversive political satire with the July 4th holiday, FEMA, and obesity all getting skewered, but it never gets heavy handed and it's always playful. For his first ever foray into horror and experimenting with a new method of storytelling, Levinson and the film seem remarkably assured.
Advertisement
---
---
Advertisement
---
FROM AROUND THE WEB
Advertisement