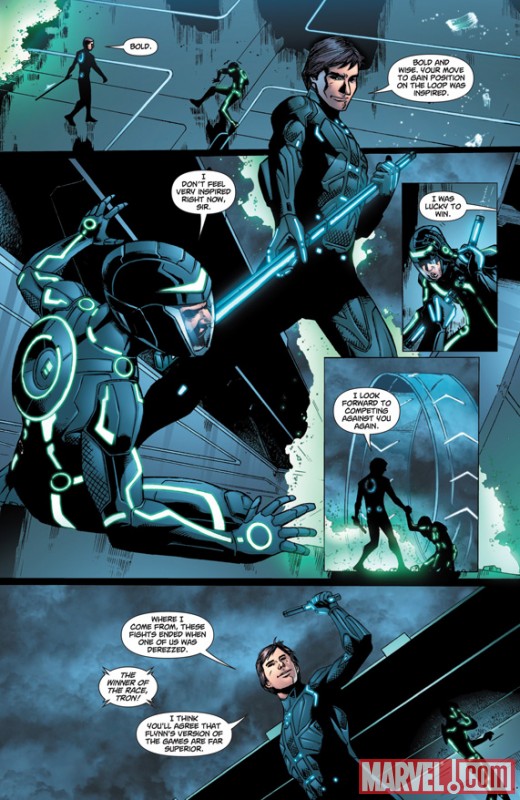 Marvel.com has posted a four page preview of their upcoming graphic novel tie-in to the highly-anticipated TRON: Legacy film out this December.
The story of TRON: Betrayal acts as a bridge between the original 1982 film and the upcoming film. The comic introduces the reader to some of the upcoming heroes and villains from the feature film, along with new characters. Betrayal will illustrate how the TRON universe has developed and changed over the past thirty years.
The plot synopsis is as follows:
Kevin Flynn is now in charge of the world's largest video game company, ENCOM. The break-through game developer has built the Grid, a digital world filled with living programs except now the new virtual world is about to develop a life of its own and, in order to control it, Flynn's going to need the help of an old friend… named Tron.
The four-page preview appears to be pretty solid. The art and color scheme leave no doubt that it is set in a cyberworld universe. The art style of Andie Tong doesn't look too shabby but you can't expect anything crazy from a movie adaptation. It doesn't reveal too much other than an unmentioned character (I believe it is Kevin Flynn) explaining everything is evolving and has been built to satisfy his expectations of what should be reality. This is all set along two characters in deep combat.
However, the biggest part of this preview: confirmation that the character TRON is indeed part of the new story.  I had previously reported that the character was confirmed via an early interview with director Joseph Kosinski but he is confirmed within the final panel of the preview.
TRON: Betrayal is goes on sale October 6th 2010.
Advertisement
---
---
Advertisement
---
FROM AROUND THE WEB
Advertisement