Motion Picture Soundtrack is a column that explores the soundtracks of music documentaries and biopics. Using songs featured in each respective film or series, the column offers readers a primer on artists and bands worth loving, revisiting, and discovering anew. This week, we look at Summer of Soul (…or, When the Revolution Could Not Be Televised), Ahmir "Questlove" Thompson's provocative, brilliant, and essential new film about the 1969 Harlem Cultural Festival.
"It wasn't just about the music."
—Gladys Knight
In the summer of 1969, Woodstock happened. It was a big deal. Lots of acts; lots of people; lots of pot (I assume). It stands as a testament to an era, a time, a mood. But Woodstock, for all its countercultural clout, has since become little more than a brand, another relic from the Hippie Era™ that aging music critics and Baby Boomers still uphold as the most important event in music history. It is not. I'm not being pessimistic or contrarian—it just isn't.
Now, I would not, for a moment, claim that Woodstock wasn't historically significant. It was. But we have to think about why it became so historically significant when, only a few hundred miles away, something equally—if not more—impressive was taking place.
Over six weekends that same summer, the Harlem Cultural Festival took place at Mount Morris Park (now Marcus Garvey Park). It was organized by Tony Lawrence. Much like Woodstock, there were lots of acts, lots of people, and lots of pot (it was 1969, after all). It was minutely documented, then buried in a basement for 50 years.
And now, here we are.
There is no reason for me to say anything past that. You owe it to yourself to watch this film. If you have any interest in music history—hell, if you have any interest in music OR history, as separate entities—you MUST watch this film. But there are a few things I have to add because, throughout its 2-hour runtime, I experienced moments of elation, of anger, of serenity. I had tears streaming down my face, which does not happen very often (not a boast, just a fact). Ms. Mahalia Jackson sings, and it is one of the most powerful musical performances ever committed to tape—celluloid, digital, or otherwise. A young Stevie Wonder banters with his band leader, and rips it on the drums, full of wonder (sorry…) and energy. A freshly-solo David Ruffin makes his way through "My Girl," looking dashing and the epitome of cool. The 5th Dimension bring up dancers from the crowd. Nina Simone is, well, Nina Simone. She looks like an absolute goddess because she is one.
While the film is a musical tour de force, it is also so much more than that—exploring various cultural and political events that surrounded and influenced the festival. There were the murders of FOUR (!) prominent politicians and Civil Rights activists (two Kennedies, Dr. King, and Malcolm). The Vietnam War was escalating. Nixon was being sworn in. Harlem was in bad shape. AMERICA was in bad shape.
And then, there was this festival: a beacon of hope, of celebration, that played by its own rules. The Black Panthers had to act as security because the NYPD refused to participate, though they later relented. While the moon landing took place approximately 384,400 km away, festival attendees were interviewed about its significance. Redd Foxx had some choice words for the Apollo program, as did many of the young attendees, who saw the moon landing as a waste of money—money that could have been used to help solve problems here on Earth, in New York and in Harlem (they are and were, of course, correct). There are interviews with both festival attendees and contemporary artists and creators, including Chris Rock and Lin Manuel-Miranda, who give historical context and provide anecdotes.
But more than anything, there is the sound. That SOUND! Those songs and voices and instruments that cut through the bureaucratic, network bullshit and exist now, in the light, for all to see (finally!). The editing is crisp and direct, and the selected footage makes it clear why executives at ABC, CBS and NBC rejected this project. I don't think I have to point out the specifics; it should be pretty obvious.
It is inexcusable that the footage featured in Summer of Soul was left in a basement for 50 years . It's criminal. Monstrous. How anything with this much cultural and commercial significance could ever be considered "obscure" or "unreleasable" is a testament to media control in the United States. It's truly an embarrassment, because the footage is gold. It is diamond. We are very lucky to have it. Questlove has done a wonderful thing here—a beautiful, essential thing. So far, it is the best film of the year for me. It'll be hard to top.
My approach for this particular list is a bit different than the last few I've pulled together. Because there were so many acts, I decided to take one essential song from each artist featured in the film itself, in order to celebrate all of the on-screen participants. I have also included the songs they performed in the film, as additional research material (you're welcome). The festival had many, many more performers, and Questlove could only fit so many in two hours, so I urge you to watch the credits. At the end, there is a list with the names of all 68 performers. I demand you check each and every one of them out.
Stevie Wonder – "Superstition" from Talking Book (1972)
Stevie Wonder's greatest achievement—funk, soul, or otherwise. The musical and professional transition Wonder discusses in the film is fully realized here: that main riff, played on a Hohner Clavinet, is one for the ages, and his voice—both sensual and furious—is a revelation. The horn section is a monument to exceptional song craft, that snappy drumbeat (played by Wonder himself and written by, of all people, Jeff Beck) grooves the song into syncopated ecstasy, and if you aren't dancing from the moment the horns first kick in…well, I just can't help you.
Songs in the film: "It's Your Thing," "Shoo-Bee-Doo-Be-Doo-Da-Day"

The Chambers Brothers – "Time Has Come Today" from The Time Has Come (1967)
The quintessential melding of soul and psychedelia, "Time Has Come Today" is the epitome of this very unlikely genre pairing. Druggy, vibrant, and used in dozens of films and television shows to capture the paranoid mood of the late 60s (and beyond), its 11+ minute runtime is a trip into the era's enthusiasm and anger. And man, that guitar line…a sinister treble with a wink, if there ever was one (and there was: it's in this song).
Songs in the film: "Uptown," "Have a Little Faith" (which plays over the end credits)

B.B. King – "Sweet Little Angel" from Singin' the Blues (1957)
It's B.B. King. If I need to say more…well then…–..-.ugh…no, I don't. Stop asking questions. You're ridin' with the King now.
Songs in the film: "Why I Sing the Blues"

Herbie Mann – "Comin Home Baby" from Herbie Mann at the Village Gate (1961)
Have you ever wanted to describe a song as "slinky"? Well, you were wrong. THIS is slinky. Never has a flute sounded this cool—an oxymoron under any other context, I'm sure.
Songs in the film: "Chain of Fools" (w/ Ron Ayers), "Hold On, I'm Comin'" (w/ Sonny Sharrock)

The 5th Dimension – "Go Where You Wanna Go" from Up, Up And Away (1967)
You know when people talk about covering a song and making it your own? Well, when Ms. LaRue and Ms. McCoo declare "You don't understand that a girl like me can love just one man," and their voices become nothing short of transcendental, just try not to melt. I dare you. I wish I could have been that man. Pop-soul at its finest.
Songs in the film: "Don't Cha Hear Me Callin' Ya?"; "Aquarius/Let the Sunshine In"

Edwin Hawkins Singers – "Jesus" from More Happy Days (1970)
I'm not a religious person, and yet I have always connected to gospel music. Regardless of your religious affiliations or preconceptions, there is a sincerity behind these songs that reveals both the supernatural talent of the performers, and their dedication to these words. And that energy is on full display in "Jesus." Its unbridled joy is infectious; there is a sense of elation, of letting go, and sometimes, that's all I want from music. I feel what they feel. There's no stronger connection than that. So come in, let the spirit take you, move you, and shake you. The water's fine.
Songs in the film: "Oh Happy Day" (w/ Dorothy Moore)

Pops Staples and the Staples Singers – "I'll Take You There" from Be Altitude: Respect Yourself (1972)
Could it POSSIBLY be anything else? Because there can't be. With the full force of Muscle Shoals behind them, the Staples become a soul powerhouse. Although Pops doesn't perform the solo, I still scrunch my face in awe every time. The vocal performance is a force to be referenced and revered and reckoned with, and, I mean, that bass line? Played by David Hood? Mhmm. Staples Singers, please take us all there.
Songs in the film: "Give a Damn," "Help me Jesus," "It's Been a Change"

Mahalia Jackson – "His Eye Is On the Sparrow" from Gospels, Spirituals, & Hymns (1954)
His eye is on the sparrow, but mine are full of tears…and that's not even close to hyperbole. Ms. Jackson, ma'am, thank you.
Songs in the film: "Lord Search My Heart," "Precious Lord, Take My Hand" (w/ Mavis Staples and Operation Breadbasket)

Ben Branch (w/ Operation Breadbasket) – "We Shall Overcome" from The Last Request (1968)
This soaring gospel staple—reinterpreted in the 1960s by numerous folk musicians as a protest anthem for the Civil Rights movement—is returned here to its gospel roots. The tight drumming, trebled tremolo guitar, and resonant bass keep the music minimal, while the delicate horn flourishes add the lightest of background textures, allowing the rising voices to overcome and unburden us all. You want haunting? THIS is haunting.
Songs in the film: "Let Us Break Bread Together"

David Ruffin – "I've Got a Need for You" from David (2004; originally recorded '69-'71)
Known primarily as one of the lead singers of the Temptations (he sang lead on some of their most famous cuts), David Ruffin's post-Temptations career took a diverse turn into disco, pop, and soul, with Ruffin clearly refusing to be typecast as a legacy act resorting to covering his own songs from his mid-'60s prime. "I've Got a Need for You" is raucous and fun, and is a testament to his powerful, inimitable voice. A slight rasp gives the song a gruff toughness that Ruffin must have been searching for since the dissolution of the straight-laced Temptations, and that intensity bursts forth from every corner of "I've Got a Need for You." I strongly urge you to check out the full album, David, which takes his classic Motown sound in a funkier direction.
Songs in the film: "My Girl"

Gladys Knight and the Pips – "Midnight Train to Georgia" from Imagination (1973)
People can lay claim to all sorts of things: power, money, prestige, etc. etc. Claims are little more than boasts, which are little more than "meh" in my opinion. But Ms. Gladys Knight can lay claim to recording the best song of the '70s. Period. I don't care. I said it. This is everything music should be, must be, wants to be. How can anything compete? Listen when she says "And I'll be with him/On that midnight train to Georgia": she believes it so completely, so entirely, that you know she's telling the truth. What more can you ask from an artist?
Songs in the film: "I Heard It Through the Grapevine"

Sly and the Family Stone – "Thank You (Falettinme Be Mice Elf Agin)" (Single, 1969)
Released as a double A-side single with "Everybody Is a Star" (which is also amazing), this funk odyssey (just listen to that slap bass!) addresses many of the era's—and Sly's—most pressing topics, including violence, racial injustice, and selling out. Sly takes a self-deprecating stance, furious that the socially conscious messages found in the group's earlier hits were seemingly lost on the public. He blames himself for this miscommunication, presenting the listener with an honest, raw and self-critical approach to fame and social responsibility. Sly wants to spread the good word, but he realizes that the groove that made him famous (and rich) is also distracting the very audience he wants to enlighten. He is pointing the finger at a mirror. But Sly shouldn't be so hard on himself: this is a battle that's raged in musicians for as long as music and protest have been connected, and this could very well be the thesis to Questlove's film: how can artists give the people what they want, get them dancing and having a good time, all while educating, uplifting, and inspiring them? It's an unenviable task. I'm glad there are people who are up for the challenge. We desperately need them.
Songs in the film: "Sing a Simple Song," "Everyday People," "Higher"

Mongo Santamaria – "Sofrito" from Sofrito (1976)
Sofrito is a bold and aromatic combination of sautéed ingredients which can be eaten either as a sauce, or used as a "sauce starter" before other flavourings are added. Mongo Santamaria's "Sofrito" is just that: a collection of sounds, tones, and parts that build, one on top of another, to create a bursting tapestry of flavour and emotion. The extended piano intro—reminiscent of Chopin-by-way-of-Rubén González—gives way to the montuno (vamp) base, itself built on Cuban guajira traditions. The horns, flutes, and Santamaria's bouncing, pounding congas lull us into submission, the song's sultry ingredients puréed into a slow-burning concoction I'll gladly consume any time.
Songs in the film: "Watermelon Man," "Afro-Blue," "Cloud Nine"

Ray Barretto – "Acid" from Acid (1968)
There is nothing "psychedelic" about Ray Barretto's "Acid," but there's definitely something hallucinatory going on. Barretto eschews anything associated with hippiedom and its stereotypical sounds, instead developing an intoxicating mix of Latin Jazz, Salsa, and Latin Soul to pull us into the eye of the trip. The intro is reminiscent of the anticipation that comes with the use of psychedelics (or so I'm told…), the rattling güiro and seemingly sinister congas repeating incessantly on a minimal arrangement as you await The High. And then, suddenly, a revelation: as a bouncy piano enters, the sunny side of psychedelics arrives with it. There's no bad trip to be had here, those light horns and clanging percussion assuring me that this is going to be a good one after all. Far out, indeed.
Songs in the film: "Abidjan," "Together"

Dinizulu and His African Dancers and Drummers – "Dinizulu" from Songs and Drums of Africa (1991)
What better introduction to an artist than through a song bearing his name. "Dinizulu" is a tense, exuberant piece: the rhythms are minimal and repetitive, yet never close to monotonous. The music, composed entirely of drums, crackles along tight and striking. There is very little vibrato, making the beats all the more direct. Each strike is conscious, purposeful. And it makes you want to bounce, to dance, to transcend. Embrace that feeling and be (quite literally) moved by it.
Songs in the film: "Ogun Ogun"

Max Roach – Money Jungle (1962)
This is a bit of a deviation, but hear me out: Max Roach has such an extensive discography, and has played with so many people that I figured I would bring up a somewhat underrated, at times difficult, but nevertheless brilliant album released by three jazz heavyweights that never quite gels. And that's exactly where its charm lies. Recorded in collaboration with Duke Ellington and Charles Mingus (!!!), the three clashing styles, approaches, and egos lead to some wonderfully messy, spirited results. Money Jungle is dissonant, contrapuntal, feverish, the music itself reflecting the tense recording atmosphere. Mingus apparently even stormed off at one point, but was persuaded to return by Ellington, and nowhere is this tension, this drama more apparent than on the title track. Check that out, then check out the whole album. Stick with it. You'll be happy you did.
Songs in the film: "It's Time," "Africa" (w/ Abbey Lincoln)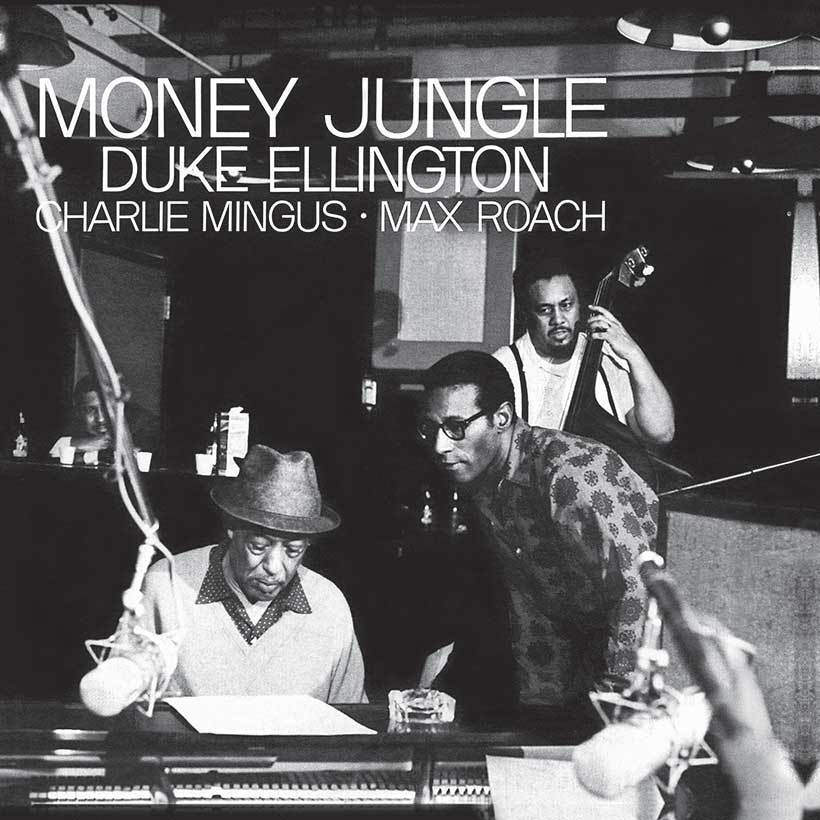 Hugh Masekela – "Stimela (Coal Train)" from I Am Not Afraid (1974)
"Stimela," a dark, minor key indictment of the migrant labour system, was written about the mining systems in South Africa, yet its anger and sadness transcend its thematic origins. Masekela's voice is hoarse, burnt out, exhausted, his backup singers juxtaposing his vitriolic, soaring delivery with beautiful minor key harmonies filled with rage. The instrumentation and composition revel in contrast: light and dark, empty space and texture, bombast and silence, there is both reprise and reprieve, even if there's no peace. Soaring layers of keyboards and drums drop out unexpectedly before clawing their way back in again. The climactic build up rips me in two every time, while the single scream before the outro infuriates me. I know all the things it stood for, what it still stands for, and my bile rises and blood boils. This song makes me angry. It's supposed to. It is a lament, a dirge, a plea. You don't need to understand the words to feel their pain. You can feel that they are heavy and ugly, honest and true. And so is "Stimela."
Songs in the film: "Ha Le Se Le Li Khanna," "Grazing in the Grass"

Nina Simone – "Wild is the Wind" from Wild is the Wind (1966)
You want drama? You want hurt and honesty and perfection? You want metaphor and symbolism and pure emotion? You want it all and then some? And do you want to hear my favourite song? Ever? Of all time? The one that, from my first introduction, has never wavered? Well here it is. It is a masterwork, an enigma, a song so powerful and beautiful that words will never (ever ever ever) do it justice. Listening to "Wild is the Wind" is like hearing every relationship ever lived, distilled into 7 minutes. All the heartache and love and sex and tenderness and vulgarity and lust and destruction and pain and beauty, all of it is here. The weight of it is insurmountable, and only Ms. Simone could deliver it onto us. That voice…my throat tightens and eyes sting just thinking about it, the glory of it naked and unashamed and full of desire. She is a Queen, a force, a gift. Do you hear the sound of mandolins? You will.
Don't be shy: crumble away.
Songs in the film: "Backlash Blues," "To Be Young, Gifted and Black," "Are You Ready?"
(NOTE: Unfortunately, two of the artists featured in the film, Professor Herman Stevens & the Voices of Faith ("Heaven Is Mine") and Clara Walker & the Gospel Redeemers ("Wrapped, Tied, and Tangled") are not available on Spotify, but you should check them out on YouTube. As you can see, I've linked some examples. This week marks 52 years since "Gospel Week" at the Festival. How appropriate. Enjoy!)
Advertisement
---
---
Advertisement
---
FROM AROUND THE WEB
Advertisement