Longtime readers of the site may have noticed that our two podcasts — the Dork Shelf podcast and Geek Nerd Dork podcast — have both been defunct for some years now.
We had a blast producing the podcasts, but, as is usually the case with this sort of thing, a lack of time and availability along with a handful of other issues prevented us from continuing the two shows.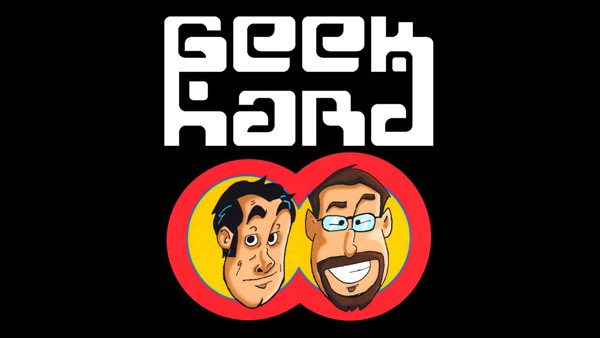 That's why we're thrilled to announce a partnership between ourselves and the fine folks at Geek Hard that will see the podcast version of their weekly live show featured on the site.
For those unfamiliar with the popular programme (where have you been?!), Geek Hard is the weekly internet radio show that gives you the latest news and reviews for all things Geek! Hosted by the most excellent Andrew Young and Mr. Green, the show covers movies, comics, television, DVDs, tech, music, video games, and more as it relates to geek entertainment and geek culture.
As you can probably already tell, it's a match made in geek heaven. The Dork Shelf team have been friends and huge fans of Geek Hard for years (our own Film Editor has appeared on the show a number of times) and all involved are extremely excited about this new collaboration.
Be sure to tune in to Geek Hard live on Friday nights at 7pm (est) on Reality Radio 101 and catch up on past episodes by subscribing to the podcast version of the show where it says "Geek Hard" in our sidebar.
If you're going to geek out, GEEK HARD!
Advertisement
---
---
Advertisement
---
FROM AROUND THE WEB
Advertisement