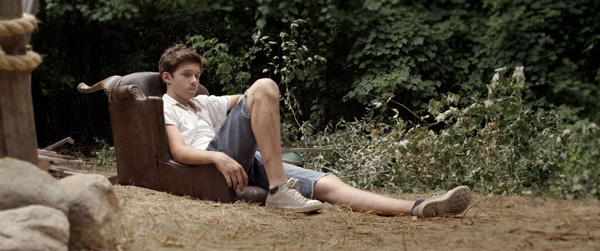 Nick Robinson and I are both sitting outside on decks on opposite ends of the continent; he in California and I just outside Toronto. Both of us find it to be a more than appropriate venue to be discussing his starring role in the posited indie sleeper hit of the summer, The Kings of Summer.
Robinson, already a bit of a TV vet thanks to a spot on the ABC Family show Melissa and Joey, gets his first big screen starring role in Jordan Vogt-Roberts' debut feature as Joe, a young man who's grown tired of his smartassed father – played by a scene and movie stealing Nick Offerman – and decides to abscond to the woods with his best friend Patrick (Gabriel Basso, best known for his role on TV's The Big C) and a strange, socially maladjusted hanger-on named Biagio (Moises Arias, who at the age of 19 actually has the most experience of the three leads).
The boisterous and laughter filled phone call befits the light tone of most of the film, except when Robinson is asked how much of the film reflects a sort of personal experience for the actor.
"I think there's something here that really anyone from any time period can really relate to. I know from talking to Jordan and especially (writer) Chris (Galletta) that they really put a lot of themselves into this story." Robinson said. "I mean, I know for me personally and for those around me that the frustrations that Joe and Patrick are feeling are every real and the kinds of things you can struggle with every day. I see it in my own life and everyone elses, and Chris and Jordan really did a wonderful job of tapping into that."
The trio of kids also have to build their own cabin in the middle of the woods out of found, stolen, and otherwise locally sourced materials, something that Robinson would have loved to have tried himself, but was never able to partake in.
"We didn't build a single bit of that ourselves." He laughed. "We never even lifted a finger to put it together. I think in the movie you see me throw some hammers at it, and that's about the extent of my contribution. But any damage that we do to the place on screen, that's all us. In fact, anytime you see us doing anything to the cabin, we're actually taking it down."
When quizzed about his own potential survival skills – which includes him having to grow a pencil thin, age appropriate moustache and capture and kill his own food at one point – he seems a bit hesitant to say he would be able to measure up to his on screen counterpart.
"I don't think I will be killing and skinning any more rabbits any time soon. There's just so much work that goes into just setting up the traps before you even catch something that it just doesn't seem like it was worth it."
As for his moustache?
"I just have to go on the record now and make sure everyone knows that moustache wasn't real. It was glued on. I just can't grow facial hair. But, come on, I think it might be a good look for me. I would love to rock that sketchy 'stache again."
Compared to the beard of his co-star Offerman (which Robinson describes as "exceptional"), he's felt a bit inadequate, but he relished the chance to work with such a comedic giant.
"At first it was really intimidating just to see him. I was shooting a scene that he wasn't in, and this was early on in the shoot, and I look over behind the monitor and I just see Nick and I see his beard and it kind of shook me for a moment. But Nick is phenomenal to work with. He's really professional, but also extremely playful. I definitely picked up a lot from working with him."Perhaps the biggest surprise for Robinson was in seeing the film's finished product, which originally ran about three and a half hours, and what finally made it into the film.
"Jordan loved for us to do improv and go off the script when we were in the woods. Most of the stuff with Biagio came as a result of some of the improv that we had been working on, but aside from that a lot of it never really made it into the final cut of the film. What was surprising was in a lot of the montages in the film, most of what made it into those was from Jordan, unbeknownst to us most of the time, just picking up a camera and filming us on our breaks. It felt and looks really natural, but none of us were even in character at that point. We were just kind of goofing off between takes or on our lunch. Jordan was always big on capturing the natural side of things."
Advertisement
---
---
Advertisement
---
FROM AROUND THE WEB
Advertisement