Ladies Make Comics Too is my brand-new bi-weekly article highlighting women in the comics industry, because even though there are tonnes of women in comics, for some reason everyone is still surprised by it. I hope Ladies Make Comics Too will help debunk the myth that women in the comic book industry are as rare as rainbow-tailed unicorns, and will introduce you lovely readers to some super-rad artists (who also happen to be ladies).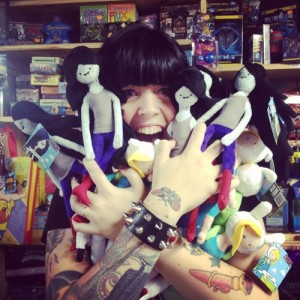 For my very first Ladies Make Comics Too, meet Kate Leth; she's a great indie artist who wishes people would stop asking (anyone, ever), "What's it like to be a woman in comics?" and would love to see more mainstream comics with empowered women who aren't objectified – like Batwoman and Buffy.
Currently hailing from Halifax, Nova Scotia, Leth attended NSCAD for art, before realizing that collaborating and photography weren't really her thing. The world should be grateful that Leth bailed on art school though, because she landed a sweet gig working at the internationally-renowned comic book store Strange Adventures. Once at the shop, Leth's co-workers convinced her that she should use her powers of art for good and with that, Leth start drawing autobiographical comics about her life as a lady in a comic shop for the internet.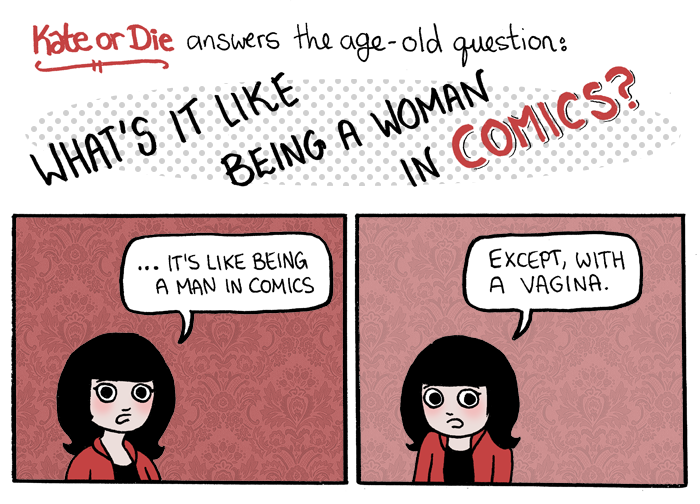 Since that first post, Leth's career has taken off. In addition to writing, drawing, colouring, and promoting her online comics on Kate or Die!, she's also self-published a selection of her comics in Ultimate Kate or Die!, and contributed to Locke & Key, Womanthology and Marceline and the Scream Queens (the Adventure Time spin-off series).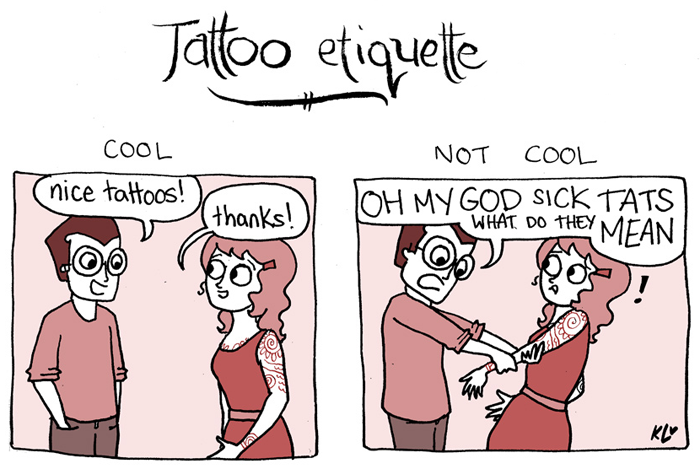 I first stumbled across Leth's comics online, when one of her "Tattoo Etiquette" comics made the rounds on Tumblr. Many of Leth's comics follow a similar autobiographical theme, and provide a hilarious and irreverent (but often thought-provoking and poignant) look at her life. Kate or Die! has tackled Leth's challenges with self-harm, her sexuality, working in the world of nerds, dating, loving cats, and even her favourite comic book characters. Also, Leth has a tattoo of Sailor Moon's transformation pen: that right there should be enough to sell you on her awesomeness.
My favourite Kate or Die! comics are Leth's series on bisexuality. Self-identifying as queer, Leth's experience with her sexuality makes for open, honest, and informative autobiographical comics, which will have you smiling while you reconsider your pre-conceived notions about bisexuality. Not too shabby, for a comic. A close second, though, would have to be Leth's series of comics where Spider-man and Deadpool are totally gay for each other. OTP.
In addition to being a fantastic artist, Leth also has a Twitter account with many tidbits of wonderful wisdom, a Facebook page and a Tumblr, filled with super-hot women in bondage, other indie comics, and cat GIFs. There, see? You're basically already best friends.
So go ahead; check out Kate or Die!, and visit her Etsy and Topatoco shops. You can also find Leth this spring at TCAF, where I can also probably be found, fangirling over her work. See you there!
Advertisement
---
---
Advertisement
---
FROM AROUND THE WEB
Advertisement