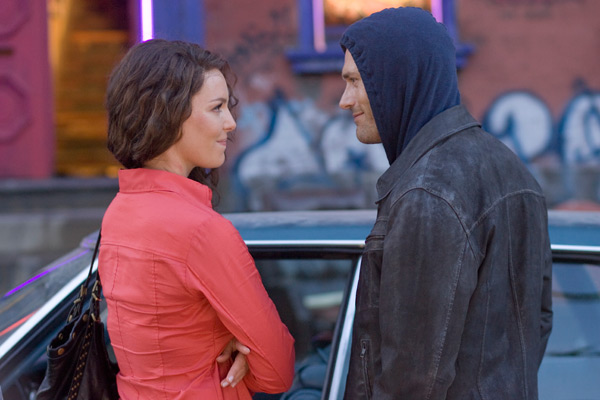 Say what you will about the career trajectory of actress Katherine Heigl, there's a decent story hidden somewhere in One for the Money. An angry, out of work woman becoming a bounty hunter and jumping at the chance to bring in a loathsome ex-lover sounds… exactly like that Gerard Butler and Jennifer Aniston movie The Bounty Hunter with the sexes reversed. That's pretty much what this movie amounts to, but this is admittedly somewhat better than that debacle. It's still not very good.
In this adaptation of a Janet Evanovich bestseller, Heigl plays Stephanie Plum, a laid off Trenton, New Jersey retail manager who takes a job at her lecherous cousin's bail bonds agency. Stephanie, of course, has no experience as a recovery agent, has no idea how to hold a gun, and no useful skills other than knowing how to talk to stereotypical Jersey scumbags. So naturally she blackmails her cousin into giving her a $50,000 job to bring in former cop Joe Morelli (Jason O'Mara) dead or alive. Morelli, on the run from a murder charge, just so happens to be the lowlife Stephanie lost her virginity to years ago. She's still pissed he never called.
Looking and sounding like a bad sitcom, director Julie Anne Robinson fails to inject any real life into a threadbare story that gets the entire plot out of the way in the first five minutes before a remaining 83 minutes of simply going through the rom-com motions. It's bland and inoffensive with nary a laugh in sight or unique dialog. Sure, there are people who won't find anything wrong with that and good on them.
What really sinks this film more than its unoriginal plotting, however, is some truly atrocious voiceover that has Heigl literally explaining to the audience everything they can plainly see on screen. It might be based on a novel and to some degree the writers might have felt the need to remain faithful to the fans of the book, but here it comes across as an unwarranted descriptive video service. If the obvious inner monologue had been cut from the film, it would be far less grating on the nerves.
As for Heigl, a woman who once so bravely spoke her mind about the lack of good roles she had been getting, she plays a character that nearly any actress capable of donning a Jersey accent could do in her sleep. The actors playing almost all the other characters in the film could be called out for the same reasons (O'Mara is uninspired, Debbie Reynolds and John Leguizamo are wasted in small, thankless roles). The only member of the cast that's allowed to rise above the material is Daniel Sunjata, who plays a bad ass bounty hunter mentoring Stephanie when she needs help. He's so good, one wishes this movie to be a success just to see more of his character.
In the end, Heigl really has no one to blame but herself for this one. Her name is all over the production credits and she's front and centre for everything involving this production. Which begs the question, why after all of her complaints regarding some of her past work would she go and produce and star in the exact same kind of film she seems to be railing against? Maybe there's some sort of production deal for a future film that no one really knows about. That's the only thing that would really make sense.
Advertisement
---
---
Advertisement
---
FROM AROUND THE WEB
Advertisement