Now entering its seventh year, The Brazil Film Festival takes an exclusive look into the films coming from South America's largest country. With a wide range of voices and styles being employed, it might sound cliché to say that there are no two films that are alike, but from nuanced independent filmmaking and boundary pushing sexual dramas to family friendly franchise blockbusters and quirky indie comedies, there's literally something for people of all tastes.
Kicking off tonight at the TIFF Bell Lightbox with a screening of Breno Silveria's musical biopic GONZAGA at 7:00pm (chronicling the lives and struggles of two pop music icons) and running through this Sunday, the festival contains a nice blend of local premieres and the resurfacing of a couple of films that have already made waves in the city earlier this year.
Kleber Mendonça Filho's NEIGHBORING SOUNDS (Saturday, November 30th, 6:30pm) was a surprise success earlier this year when it played at the Lightbox for a couple of weeks, and it's not hard to see why. It's an exceptionally crafted look at the lives of people in a middle class section of Recife dealing with their own problems as an increasingly pushy and largely self-appointed security firm starts to lose sight of how to keep its residents protected. It's not to be missed, and it will likely continue to gain buzz over the next month or so for deservedly being Brazil's entry for Best Foreign Film and this year's Oscars.
Also returning is Inside Out's 2013 Audience Award winner, REACHING FOR THE MOON (Friday, November 29th, 7:00pm). The real life love story between famed Boston born poet and short story writer Elizabeth Bishop (played here wonderfully by the often underrated Miranda Otto) and influential Brazilian architect Lota de Macedo Soares (Gloria Pires) is lovingly, almost achingly realized by director Bruno Barreto (Four Days in September, One Tough Cop), delivering his best film to date.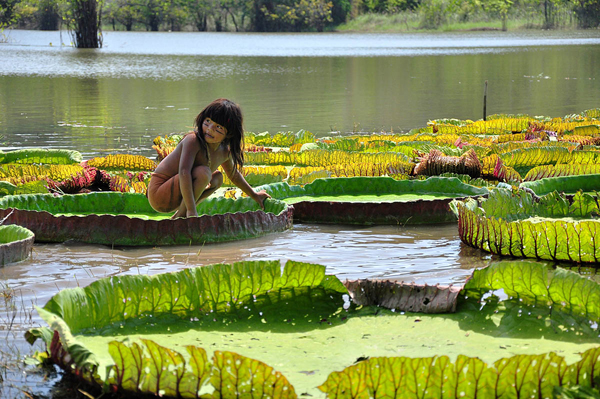 Although new to the city, the family adventure TANIA – AN AMAZON LEGEND (Sunday, December 1st, 12:00pm) featured the return of a youthful and well loved Amazonian folk hero that has proven a box office sensation in Brazil. Although this is strictly kids stuff in every sense of the word this third entry in a franchise looking at a six year old girl growing up with her tribal family in the rainforests, makes it's easy to see the appeal for younger viewers and why the series was resurrected following a hiatus between 2004 and now. Filmed on location in actual rainforests, it looks stunning and the antics of Tania and her friends should keep little ones willing to read subtitles easily entertained.
Less successful and less family oriented, but also featuring a precocious child is Breno Silveira's ALONG THE WAY (Saturday, November 30th, 9:30pm). This story of a man trying to move on from a traumatic life and his interactions with a wayward fatherless child is about as maudlin as you can probably get, taking most of its cues from insufferable American independent filmmaking and any number of shamelessly manipulative heart-rippers. I can see the appeal of it from a programming standpoint, but that doesn't mean it's a good film.
A far more successful and even quirkier film is Raphael Aguinaga's debut film, THE UPRISING (Saturday, November 30th, 4:00pm). Taking place at a home for seniors against a religious backdrop where the Vatican has somehow found a way to clone Jesus (seriously, just stick with it), the main story concerns the residents trying to find a way to stand up to their loutish, ecstasy popping jerk of a temporary caretaker. It's decidedly messy and all over the place with several overlapping storylines and plenty of asides, but everything that happens ultimately makes sense in this bizarre universe that Aguinaga has created for his characters. It's absolutely bonkers, and while the ending feels out of place, it's still an all around original.
And while I haven't had a chance to see it yet, myself, I am excited to check out the local premiere of RIO 2096 – A STORY OF LOVE AND FURY (Sunday, December 1st, 7:30pm), one of this year's 19 films currently vying for a Best Animated Feature nomination at the Oscars. A sprawling sci-fi epic spanning 600 years, it's been building considerable buzz by the week, making it a more than appropriate choice for the festival's closing night.
For more information on the festival and a full list of features, tickets, and showtimes, check out the festival website.
Advertisement
---
---
Advertisement
---
FROM AROUND THE WEB
Advertisement