A good man is hard to find. Black Conflux, like nearly every micro-budget Canadian film these days, doesn't have a decent male in its ensemble. The actors are great—star Ryan McDonald is the best thing about the film—but it's another movie in which every male character is a creep, abuser, misogynist, rapist, jerk, drunk, or boor. However, the parade of unlikable Joes has a purpose.
This holdover from the 2019 Toronto International Film Festival, when "shitty men only" was the programming directive du jour, benefits from the passage of time. The parade of "shitty men" movies lets Black Conflux assert itself as a true original. This brooding drama shrewdly gives dramatic weight to the troubled male while probing toxic masculinity. (Without, of course, endorsing his behaviour.) The film evokes the danger that lurks beneath the surface of any seemingly innocent guy next door.
Dark waters converge in Black Conflux as Dennis (McDonald) and Jackie (Ella Ballentine) become united in their alienation. This atmospheric drama introduces writer/director Nicole Dorsey as a promising Canadian talent. She has a hand for churning moody waters, as illustrated by the forked river that bookends the film. The film dramatizes the disappearances of women in Newfoundland in the 1980s and, in doing so, reflects upon daily terrors. Black Conflux is a dense psychological puzzle that grabs hold of a viewer like a whirlpool. Part horror film and part coming-of-age story, Black Conflux is the tale of two troubled souls on parallels paths.
Adolescent Hang-ups

However, before swimming in Dennis's moody currents, Black Conflux floats through Jackie's troubles. Firstly, the teen lives in an unstable environment with her not particularly responsible aunt. Secondly, Jackie's hit the point of adolescence when rebellious behaviour kicks in. Finally, her friends get drunk in the bush and shoplift at the mall. They dabble in sex, or at least say they do, and Jackie considers doing more than talking the talk.
Black Conflux simmers with tension as Jackie gets drunker and drunker one party after the next. Jackie's braggadocio friends, most notably Amber (Oliva Scriven), make her feel as if she has something to prove. Flirting with booze and sex frequently leaves Jackie vulnerable to the impulses of her male friends. Even nice guys turn on a dime, as some of Jackie's male besties outcreep the dudes from Promising Young Woman.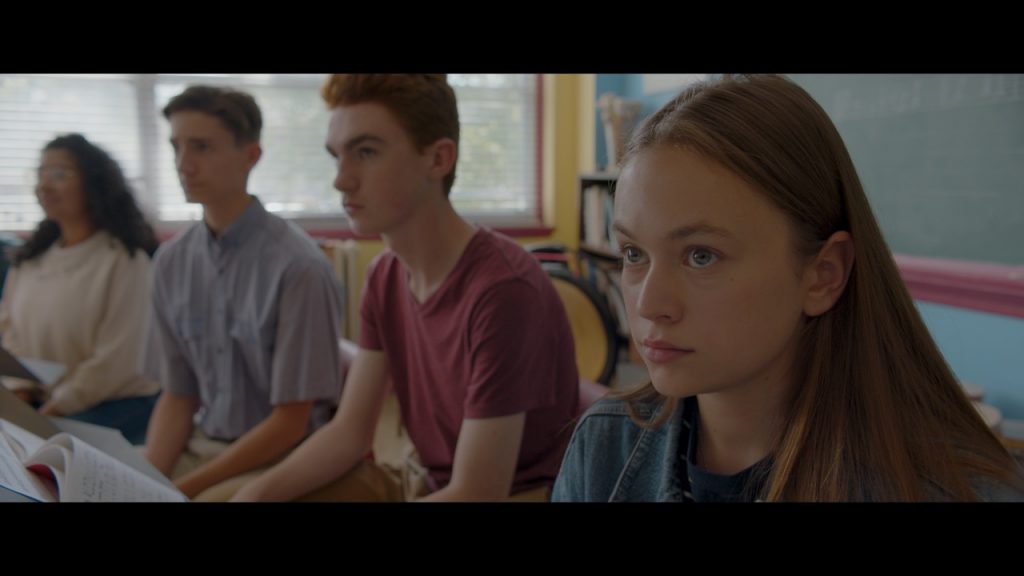 McDonald Delivers a Performance of Simmering Terror

Dennis, meanwhile, flirts with desire and dangerous impulses. Where Jackie undergoes a pattern of parties, disappointments, and escalating violations, Dennis navigates awkward dates, self-abuse, and escalating anger. His mom (Amelia Manuel) tries setting him up with a "nice girl". His colleagues at the brewery attempt to arrange some easy hookups. Dennis considers the former too lame and the latter too loose for his liking. Moreover, Dennis's misogynistic instincts creep into the open as he lowers the filter on his demons. His car becomes a gateway to unleashing his pent-up desires, as Dorsey brilliantly blurs reality and masturbatory fantasy. Alone in the car, Dennis has a world to feed his urges, which grow more aggressive as they go unchecked.
McDonald is simply brilliant as Dennis. He's a brooding menace of simmering, restrained rage. McDonald eschews the usual bravado of characters who are toxic masculinity personified. Moreover, he creates a creature of unique fragility. He's pitiable and pathetic, but completely unpredictable. He's a reminder that predators exist in all shapes and sizes. Ballentine, similarly, has magnetic screen presence. She carries Jackie's journey through introspective moments. The strength of her composure, contrasted with McDonald's brewing menace, makes the restrained nature of Black Conflux truly unsettling.
Rivers Converge

Dorsey, adapting her short film Dennis, starring Mark O'Brien as the creeper, smartly creates two dynamic characters for her inquiry. By not making Dennis as a one-note sounding board for well-worn themes, Black Conflux envelops a viewer in its disquieting darkness. Dennis and Jackie are therefore both people we encounter in our everyday lives. The undercurrents of familiarity in Black Conflux leave one continually on edge. Dorsey crafts a film about violence against women in Canada—how common it is and how nonchalantly violence arises. Working with cinematographer Marie Davignon, Dorsey captures the banal terror in the Newfoundland landscape: rocks, ridges, shadows. It's a land where violence hides easily.
Dorsey gradually brings Dennis and Jackie together for their inevitable encounter. The parallel lines of their stories nearly intersect throughout the film. They often do so while Dennis sits empowered behind the wheel of his car. Instead of the violence to which the drama seems destined, however, Dorsey flips the encounter on its head. The result pulls one further into the vortex, yet provides a sense of release.
Black Conflux is in national release beginning July 2. It streams via TIFF.net.
Advertisement
---
---
Advertisement
---
FROM AROUND THE WEB
Advertisement