Free Comic Book Day is upon us! It's like dork Christmas – only you get exactly what you wanted. Just when you thought the world of comics couldn't get any better, our last true art form (second only to butter statues) grants us a DAY of FREE COMIC BOOKS! Which, of course, is inevitably followed by a day of remorse and an improvised explanation to your employer about why your sudden leprosy outbreak turned out just to be a stubbed toe.
Lucky for you, we're here to help make it all worth it by pointing you spendthrift nerds in the right direction. Like your personal Comic Book saviour we'll guide you through the weekend with a complete list of Toronto's best hot spots and 'must see' events.
587A College Street (2nd Floor)
Hours: Saturday 12 – 7 PM
You can get your face painted while rubbing shoulders with the likes of local Marvel duo Kathryn and Stuart Immonen, Marvel cover artist Mike Del Mundo, DC artist Marco Rudy and many more! Did I mention you can get your FACE PAINTED!?
And from 7:30 til 11 pm Ty Templeton (Stig's Inferno, Bigg Time) will be doing his live and interactive ON THE COUCH! So get off your couch and don't miss out!
367 Queen Street West
Hours: Saturday 10 – 7 PM
Patience and a fresh pair of slacks (in the event of unintentional bowel movements) are all you need for this event featuring PHIL NOTO (Buffy, X-Men Origins) who will be signing swag at The Snail! Also performances by Wordburglar and our good friends Nerds with Guitars. TDOT represent!
"Rhyme O'Clock" Wordburglar
"Hero" by Nerds with Guitars
601 Markham Street
Hours: Saturday 12 – 5 PM

A perfect place to bring the kids with arts and crafts provided by The Burrow Art Centre, How To Draw sessions, story readings and free comics for children UNDER THE AGE OF 13. Featuring Jeremy Tankard illustrator of "Grumpy Bird," artistic contributor to chickaDEE magazine, Steven Manale and the artist for the "Max Finder Mystery" series by Michael Cho.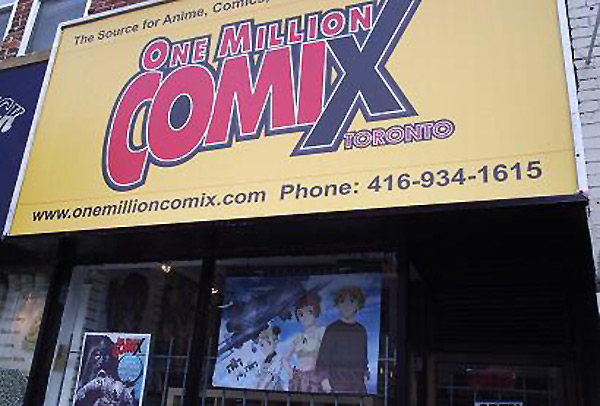 531 Yonge St
Hours: Saturday 11 – 8 PM
Drop by OMC from 12:30 – 1:30 to meet the double threat Raffaele Ienco, writer and artist of the new Image Comic "Epic Kill." It will be totally epic.
3278 Yonge Street
Saturday 10:30 – 6 PM
Come to Paradise Comics and celebrate Free Comic Book Day with local talent Marvin Law. And don't miss out on MEGA! ULTRA! AWESOME! sales on graphic novels, toys and sweet, sweet comics.
Toronto Comics Art Festival (TCAF)

789 Yonge Street at the Toronto Public Library
Hours: Saturday 9 – 5 PM & Sunday 11 – 5 PM

The  MECCA, the EVEREST, the ZANZIBAR of the weekend has to be the Toronto Comics Art Festival, with so much going on the mere thought of listing it all makes my mind bleed with anticipation. Situated in the heart of downtown Toronto at the Reference Library, this annual comic book convention showcases the very best writers, artists, and publishers in the independent scene. Featuring meet and greets, readings, showcases, panels and gallery shows, there is enough action to keep even the most attention deficit riddled brain occupied for hours.
Honourable Mentions
The Labyrinth (386 Bloor Street West) and Hairy Tarantula Comics and Cards (354 Yonge Street 2nd Floor). Be sure to stop by these and other locations for all things nerd.
Advertisement
---
---
Advertisement
---
FROM AROUND THE WEB
Advertisement