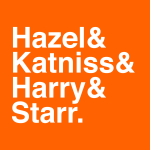 Hazel & Katniss & Harry & Starr is a weekly Canadian podcast about young adult literature, their film and television adaptations, and everything in between. Now in its sixth season, the podcast—hosted by film critic Joe Lipsett and English professor Brenna Clarke-Gray—aims to highlight the cultural worth of young adult and middle-grade texts, with a focus on Canadian, Indigenous and minority creatives and stories.
Join us weekly for deep dives, as well as a round of YA BINGO.
Book 6, Chapter 9: Reservation Dogs S03
Brenna and Joe bid a sad farewell to S03 of Reservation Dogs. We spend a lot of time discussing the use of elders, the unique portrayal of the effects of residential schools, cycles, and where our fave characters wind up.
Plus: stunt casting Elora's dad and Graham Greene, the spin-off we want, and that exquisite finale.
Read on for more about this week's episode from co-host Joe Lipsett:
After five weeks of Spooky Season, it's time for HKHS Pod to get back to basics. Case in point: our mandate to cover Indigenous content.
Brenna and I have been ardent supporters of Sterlin Harjo's FX series Reservation Dogs for its entire run. We previously covered S01 and S02, so it only made sense to cover its third and final season.
This one is bittersweet because there's never been a show like this before. From its immensely talented cast, to the types of Indigenous stories it told, Reservation Dogs truly was one of a kind. This episode of HKHS Pod attempts to capture our thoughts on not just the final season, but the show's legacy.
Give it a listen and be sure to check out Reservation Dogs if you didn't watch! –JL
Subscribe to HKHS Pod: Apple Podcasts  | Spotify (or anywhere else you get your podcasts!)
Follow the pod on Twitter, Instagram and BlueSky.
Advertisement
---
---
Advertisement
---
FROM AROUND THE WEB
Advertisement