With only a few days left in this year's Hot Docs International Documentary Film Festival, we still haven't let up on our coverage. Here's what our writers have caught up with this week, including the premieres of Shut Up and Play the Hits and Only the Young. We also take a look at Breath, Soldier/Citizen, Canned Dreams, Love Story, and the movie with that Rick Springfield guy. (No, not Hard to Hold.)
For more information on these and other films and for tickets, please visit hotdocs.ca.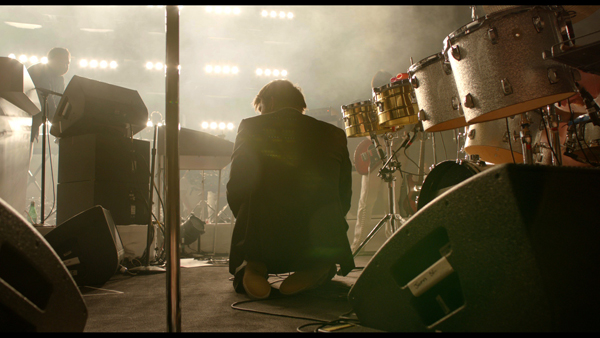 Shut Up and Play the Hits
Directors: Will Lovelace and Dylan Southern
Program: Next
110 minutes
Recommended: Yes, very much, but this is mainly for those who know, love and miss the band
About a year ago, LCD Soundsystem called it quits with an epic three hour-long concert at Madison Square Garden. The gritty electronic dance band who brought you "Daft Punk is Playing in My House" dubbed it a fun funeral and they didn't disappoint. But this was the kind of experience to remember, and thus it lives on in this fantastically-made documentary by the UK's Will Lovelace and Dylan Southern.
Frontman James Murphy is shown in the days leading up to and after the concert as numb, constantly remarking on how weird the experience is, rightfully so. You see him asked numerous times why he's retiring from the music game for the simple fact of that he wants a life. (Stephen Colbert does it better than the continually grating voice of Chuck Klosterman.) These moments are interesting to observe, especially Murphy just going about his day after the concert with his dog, but it's the concert footage that is the most striking. After getting up close and personal with every person in the massive band on the big, crowded stage and even the most emotional of fans in the front rows, it's hard to believe you can ever experience such a warm, exciting final bow as this one was ever again. You'll be bouncing your way home to have a little dance party in remembrance. (Jessica Lewis)
Screens
Thursday, May 3rd, 9:30pm, Lightbox 1
Saturday, May 5th, 6:30pm, Lightbox 2
An Affair of the Heart
Director: Sylvia Caminer
Program: Next
94 minutes
Recommended?: If you're just looking to have a good time, then yes. Probably not if you're in the mood for something with meat on its bones.
Not so much a straight biography of 80s teen heartthrob, singer-songwriter Rick Springfield, but a look at the fans who have stuck loyally by his side after his slide into obscurity. An Affair of the Heart takes a warm and fuzzy look at how music can get people through some rough times and how the "Jesse's Girl" rocker never really went anywhere despite his chronic status as a "one hit wonder."
The biggest surprise here comes from Caminer's ability to frame Springfield's story as told by his most ardent supporters, from a pair of housewives who follow him everywhere to a woman who credits his music with helping her through open heart surgery. The stories are nice and the scenes of Springfield on tour show him as an affable guy more at ease with his stardom now than he was before.
The film does stumble by waiting until far too late in an already too long film to introduce the "darker side" of Rick's nice guy persona. The film was doing fine without it, and its inclusion here feels not only awkward, but like an advertisement designed to get the audience to buy his autobiography. Still, I wouldn't mind reading it now.
Screens
Thursday, May 3rd, 6:30pm, Cumberland 3
Solider/ Citizen
Director: Silvina Landsmann
Program: Special Presentations
Subtitled
68 minutes
Recommended?: Yes, with reservations.
Following a mandatory military tour, Israeli soldiers are given army-sponsored courses in order to complete their high school education. Soldier/ Citizen centres on a three-week civics course where the soldiers are made to think about issues such as human rights, democracy, and equality. Even if these issues weren't placed within the complicated context of Israel, a course lasting three weeks can only graze their surface, so a film lasting 68 minutes barely serves as an introduction to the topic.
That being said, the subject becomes the (gun-filled) classroom setting and its dynamics, not so much what is actually being discussed. The filmmakers seemed to successfully overcome the challenge of having their subjects (and by extension, the viewers) forget their presence. The class appears comfortable, honest, spirited and never once acknowledges the camera. However with such a natural discourse occurring, the students often end up talking over one another, making subtitling a bit of an issue. Soldier/ Citizen is definitely not a film for everyone, but it is certainly not without its merit either. (Noah Taylor)
Screens
Saturday, May 5th, 9:00pm, ROM
Only the Young
Directors: Elizabeth Mims, Jason Tippet
Program: International Spectrum
72 minutes
Recommended?: Absolutely.
A surprisingly sprawling and thoughtful look at teenage love and friendship despite a scant 72 minute running time and an a somewhat abrupt and terse ending, Only the Young captures the awkwardness and disappointment of adolescence beautifully through three characters spending what might be their last year together as friends.
Garrison and Kevin have been best friends in a sleepy Southern California hamlet, bonding together as Christian skateboarders. Garrison seems to care more about the Lord than the board, but Kevin actively competes and gives in to self abuse. Garrison dates and breaks-up with his best friend Skye, who is on the verge of losing her home and who clearly loves Garrison no matter how aloof he might seem.
A mere blurb or capsule couldn't fully relate the complex nature of the personal relationships in this film. Mims and Tippet trim away any and all fat from the story to show the messiness of teenage love and a disarmingly insightful look at male friendship. Other than that, this film is served best going in cold. Just see it. You won't regret it even if you don't necessarily agree with the contradiction that the main characters are straight edge, center right wing, skateboarding punks. You'll probably see more of your younger self than you realize. I wanted to watch it again seconds after it was over, feeling like my own youth had been cut short far too soon.
Screens
Thursday, May 3rd, 5:30pm, Bloor
Sunday, May 6th, 4:30pm, Lightbox 2
Love Story
Director: Florian Habitcht
Program: Nightvision
94 minutes
Recommended: Yes, strongly, if you want to see something sweet and cheeky
The romantic comedy pattern gets torn up and put back in pieces here. Your impressions of any other romantic comedy you see from now on won't benefit because it can't compare to the kind of heart Love Story has. New Zealand-based director/actor Florian Habicht blurs so many lines between film, documentary, streeters, scripts, feelings, boundaries and more in Love Story that you might be confused, but assuredly, you'll leave the cinema feeling more dizzy in the head with glee than full of questions.
Habicht didn't exactly set out to make a documentary about a film about a chance love story in New York, but it came to him by asking his corner store's clerk what to make a movie about and then letting people on the street decide where to take different parts of the story next. His kooky charm is proven to be inviting even to the most hostile of New Yorkers and he, along with all his other characters, will melt your heart within minutes. (Jessica Lewis)
Screens
Thursday, May 3rd, 7:15pm, Royal
Saturday, May 5th, 11:30pm, Bloor
Director: Katja Gauriloff
Program: International Spectrum
81 minutes
Recommended?: Yes, but don't eat before going in. Especially ravioli.
An intensive, but surprisingly neutral look at what goes into making the processed food we eat, Katja Gauriloff travels across Europe and South America to document where every ingredient in a can of ravioli comes from, including the metal for the can itself. Through sometimes graphic and sometimes banal, but gorgeously shot looks at production methods, Gauriloff also adds personal stories from the workers involved, many of which are melancholy and in one case, downright off putting.
The depictions of slaughterhouses for pigs and cattle are not for the squeamish and could potentially do more to turn people vegetarian than anything PETA could ever dream up, but by adding these personal and decidedly apolitical stories, Gauriloff doesn't take any real moral stance aside from asking people to consider the high cost of cheaply produced food.
Screens
Friday, May 4th, 9:30pm, Cumberland 2 (RUSH ONLY)

Breath
Director: Kullar Viimne
Program:  International Spectrum
59 Minutes
Recommended? Yes, not strongly
Kullar Vimne's Breath takes place in Estonia and its direct English translation is Estonia is Breathing. Breath follows chimney sweep Francesko, the only female chimney sweep in Estonia, as she races up and down highways on her way to clean all different kinds of chimneys.  Always clad in her all black chimney sweep uniform, Francesko looks like an Estonian ninja with her tools strapped to her back as she fearlessly balances unsupported on steep tin roofs. Francesko, always sporting a smile and a cigarette, performs this dangerous task with so much grace that it's easy to forget that the slightest misstep could cost her life. Estonian women flock to touch Francesko's garments for good luck (an Estonian custom), but their looks of affection and camaraderie show that Francesko exists as more than just a chimney sweep, but rather an icon of good will.
Breath isn't all about Francesko's work though, as Vimne uses the documentary as a means of exploring the nature of meditation in Estonia, and how people have managed to find spirituality in the least religious state in the world. It is Vimne's astute eye for contrast that allows Breath to speak volumes, as seeing Francesko in civilian clothes is a shocking reminder that underneath this remarkably respectful and charismatic woman who seems to be forever covered in soot, exists a delicate and even dainty lady. Breath is probably the only crash course you'll ever get in Zen chimney sweeping. (Brandon Bastaldo)
No further screenings
Advertisement
---
---
Advertisement
---
FROM AROUND THE WEB
Advertisement