Every person has a sitcom that brings them comfort. It might be All in the Family for those who grew up in the 70s, Cheers and The Golden Girls for the 80s, or Seinfeld and Friends in the 90s. In all of these cases, something about returning to the same place with the same people can help one forget about the things that keep them up at night, even if it's fictional. 
Since I grew up in the 2000s, shows like The Office (US), Modern Family, and Parks & Recreation were the ones I watched in my formative years. Now, when the world feels too big, the only thing that makes it smaller is living in that cozy office building with the characters I love. However, as the 2010s transitioned into the 2020s and the world became a lot bleaker, I started to worry if sitcoms would still be able to maintain that eternally comforting feeling . Worse than that, I worried that teens growing up in the 2020s wouldn't have a sitcom to call home.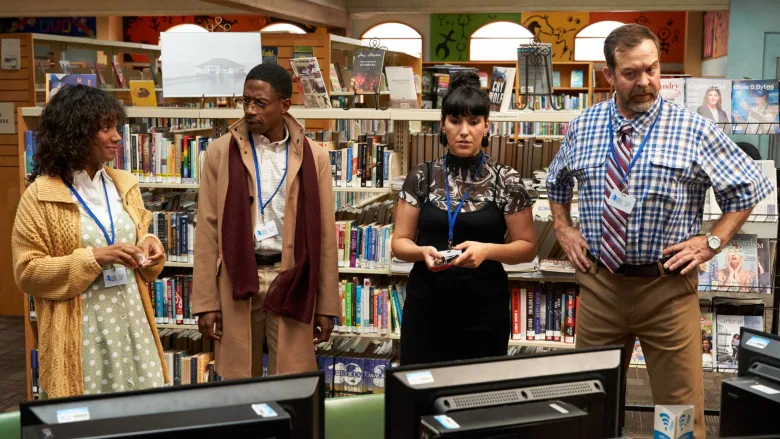 Then, in 2021, Abbott Elementary tapped into what makes sitcoms everlasting for audiences. Quinta Brunson maintained the classic tropes necessary for workplace comedies while evolving them enough for this generation, the previous generations, and the ones to come. Shelved, created by Anthony Q. Farrell, is no different. Farrell is what every aspiring screenwriter, especially those in Canada, aims to be. He is an incredibly successful creator and showrunner who was honoured as the 2022 Showrunner of the Year at the Writers Guild of Canada. He is known for his brilliant work on The Office and Run the Burbs Season 2, as well as shows he created himself like Overlord and the Underwoods and, most recently, the CTV Original hit series, Shelved. 
A Fresh Twist On The Familiar
Shelved is set inside a Toronto Library, and as someone from Toronto who's recently been returning to the library, you can't get cozier than that. The characters that populate the run-down but still bustling Parkdale Library feel so familiar that you instantly fall in love with them. Farrell successfully maintains the character archetypes needed in every workplace comedy but switches up their roles enough, so it doesn't feel stale.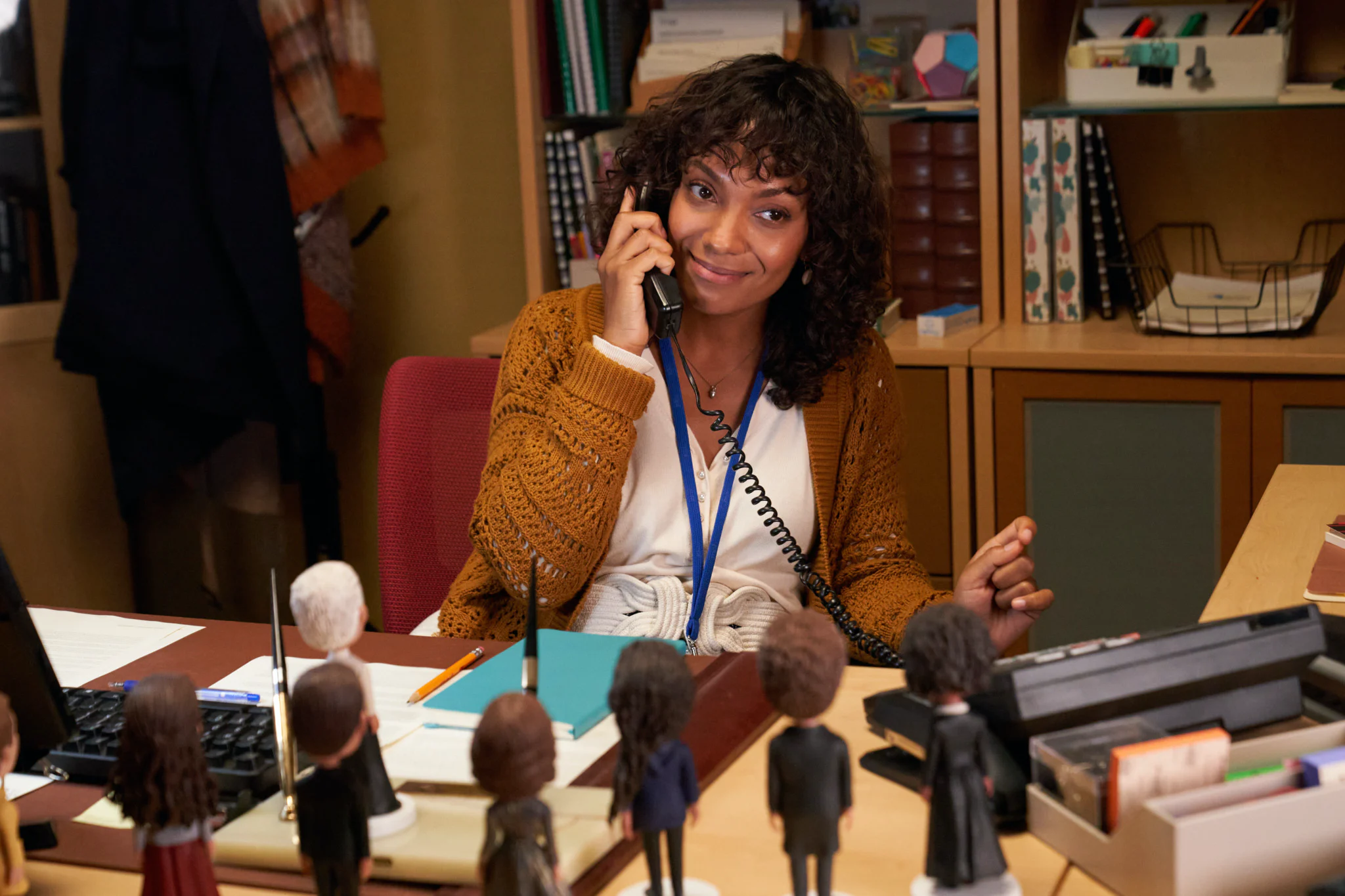 Wendy (Lyndie Greenwood) is the library's branch manager and, given her personality, she is the last character you would typically see as a manager in a workplace comedy. She's timid and doesn't usually voice her needs or concerns, but she is highly passionate and great at what she does. From Abbott Elementary, Janine (Quinta Brunson) is an excellent comparison to Wendy as the two characters are very similar, but with one key difference, Janine is not the boss. Ava (Janelle James) fills the role of the school's principal and is the complete opposite of Janine and Wendy, as she is more in line with Michael Scott from The Office. Another show stand-out is Dakota Ray Herbet as junior librarian Jacqueline "Jaq" Bedard. She's a hilarious twist on the 'cool guy at work' archetype. Her banter with conservative ex-convict and assistant branch manager Bryce (Paul Braunstein) is always a delight. 
Shelved also has one thing that many other workplace comedies don't: the eccentric locals that see the library as their place of comfort. One patron in particular, named 'Unhoused Wendy' (Robin Duke), to avoid mix-ups with manager Wendy, has some terrifically touching moments throughout the season as she constantly advocates for the importance of libraries and public spaces in general, along with the library staff. 
Romance is needed in every workplace comedy, and that is still present here too, but it plays out more understated and realistically. A recent transfer, Howard (Chris Sandiford), quickly takes a liking to one of the recurring characters, Sheila (Taylor Love), a part-time library employee. Pretty quickly, Howard expresses his interest in Sheila, allowing the storyline to play out more naturally instead of the slow burn, will-they/won't-they romance we usually see.
The Educational World of Libraries & TV
The most obvious thing about this show is that the people who make Shelved have a deep love for public libraries and the people who use them. The writers chose to tackle different social issues in each episode that either the staff or the public are facing. Shelved has a very immersive feeling while watching because you learn alongside the characters, matching the educational setting of the series. In a world with streaming and algorithms, people find themselves trapped in their entertainment echo chamber, and shows like Shelved do a lot to bring audiences out of it. It's a reminder that TV, movies, and the people who make them are supposed to provide audiences with unique perspectives they wouldn't ever be exposed to.
In Episode 3, for example, Wendy brings in a drag queen (Daniel F.K. Fernandes) to come for story time, which Bryce objects. The episode is clearly influenced by real-life events, as many ultra-conservatives have been attacking libraries for bringing in drag queens to read to children. However, rather than simply shaming Bryce, Wendy explains that as an employee working in a public space, he can't let his personal biases affect how he treats library patrons. A great moment from the episode is when a kid politely explains to Bryce, who questions how a parent would explain the concept of drag queens to their children, that the whole thing is relatively straightforward and that his prejudice is the problem.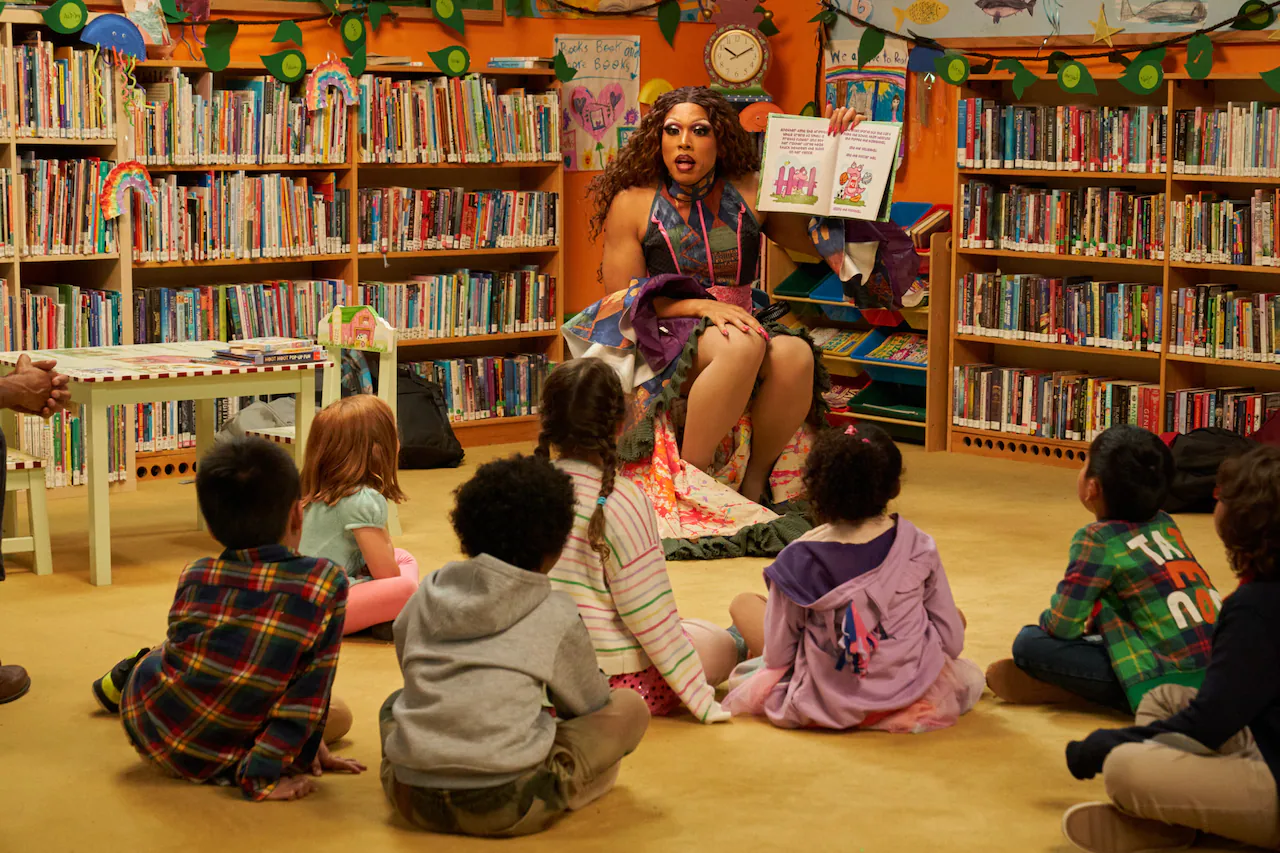 Storylines such as this are most definitely, and positively, a sign of the times. During the 2010s, there would never have been an episode of Parks and Recreation that could tackle subject matter like this, even though it is also a show about public servants servicing their community. Many people have never exposed themselves to drag queen culture, so seeing these situations play out on screen honestly and rationally is crucial but, unfortunately, rare.
Critics might argue that these types of social commentary negate comfort, but social commentary has always been present in sitcoms. That's what made All in the Family so special. Archie Bunker's bigotry was challenged by his liberal son-in-law, Mike, which forced the conversation to happen at home. Shelved accomplishes the same type of conversation between its very opinionated characters but in a way that welcomes it instead of shutting it down.
Needless to say, with the existence of shows like Shelved, I can finally put my fears regarding the future of sitcoms to rest.
All episodes of Shelved are now streaming on CTV.ca or the CTV app. 
Advertisement
---
---
Advertisement
---
FROM AROUND THE WEB
Advertisement