If you haven't already heard of Kate Beaton, consider this your introduction to the woman who proves it is possible to do something with that arts degree, after all.
Born in Cape Breton, Nova Scotia, Kate attended Mount Allison University, graduating in 2005 with a BA in History and Anthropology. Having drawn comics for the university newspaper, Beaton was encouraged by her friends to start self-publishing her comics online. In short order, one of her strips had gone viral (Nikola Tesla fending off hordes of women throwing their undergarments at him), and Beaton began running what would quickly become Hark! A Vagrant.
Kate's work has gone from indie webcomic to world-wide sensation. Her website gets over one million unique hits per month, her work has appeared in Wired, Maclean's, Harper's, The New Yorker, Marvel, and Dark Horse, she self-published her 2009 debut collection, Never Learn Anything From History, and her 2011 follow-up, Hark! A Vagrant (Drawn & Quarterly) rocketed up to the top spot on The New York Times Best-Sellers list. To top off her amazing successes in publishing, Beaton has also received the Doug Wright Award for Best Emerging Talent, and Harvey Awards for Best Online Comic, Best Humor, and Best Cartoonist. You can't ask for more proof of her awesomeness than that.
Beaton's comics usually focus on major historical or literary figures, drawn in a simplistic style with an emphasis on facial expressions and dialogue. But what makes them so unique is the sometimes critical, always hilarious personalities she gives to the characters she's illustrating. Beaton's style both modernizes and humanizes these famous names from art and history – figures who can sometimes be difficult to understand and relate to when reading about them in dry history textbooks or literary criticism.
That's not to say that Beaton's work is exclusively erudite; Kate switches easily between strips about Sir John A. MacDonald or James Connolly, and douchebag chickens or fat Shetland pony assassins. Beaton's comics are great for teaching you something about Macbeth, making you laugh over Jules Verne's fanboyish obsession with Edgar Allan Poe, or taking you dude-watchin' with the Brontës. Basically, no matter what you're into, Kate has probably drawn a comic about it and it's probably hilarious.
So check Kate Beaton on Twitter and Facebook, visit her website for new comics, and don't forget to pick up a copy of Hark! A Vagrant!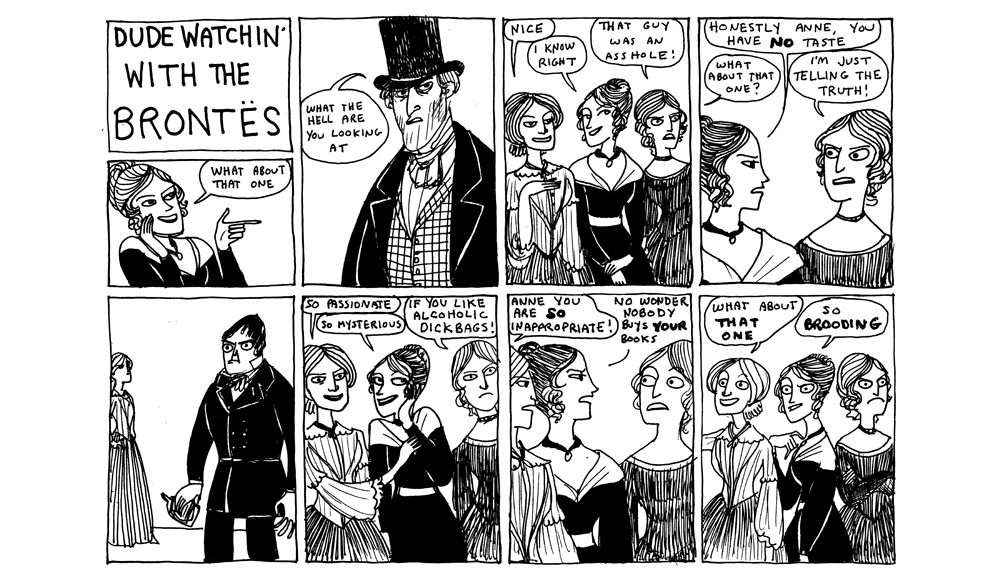 Advertisement
---
---
Advertisement
---
FROM AROUND THE WEB
Advertisement