Martin Scorsese defines who I was and still am as a film critic. So it is no accident that I finally decided to write this ramblin' reminiscence because of the Netflix release of a pseudo-documentary, Rolling Thunder Revue: A Bob Dylan Story. In one giant, mad scramble, this film helps to bookend my Scorsese fascination and triggers something deep.
Some backstory – In September of 1980, I launched my full-time critic's career with The Toronto Sun, when that now-dysfunctional newspaper still cared about the Arts & Entertainment world, and when the right-wing editors would still hire a passionate leftie to offer an alternate voice. Barbara Amiel, then the editorial writer at the Sun, once called me "the resident pinko film critic" in a column.
Thank you, Barbara.
When you are writing about cinema it helps to be a socialist and a humanist, as well as a little crazy and flawed,  My first in-person interview for The Toronto Sun was Bette Midler and no right-wing prig could handle her so I was called in.
My final in-person interview in December of 2016 for the Sun was Martin Scorsese.
i – Tears of Raging Bulls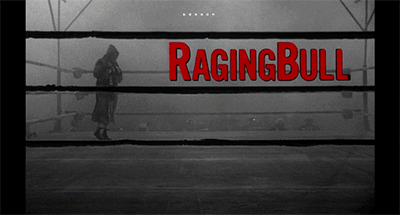 I
t's the fall of 1980, and I've fumbled through my first few weeks as a full-time film critic. I'm covering the debut of the Scorsese latest film, Raging Bull. Nothing in my career would ever be quite the same again, nor would my perspective on film as an art and as a business.
I bloody-well hate boxing as a sport. I am transfixed by boxing on film. The list of successful pugilistic classics is remarkably long when compared to any other sport. My American-made favourites range from The Harder They Fall (1956) with Humphrey Bogart in his final role, to Fat City (1972), Rocky (1976), Hurricane (1999), Ali (2001), Million Dollar Baby (2004), Cinderella Man (2005), Rocky Balboa (2006) and others.
None approaches Raging Bull. It is the best sports film ever made, not just in the boxing arena.
Scorsese, of course, was not really making a film about boxing, per se. He was examining a life badly lived by the real-life Italian-American middleweight, Jake LaMotta, played with a savage ferocity by Robert De Niro. The continuing obsession by some with the actor's weight gain often obscures the subtle genius of this performance. This is an actor who crafts an immaculate creation; a flesh-and-blood thug to whom we eventually offer our empathy, if not admiration.
Raging Bull is the best sports film ever made, not just in the boxing arena.
Raging Bull was a revelation, yet at the time was considered a failure by box-office standards, earning just $23.4 million in the United States and Canada. It had cost $18 million, and with marketing atop Scorsese's black and white opus was deep in the red.
At the Oscars, where box office does not usually make a difference when an obvious masterwork is in play, Raging Bull did poorly compared to expectations raised by its many deserved nominations. It's not early in 1981 and I'm for my first time backstage at an Academy Awards ceremony, cringing as Raging Bull fails to land a blow in six of the eight categories for which it was nominated, including missing out on best picture and best director. Thelma Schoonmaker, a longtime Scorsese collaborator, rightfully took the best film editing prize while De Niro won as Best Actor. Scorsese lost to Robert Redford, who had just made his directorial debut on the middling if heartfelt Ordinary People (1980).
Backstage, while Redford was fielding questions with bland answers, I felt a nudge at my left elbow. It was a small man carrying a heavy golden statue. "Do you know what I am supposed to do?", De Niro asked me. I turned and said "Oh, just wait for Redford to finish on that podium, and you'll go up there to be grilled."
For five minutes, we chatted quietly and privately about Raging Bull and, to De Niro's obvious glee, his forthcoming work with the curmudgeonly former superstar Jerry Lewis, as preparations were already underway to shoot The King of Comedye. This brief chat was the most insightful conversation I ever pried out of De Niro, who is notorious for never completing a sentence or an idea in an interview or at a press conference.
Talking to De Niro chat covered up the pain of seeing Scorsese trounced by Redford. Criminally, Scorsese had to wait until The Departed (2006) for his first — and last — best director Oscar. With the box office failure of Raging Bull combined with Oscar mediocrity, Scorsese was thrown into another crisis of confidence.
In order to make Raging Bull, Scorsese was (by his own account) pushed by De Niro to overcome the cocaine addiction that had almost killed him. The King of Comedy also did not fare well at the box office, and the director would have to wait until the marvellously off-kilter After Hours (1985) for a bona fide hit with this incredibly cheap-to-make romp.
ii – Silence and Redemption
I
t's 2016. Scorsese is universally acclaimed as an American master and grand auteur, a filmmaker who has profoundly influenced several generations filmmakers. Raging Bull now ranks as one of the great films ever made, full-stop, let alone the greatest sports movie. His oeuvre is staggering, ranging widely in style, energy and subject matter. It was to discuss with the master Silence, that tragic reverie about misguided Jesuit priests trying to introduce Christianity into feudal Japan in the 1600s. This elegiac, terrifying film was a passion project of his for decades.
In that session Scorsese said the most remarkable thing I have personally heard from him: "All my films, including Raging Bull — as I see now because I did not know it then — are about redemption."
All my films, including Raging Bull… …are about redemption.
I believe he evoked redemption in the universal, humanist sense as well as in the theological sense. We have long known about his interest in the religious side, with films such as The Last Temptation of Christ (1988) daring to explore the secular side of Christ in balance with the divine. Not surprisingly, religious zealots (including my own dear mother) treated the existence of the film as the worst kind of heretical insult. Most of them, mom included, did so without ever seeing a frame.
What's evident is that Scorsese has had an interest in sophisticated concepts of human salvation and redemption. He now realizes, in the twilight years of his life and career, that the concepts have informed every film he has ever made, not just the obvious ones such as The Last Temptation of Christ and Silence.
iii – The Revue Re-viewed
F
lash forward to 2019. I am sitting in a screening of Netflix's Rolling Thunder Revue, listening to Bob Dylan singing, talking, lying, cajoling and carrying on in both 1975 (in the vintage footage) and 2019 (in contemporary interviews).
There is the presence of American beat poet and counterculture icon Allen Ginsberg to consider. While Ginsberg joined the Rolling Thunder Revue circus as its sage, his planned on-stage recitations were cut from the lineup because the sprawling show was getting too big and long. Yet Ginsberg remained with the troupe, organizing meditations backstage, offering wit and wisdom, and trying to seduce young men during his private recreational moments.
Scorsese was obviously deeply impressed by this role in the extravaganza. Some of the most illuminating moments in the documentary is contemporaneous footage of Ginsberg talking directly to camera and talking about, of course, redemption.
This is electrifying for me.
Following my 2016 encounter with Scorsese, I believe that the Ginsberg footage is the primary reason the director help make this "fever dream" film. In a film full of deceptions, this redemption theme is the one truth in a deliberate and elaborate fabric of lies and made-up mythologies about Dylan and what happened during the Rolling Thunder Revue in 1975-76.

iv – Gardens of Desire
O
n Dec. 1 and Dec. 2, 1975, I attended both of the Toronto stops of the Rolling Thunder Revue at Maple Leaf Gardens. I was a writer for The Toronto Star, where I worked throughout the 1970s writing about popular music. That how I became acquainted with the Arkansas-born, Canadian legend Rompin' Ronnie Hawkins, who was briefly part of the Rolling Thunder troupe and is listed in the Revue doc credits as "The Shitkicker".
Hawkins took me as his guest to the after-party following one of the concerts. While Dylan never showed up (a regret to this day), I did spend much of the evening sitting on the floor at Joan Baez's feet for an hour talking music. Years later, she and I talked again and — not that I expected her to remember me and our conversation — she admitted: "None of us remember anything about that tour! I certainly don't." There are reasons for that beyond the years that have passed, as you will see in both the vintage footage of Baez interacting with her former lover Dylan and in the modern interview she so cagily conducts for the Scorsese film.
At that same party I met Ginsberg. I was in my mid-20s at the time, probably slightly too old for famously randy Ginsberg, but I looked young for my age.
Ginsberg and I talked a lot about life and even redemption, of course. Then he made his sexual moves. When I politely declined, mentioning that I was straight, he tried to talk me out of it as if I did not really know myself. "Your head is not attached to your body," he whispered. It was the best pick-up line I ever heard. It didn't work but it was a brilliant tactical move, and I'm sure it had its intended effect on others.
There is a scene in the Scorsese film in which a musician recalls being a teenager on the Revue and how Ginsberg gravitated to him because he adopted "straight" male teens as his sexual conquests. Further proof I was not unique, even if the memories are my own.
There is so much truth behind the lies that I can see why Scorsese was drawn to the project as the master.
This personal Ginsberg anecdote, as well as my encounters with Baez, sit well with the general impression left in the documentary. For the lies in the film are so obvious they are more bizarrely funny than egregious, there is so much truth behind the lies that I can see why Scorsese was drawn to the project as the master.
Dylan himself says in one of his contemporary interviews that there is nothing left from the Rolling Thunder Revue experience, nothing but "… ashes."
Not true, not for me.
Watching Dylan's crazy-eyes in close-up footage — in his sloppy, Kabuki theatre and (allegedly) KISS-inspired white make-up and heavily blackened eye sockets — is enthralling. There is truth in these unvarnished scenes; there is madness in his soul; there is a tremor in his voice; there is a passion in his performance; there is a socio-political activism in his lyrics; there is a sad humour in his interactions with others.
v – The Circle is Unbroken
I
n 1975, the Rolling Thunder Revue took me back to childhood, when I first started to listen intently to Dylan. His early protest songs let me watch the nightly news and actually get a grip on historical events, including the Civil Rights movement in the United States. When the bigots turned on the fire hoses and unleashed the dogs, Dylan's voice was in my head singing, giving context.
Now, when Martin Scorsese's Rolling Thunder Revue jumbles all this history, all this musing and all this madness into one big beautiful package, I am grateful.
Advertisement
---
---
Advertisement
---
FROM AROUND THE WEB
Advertisement