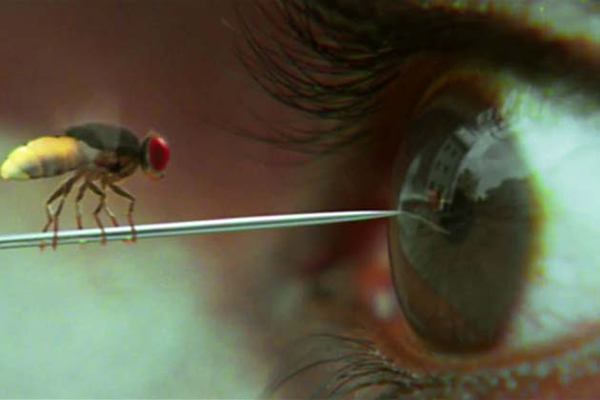 Eega
An unequivocal delight from start to finish, the absolutely bonkers Indian film Eega is unlike anything you've ever seen or likely to see ever again. It's almost unfathomable that anyone could have even come up with this concept to begin with, but it's incredibly heartening that someone took a chance on such a unique, sweet, and extremely crowd pleasing story about… um, one housefly's search for revenge.
Well, Nani wasn't always a fly. He was just a good hearted, amiably naive guy (played appropriately by Nani), who has harboured a deep crush on the girl across the street (Samantha Ruth Prabhu). Unfortunately for him, a rich bad boy asshole (a gleefully black hearted Sudeep) who would readily kill to get what he wants has eyes for her. Getting wind of Nani's burgeoning (and really almost tear inducingly sweet) relationship, he murders the young man who gets reborn as a fly. Not even a talking fly. Just a regular ass fly, who occasionally has inner monologues of song. Just a fly who is determined to make the villain's life a living hell, driving him mad before he can straight up murder his ass.
Like most Indian films there are musical elements and it's pretty lengthy, but there's so much wit, heart, originality, and excitement that even 145 minutes are a complete breeze. Boasting some tight pacing, well staged action (including one of the most bad ass car crashes/sending of a message to a villain I can remember), and  really fluid, well photographed set pieces. It's too great to spoil with specifics. Just go in completely cold and know you're watching something special.
To paraphrase the tagline of Brian Helgeland's 1999 noir Payback: "Get ready to root for the fly guy." In Nani's own words, he's truly a nuclear missile aiming straight for your heart.
Trivia: in China, Eega was known as "Kung Fu Housefly", and now that you know that why are you still reading this and not out buying a ticket yet?  (Andrew Parker)
EDITORS NOTE: This review was based on the full length original cut of the film that screened in India. The version that was screened at the festival was a roughly 109 minute cut that had several action sequences missing and cut a lot of the character development previously stated in this review. And yet, after viewing both versions, the film is still exceptional.
Screens
Friday, October 18th, 9:30pm, Scotiabank Theatre
Advertisement
---
---
Advertisement
---
FROM AROUND THE WEB
Advertisement