Hugo (2011, Martin Scorsese) – In a bit of well timed synergy following its sweep of nearly every major technical award at the Oscars, Hugo makes its way to DVD and Blu-Ray only two days after the ceremonies. The release makes perfect sense since the movie won't make back its gargantuan budget for quite some time, but odd since the film has been doing consistent business in theatres up to this very moment. Sure, the picture and sound quality on the home version are excellent, but much like the film itself, the logic of bringing this late November release to DVD so soon seems deeply flawed.
Young orphan Hugo Cabret (Asa Butterfield) lives within the walls and clocks of a 1930s Parisian train station making sure things stay in working order. The last memory of his father involves an automaton he's trying to fix, and the key to its mystery lies with a toy maker (Ben Kingsley) who harbours a great secret and who doesn't care too much for Hugo.
Mostly everyone who's heard about the film knows that the toy maker turns out to be famed early film pioneer Georges Melies, which wouldn't be so bad if Scorsese didn't hammer this fact into the brains of the audience with a jackhammer. Sure, there's a deep love of cinema and it beats the film preservation drum pretty persuasively, but after a dazzling first hour that focuses largely on a child caught up in an ever growing world of wonder, Scorsese flat out stops caring for his titular character and almost throws him out of the film entirely so he can give the audience a lecture about what old films mean to him. It's all very earnestly done, but the self-indulgence here is rampant. He starts off telling what could be one of the most dazzling stories of all time, and ends up sounding like someone's grandfather who lost his train of thought. It's not even remotely bad, but the way it's handled is just frustrating to watch.
I know there's plenty of people who disagree with that assessment, but this pretty great Blu-ray package is something I'm sure we can all agree on. This Blu-ray is one that will be used to show off TVs and speaker systems for a long time, and it's probably the best non-Disney release to utilize 7.1 sound. There's a trio of great featurettes. One about the film's development from book to screen, one about Melies, and another interesting one about the film's automaton. There are also two briefer ones about Sacha Baron Cohen preparing for his role as the gimp legged station manager and another about the film's biggest set piece: a stunning train crash in the station.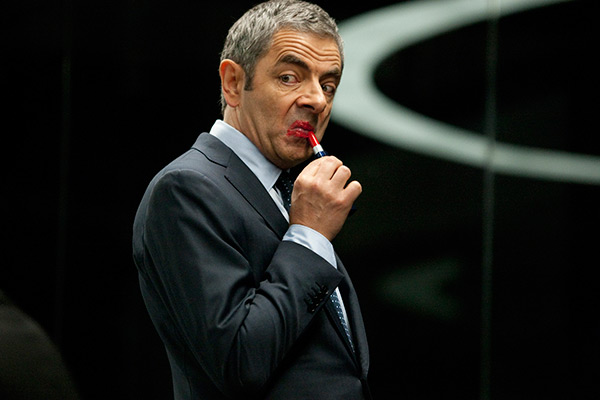 Johnny English Reborn (2011, Oliver Parker) – In what might be the least asked for sequel (in North America, anyway), Rowan Atkinson dusts off his tuxedo and steps back into the gadget laden shoes of MI-7 agent Johnny English, as he's brought out of retirement to uncover the secret behind a trio of international assassins known as Vortex who have deigns on killing the Chinese premier through the use of a devastating super weapon.
A comedy so inert that it feels like almost watching a blank screen, JE:ReB covers almost the exact same ground as the first film with Atkinson mugging and pratfalling his way through various unfunny situations. At least Atkinson's a pro, and he's surrounded by a game, if lethargic supporting cast that includes Gillian Anderson as English's boss and Rosamund Pike in an utterly thankless role as a behavioural psychiatrist. Despite some admittedly clever nods to the infinitely superior Grosse Point Blank, there's little here to recommend to anyone other than insomniacs.
But good God does this Blu-ray have a ton of special features and a top notch sound mix. There's a commentary track from Parker and writer Hamish McColl that seems funnier than the movie, but comes across as distracting because the movie is still playing in the background. There's almost a full hour's worth of featurettes, including a well made look at pretty much every aspect of the production. Finally, for true masochists, there's over 40 minutes of deleted scenes and alternate takes. You're welcome, world!
Beauty Day (2011, Jay Cheel) – In what's easily the funniest film about filmmaking in quite some time (and not just because I provided a quote seen prominently on the packaging for the DVD), Jay Cheel tells the true story of Ralph "Cap'n Video" Zavadil, a St. Catherines native best known for his whacked out public access television show which found him snorting eggs and falling off buildings far before the Jackass crew attempted similar stunts.
Cheel chronicles the local celebrity's heyday from the start of the show, to infamous international notoriety after breaking his neck in a stunt gone horribly awry, to the vastly more reflective man he is today. Zavadil opens up to Cheel in a way few people probably would, and no matter if you love him or you think he's a nut, the film is always respectful of its subject in every way.
One of the best films of last year, Beauty Day arrives on a sharp looking DVD (sadly, no Blu-ray option) chock full of special features, including two commentary tracks (one featuring Cheel,  Zavadil, and Ralph's best friend and only filming partner Robert Buck, and one where the director chats with some blogging and podcasting friends). There's also deleted scenes, clips from the original Cap'n Video series, and the unaired 20th anniversary special Zavidil that Cheel documents the making of in his film. It's far less indulgent and far more of a love letter to filmmaking than the overblown Hugo. It's just that good.
Bounty Hunters (2011, Patrick McBrearty) – This quick and cheap Canadian indie action flick (formerly known as Bail Enforcers when it played at last year's Actionfest) tries to elevate former WWE Diva and Canadian yoga icon Trish Stratus to direct-to-video stardom. It feels like the kind of film Shannon Tweed would've made in the early 90s, minus all of the sex so it fits to Stratus' squeaky clean image. It's not really a bad thing, since Stratus holds her own on screen, but this wholly forgettable outing won't do her career (or those of her co-stars) any favours.
Stratus, Frank J. Zupancic, and Boomer Phillips star as a team of bounty hunters conned into a million dollar collar by a motormouthed con. When it turns out that their new prisoner is wanted dead by a powerful mob boss, they have to decide between handing their ward off to the mob for more money or doing their duty and potentially paying for it with their lives.
Feeling about as edgy as something made specifically to run on Spike TV, the film never really catches any sort of momentum despite having a less than 80 minute running time. It feels curiously more like a pilot episode than a feature film. Stratus focuses heavily into some decent (if curiously slow speed) fight sequences, but at around the halfway point she gets kidnapped and the film is turned over to Zupancic and Phillips who do what they can with what little material they're given.
The features are as forgettable as the feature and almost as brief. Just a five minute talk with Stratus and another five minutes looking behind the scenes of one of the film's fights.
The Kid With a Bike (2011, Jean Pierre & Luc Dardenne) – Winner of the Grand Prix at last year's Cannes Film Festival, the latest film from the perennially under-appreciated Belgian Dardenne brothers comes straight to DVD in Canada ahead of an extremely limited release in the States next month. It's a shame this one isn't getting a similar vote of theatrical confidence here, since The Kid With a Bike holds more of an emotional punch than dozens of other manipulative frauds currently taking up residence in Canadian art houses.
11 year old Cyril (Thomas Doret) finds himself abandoned by his father (Jeremie Renier) at a children's home and quickly goes into a state of shock. He simply can't believe that his dad would be such a cad to leave him and not at the very least bring him his beloved bike. The bike is returned to him by a hairdresser named Samantha (Hereafter and High Tension's Cecile de France) who agrees to take Cyril out on weekends. While desperately in need of something close to a parent, the inquisitive, confused, and sometimes violent Cyril constantly pushes back against Samantha's genuinely caring nature, as he begins to backslide into a potential life of hooliganism.
Starting as a child based mystery better than Extremely Loud and Incredibly Close and almost as kinetic as an action film, it settles into a gut wrenching and intense drama that finds the brothers at the top of their game. This is filmmaking on a grand scale in terms of pacing, screenwriting, and cinematography, and with a scant 84 minute running time the brothers prove that not every character study has to take forever to get to the point. Daedenne regular Renier and de France give performances that are shiver inducing and Doret is a real find as one of the screen's best embodiments of a child full of rage and sadness. No special features on the DVD, which is fine, but it's really beyond me why this isn't getting more of a push, and even more baffling how it was overlooked at Oscar time for Best Foreign Film. It got a Golden Globe nomination, but somehow that's just not the same.
Also out this week: Actor Mark Ruffalo makes his directorial debut with Sympathy for Delicious, the tale of a wheelchair bound DJ with an all-star cast including Orlando Bloom, Laura Linney, and Juliette Lewis. My copy arrived just after press time, so it will be included in next week's column.
I seem to have dodged these bullets, but two films widely regarded as some of the worst from last year drop this week. Thomas Jane, Jeremy Piven, and Rob Lowe star in director Mark Pellington's serious version of The Hangover, I Melt With You, and Dane Cook looks for dramatic legitimacy as part of an LA based ensemble drama in Answers to Nothing. Both were notorious critical and commercial misfires, and they seem poised to attract the "is it really that bad" crowd in the home video market.
Advertisement
---
---
Advertisement
---
FROM AROUND THE WEB
Advertisement