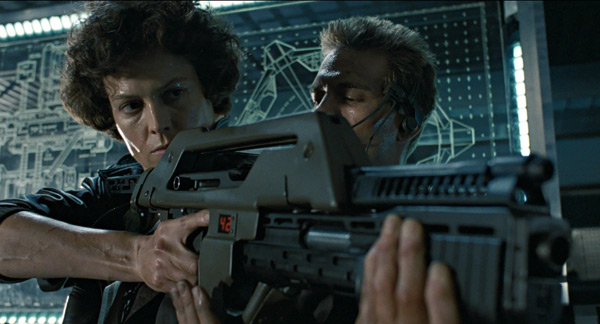 Thinking about the Alien franchise, the first thing that really comes to define the decades of bizarre and fascinating havoc that the sinister xenomorph species have managed to span is something that is often overlooked: Most anyone can tell that Alien (1979), Aliens (1986), Alien 3 (1993), and Alien: Ressurection (1997) are vastly different just from their visuals. Alien presents itself as a slow creeping "slasher in space" film (the first of its kind really), Aliens gives us an action packed vision of combat in the future, Alien 3 is the series' avant garde climax, and the Alien: Resurrection is the wacky after the fact cousin of the core trilogy.
Appearances aside, one of the most important and yet overlooked components of this series is its very timeline. The first Alien film that I ever saw was Aliens, and being about 6 or 7 at the time, and have had trouble distancing myself from Warrant Officer Ellen Ripley's story ever since. What I present here is my understanding of the Alien quadrilogy in the same order that I first saw each of these incredibly deep science fiction films. Looking back, I'm convinced that watching Aliens first, then Alien, followed by Alien 3 and Alien: Resurrection made me fall in love with the series. Never before had I ever seen a group of films whose stories were so closely and cleverly interrelated operating in the same fictional universe, but as individual films were so visually unique, jarring, and somehow disjunctive that each film became its own adventure and ordeal. What follows is the first part of my in depth journey through the Alien universe, beginning with Aliens, then back to Alien, and ending off with Alien 3 and Alien: Resurrection. I do this in the hopes that maybe I can explain even just a little bit of the mysterious dark, fury that has left me thinking about LV-426 for the nearly two decades.
ALIENS (1986)
Let me first make this clear: James Cameron's Aliens is hands down one of the best science fiction/action films that I've ever seen. More than twenty years after its release, Aliens holds up as an exquisitely designed film, with an excellent use of sets (nearly the whole film takes place on ships and manmade corridors in space) as well as key mood lighting. I'd typically hate to get all film theory on you, but quite frankly, the mise-en-scène that Cameron constructs is absolutely impeccable, and before he became an eccentric director turned explorer (seriously, his latest tweet: 'Phase One expedition is over after 13 dives… Scientists at work now analyzing the results'), Aliens exists as early testament to when Cameron was 'the man,' so to speak.
Aliens starts off as a lonely life boat floats through space, until it is picked up by a deep space salvage team hoping to make a quick buck on some long forgotten vessel. Inside the lifeboat, the team discover Ripley (Sigourney Weaver) and her cat Jonesy in deep hypersleep and are disappointed by their find's less than substantial dollar value. We learn that Ripley, who has been drifting through space for 57 years, is now in a world that is very different than the one she left behind.
Okay, so this opening seems basic enough right? But when we take a closer look, the point of entry that Cameron places the viewer is a great example of why I love this series so damn much. Everything here is implied, and it's not until you take a step back to examine it that it becomes clear that Aliens is speaking volumes with its introduction alone. The very fact that there are deep space salvage teams routinely searching for lost or discarded space crafts (cosmic American Pickers of the galaxy) says something about the very specific place humans in Aliens occupy in space. No longer are we living in a time when space travel is strictly for exploration, but instead the fact that Ripley's shuttle was found by a salvage team means that as humans, we feel so familiar with space travel that we actually are now scouring galaxies, looking for our own lost or misplaced crafts; as humans, we have established our own presence in the universe. More telling of our level of comfort in space would be the salvage teams' lack of interest in finding Ripley. I mean, today if you found a woman in hypersleep, drifting aimlessly through space for who knows how long, the questions surrounding her status would be endless: who is she? why is she drifting alone? What was she escaping from?
After a frustrating meeting with the heads of her old employer, Weyland-Yutani Corporation, Ripley is told that the menacing alien creature with acid for blood that killed her crew and caused her to self destruct her commercial towing vehicle, the Nostromo, has never been recorded in over 300 surveyed worlds. Even more horrifying, Ripley finds out that there has been a colony of "terraformers" (people who operate Weyland-Yutani brand atmosphere processors to make uninhabitable planets livable) on the bleak LV-426 for nearly 20 years. Days later, sly Weyland-Yutani representative Carter Burke (Paul Reiser) accompanied by Lieutenant Gorman (William Hope), come knocking at Ripley's door to ask Ripley to do the unthinkable. After losing contact with the colonists of LV-426, they want Ripley to return to the planetoid that destroyed her life, as an advisor to their rescue mission.
Being promised that her revoked space flight license will be instantly restored, Ripley eventually gives in – also being assured that she will be protected by marines with state of the art fire power. This is the genius in Cameron's film: from the very onset of the mission, no matter how many promises of safety and protection Ripley is given, we can't help but feel her distrust and absolute fear to return to LV-426, and with these sharp emotions and Ripley's daring decision to return, Aliens embarks upon a ride through hell.
The glimmering blues and dark greys that seem to accent all of Cameron's earliest works (The Terminator (1984), Aliens (1986), Terminator II: Judgement Day (1992)) are all evident here, and indeed provide a unique visual aspect to the film. While moving from the corridors of the Colonial Marines' warship, the USS Sulaco, then to the terraformer's colony, Cameron uses bright reds and cool blues to emphasis scenes with sharp and unforgettable visuals. Still, a great majority of Aliens success is carried on the backs of the rough-and-tumble marines: badass with a heart Corporal Hicks (Cameron stalwart Michael Biehn), spazzy joker Private Hudson (Bill Paxton), lady Rambo Private Vasquez (Janette Goldstein), and Artificial Human Bishop (Lance Henriksen). The grunts chemistry is impeccable (because it's so very believable) and this is no doubt a result of Cameron's insistence that the actors spend two weeks together prior to pre-production in order to bond. Seeing as Weaver was away working on another project during these weeks, the sense of her alienation from this pack is not only interesting but authentic.
Hearing Ripley try to brief the marines on their mission is a frustrating scene, as Vasquez and Hudson laugh off this as just another 'bug hunt'. In trying to express the severity of the situation, Ripley brings up one of Aliens most attractive and enthralling ideas: if the crew of the Nostromo was taken out by just one alien, we can only imagine what hundreds of these beasts could do. A terrifying thought indeed, and when we see the innards of the wrecked, barricaded, and desolate colony, the feeling of great discomfort that Cameron edges at when Ripley finds out about the colony on LV-426 comes full circle: something very wrong has happened here and at nearly an hour into the film, we still don't know what. Later the marines enter the alien's nest, tucked away under the atmosphere processor and the footage we're fed makes you drool with awe and curiosity. Seeing colonists cocooned in slime, alien eggs waiting for them to awake in order to latch onto their faces and plant their demon seeds. Cameron uses this discovery sequence as a genius method for the viewers simultaneously horrifying unearthing. By using the marines P.O.V. combat cameras, Aliens not only places us right over the marines shoulders as they come to uncover the horrors of the xenomorphs, but also makes combat scenes that much more eerie and intense.
Over distorted monitors, we see nearly all of the marines get wiped out in a matter of minutes, but the sheer carnage in this scene speaks louder to something else. Seeing the aliens 'coming out of the fucking walls man!", and more than one team member die at the hands of the aliens and combat errors alike (in the mix of chaos a flame thrower accidently gets turned on a marine sending him to a fiery death), Ripley's warnings to the over confident marines echo the loudest. It is with this that Aliens says so much: the dangers and patterns of human arrogance, our bodies' fragility and vulnerability to simple traumas, our utter lack of understanding and reverence for the untold terrors that lay dormant in our universe.
As I said, Aliens takes us on a wild ride, but Cameron does a smart job of keeping the excitement going. When Ripley and the sole surviving colonist Newt (Carrie Henn) are locked in the medical bay with two hostile face huggers, watching Ripley fight for her life when one of these slimy and lethal little beasts comes so close to turning her into an alien host is jaw dropping. When its revealed that Burke has masterminded this in a vain effort to sneak the impregnated Ripley and Newt back to Earth with the hopes that he can sell the alien to the Bio-Weapons division of his company, Cameron again thickens the plot for us. By doing so, we're reminded of the bigger picture which exists outside of this ordeal, and slapped in the face by the incredulity and heinous greed that seems to continually drive us humans. The alien species is the most dangerous organism in the universe:  capable of adapting to any environment, overtaking any species, and hell bent on destroying all. Basically, if there was ever any example of the ultimate evil in our universe, the universal black death: the alien is it, and to imagine that anyone would harbour the idea of trying to tame and sell this evil is a very diabolical and dangerous idea indeed.
With a double climax and Ripley kicking some serious ass, Aliens also manages to maintain excitement because the film continually turns over on itself. Shifting from a bizarre rescue mission to a science fiction survival action epic, we see Ripley take charge of the marine's downward spiralling situation, eventually going head to head with the tyrannical Queen alien in exhausting final blowout. In what many like to dismiss as Cameron styled 'gun porn' (another prominent component of the director's earlier works), its impossible to deny Aliens's uncanny ability to make you drool at the sight of pulse rifles. The problem with denoting Cameron's film as a trivial gun show is that the real message of the copious amounts of fire power this film showcases becomes muted. The message here being that as technology has advanced, so have our methods of killing – yet no matter how state of the art the marines' fire power, it is still no match for the absolutely deadly organic nature of the alien species. Layering all of these concepts on top of each other, Cameron creates the greatest science fiction action epic to ever be made, but just like the Alien series constantly causes us to wonder, Aliens forces us to ask: where did this all begin?
Advertisement
---
---
Advertisement
---
FROM AROUND THE WEB
Advertisement