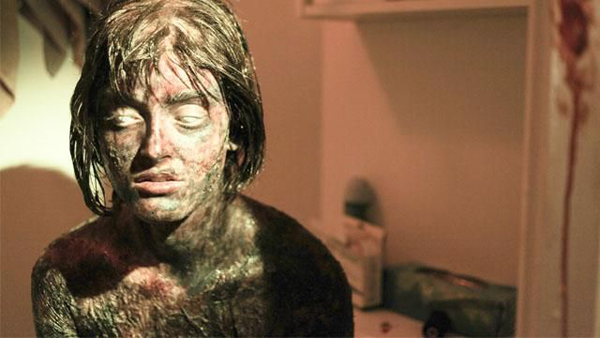 Thanatomorphose
If you're looking for a repulsive, mean-spirited, body horror gore fest that quickly transforms into a morbid pornography of human decay, then look no further than Thanatomorphose. Writer/director Eric Falardeau (no doubt a fan of David Cronenberg's The Fly borrowing liberally for his more grotesque moments, such as body parts in jars) has created an utterly miserable screenplay void of humanity.
A primarily naked Kayden Rose takes on the lead role of an artistic woman living modestly. We learn very little about her, but then boyfriend (Davyd Tousignant) treats her like a one night stand, coming and going as he pleases. Rose, noticing the appearance of bruises, rough skin, peeling fingernails that progressively worsen. Slowly morphing into scenes of horrific torture, our protagonist decomposes into the incredible melting woman.
Donning a Lars Von Trier vibe, the film comes off as messy in its depiction of despairing.It just can't seem to align the strangely disturbing visuals of rotting flesh and poorly lit rooms oozing with a genuine and believable sense of anguish. Poor model-turned-actress Rose exposes herself bravely, but recieves nothing back from the filmmaker or material.
If the sole purpose of Thanatomorphose is to gross-out viewers, they have succeeded. That's literally all they succeed at. (Eric Marchen)
Screens
Friday, November 29th, 9:30pm, Carlton Cinemas
Advertisement
---
---
Advertisement
---
FROM AROUND THE WEB
Advertisement