Colin Geddes provides a truly personal look at a titan of Hong Kong cinema
I have to admit, at the risk of dating myself, that when I fell down the rabbit hole that is Hong Kong cinema there was no Internet to help out. I couldn't type "Ringo Lam" into a search bar and immediately get his whole filmography and biography. As my fellow cult cinema oldster Ant Timpson phrases it, I had to put in "the hard yards". I'd visit the video stores in Toronto's Chinatown that really didn't cater to non-Chinese customers, where English on the video boxes was limited or non-existant. I initially rented stuff solely on the photos of the actors that I liked and recognized and I'd make notes if there was any English in the credits and created my own analogue, offline database of actors, directors and action directors.
I thought Chow Yun-fat was super cool in John Woo's The Killer and A Better Tomorrow, so I'd grab anything that he was in. It didn't matter if it was a comedy, drama, or action flick. I watched The Story of Woo Viet, Hong Kong 1941, The Occupant, Flaming Brothers and many others.
That's how I ended up discovering the work of director Ringo Lam when I stumbled upon his masterpiece, City on Fire.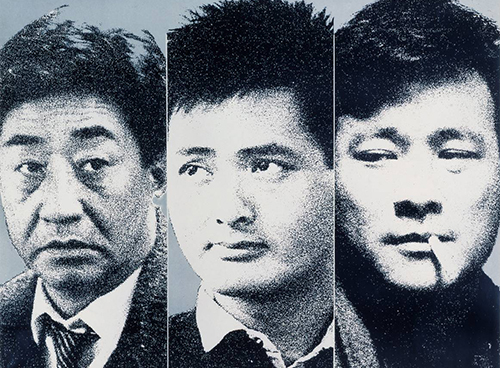 Like many my main entry point for Hong Kong cinema was through the films of John Woo, yet the first film I truly fell in love with was Tsui Hark and Ching Siu-tung's A Chinese Ghost Story II thanks to the over-the-top bravado of the action sequences. Yet it was in the works of Ringo Lam I found a true, modern noir director who delivered more dramatic weight to his characters than I was finding in Woo's bullet ballets.
As I watched more of Lam's films it became clear that they had a unique, realist edge, more complex than those of his contemporaries who were mostly making over-the-top entertainment vehicles.
Lam originally started out with hopes of being an actor, but ended up studying filmmaking at Toronto's York University. When he returned to Hong Kong he was steered into directing comedies that were trendy at the time, a genre he later admitted not being comfortable with. His first film, the romantic ghost story Esprit D'amour (1983), was found to be not comic enough and two other directors were brought in to lighten the tone.
It was when Lam got the chance in 1987's City on Fire to work with Chow Yun-fat in the heyday of the iconic performer's career (keep in mind that the actor made over 50 films during that decade!) that the director's true path was set.
After the critical and box office success of City on Fire Lam made twelve films, including one botched English language thriller (Undeclared War, 1990) and a Jackie Chan film (Twin Dragons, 1992) before following John Woo and Tsui Hark to Hollywood. The 1996 Jean Claude Van-Damme vehicle Maximum Risk saw Lam return to Toronto to shoot, and it was clear the director did not have total creative control. I was lucky to be able to interview Ringo Lam on set and witnessed JCVD loudly calling "cut!" during a scene while  Lam sat in his director's chair smoking and looking resigned to what was happening around him.
Ringo returned to Hong Kong where he more comfortably slid back into the directors' chair, making 1997's Full Alert. This classic is one of the best crime thrillers of the last half of that decade, a film rife with political and social allegories in the wake of the handover to Mainland China. While steadily working, none of Lam's subsequent films came close to his earlier triumphs except for his segment in the anthology film Triangle, a project co-directed with Tsui Hark and Johnnie To. His last project was an omnibus film on the history of Hong Kong with other notable directors including Ann Hui, Sammo Hung, Johnnie To, Tsui Hark, and John Woo.
Lam was a true maverick, a bold and original voice whose stark and gritty films made a true mark on the development of my appreciation of world cinema.
Here are my top five Ringo Lam films.
1. City on Fire / 龍虎風雲 (1987)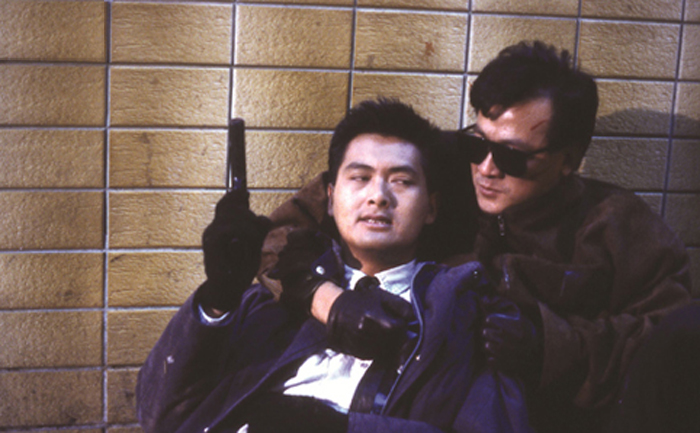 Chow Yun-fat plays Ko Chow, a cop deep undercover within a group of ruthless jewelry store robbers lead by Tiger (Danny Lee, whom Chow would play against two years later in John Woo's The Killer). When Chow's superior is replaced he becomes a pawn in a political power play by the new chief who is under pressure to stop the robberies and is forced to participate in the gang's big heist.
Ringo Lam's vision of the underworld is bathed in cool blues, punctuated by the bright neon lights of the jewelry stores. The film's cinematographer, Andrew Lau Wai-Keung, went on to direct many hits of Hong Kong cinema including Infernal Affairs, the 2002 film that was remade by Martin Scorcesse in 2006 as The Departed.
For local Hong Kong cinemagoers the story felt ripped from the newspaper headlines, as the city at the time was experiencing a streak of brazen armed robberies. Yip Kai-foon, known as the "King of Thieves", recently died in prison where he was still serving a sentence for his role in the criminal events that influenced the film.
Following the massive success of his role in John Woo's A Better Tomorrow (1986), City on Fire firmly locked in Chow Yun-fat as one of the territory's top dramatic actors. The film was a critical success as well, with Lam winning Best Director at the 1987 Hong Kong Film Awards.
In 1993 I attended a screening of City on Fire at Cinematheque Ontario as part of the "A Cinema of Blazing Passions" touring programme of HK cinema. When the lights came up at the end of this tale of an undercover cop trapped in a botched robbery with a bloody climax of betrayal, everyone in that audience who had seen Reservoir Dogs, then only a few months into its release, suddenly locked eyes. WTF!? Had Tarantino blatantly ripped off this film? It was a hotly debated point, and I don't think Tarantino has ever publicly acknowledged the influence of the film. (Ed. QT eventually did acknowledge.)
For a scene by scene comparison, check out Mike White's short Who Do You Think You're Fooling?, although I disagree with his unfairly tagging City on Fire as "less than spectacular"
2. Full Contact /俠盜高飛 (1992)
Doubled crossed, shot and left for dead during a jewelry store robbery in Thailand, Jeff (Chow Yun-fat) reappears in Hong Kong to play a game of cat and mouse with the accomplices who sold him out. Their flamboyant leader, Judge, is played by Simon Yam in a snake skin jacket that looks like he ripped if off of Nicolas Cage's back in Wild At Heart. Serving as Ringo Lam's twist on John Boorman's 1967 classic Point Blank, Chow Yun-fat rips through the film as a cool as fuck anti-hero in a leather vest riding a motorbike with an edge that has rarely been matched.
In between the treachery and double crosses is a shoot-out sequence in a nightclub between Jeff and Judge which features a point of view bullet shot that, at the time, was incredibly audacious and thrilling. The effect had never really been seen before, but was quickly copied by Hollywood in the Mario Van Peebles Western Posse that came out the following year.
Released the same year as Woo's Hard Boiled, Lam's vision for Full Contact was rather nihilistic and bleak and didn't seem connect with local audiences while quickly becoming a favourite of overseas fans.
Full Contact was written by Lam's brother, Nam Yin, who also penned the scripts for several of Ringo's other films, including Prison on Fire (1987), Burning Paradise (1994), School on Fire (1988) and Wild Search (1989). Nam Yin also appears in several of these films acting in small roles.
3. Prison on Fire /監獄風雲 (1987)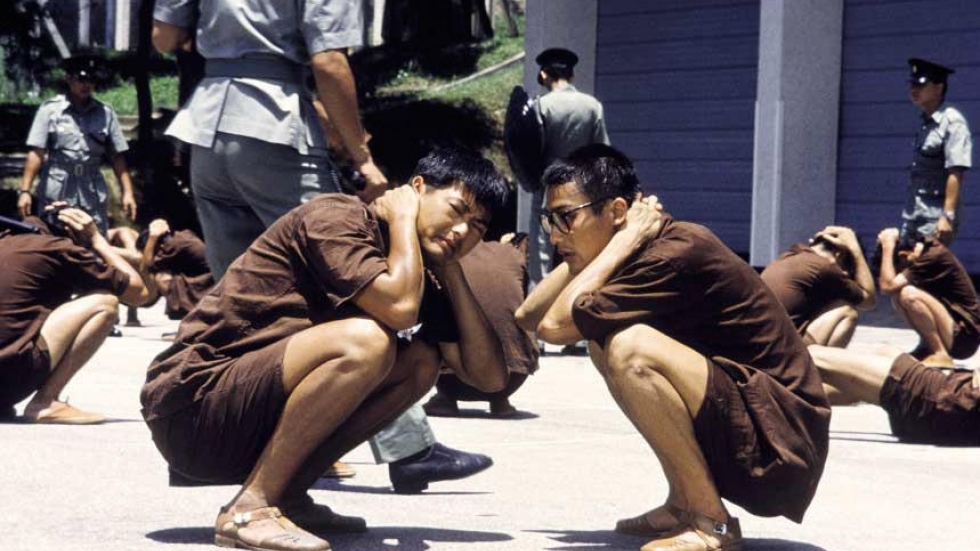 Lo Ka Yiu (Tony Leung Kar-fai) is a meek man who is sent to prison after the accidental killing of the thug who robbed his dad's store. Subject to harassment by the other prisoners and unable to adjust to the rank and file of an incarcerated life he is befriended and protected by the jail jester, Ah Ching (Chow Yun-fat). The two are caught in a power struggle between rival gangs in the prison under the watch of a strict warden who pushes the embattled prisoners to the edge.
A local take on the Paul Newman prison film, Cool Hand Luke (1967) Prison on Fire quickly became the Territories' third top grossing film for 1987. While the film plays out as crime drama, Lam ratchets up the tension in the jail to an claustrophobic intensity for our trapped heroes.
The stark portrayal of life behind bars in Hong Kong had a dire foreshadowing social message that if things are bad now, wait until China takes over from the British. In fact, in the sequel that came four years later, Prison on Fire II (1991), the conflict centered around the social and political divisions between the Hong Kong and Mainland Chinese prisoners in the facility.
4. Full Alert /高度戒備 (1997)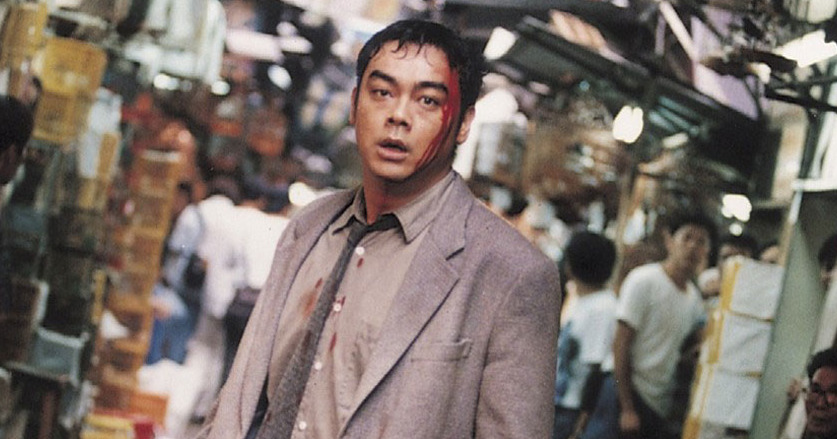 The crime genre that seemed to boom in the '80s was all but faded by the time of the release of Full Alert, making this is one of the best and last films of the era, released just two weeks after the handover (Britain ceded rule of the Territory back to China in June 30th, 1997).
The star system had changed over the decade of Lam's career. Here he took two of the island's best character actors, Lau Ching-wan and Francis Ng, and thrust them into the mean streets of Hong Kong.
Pao (Lau), a stubbornly dedicated cop investigates the grisly murder of an architect. A detailed map of a vault found by police in the suspect's apartment spins around the cop, leading him to the trail of thieves from the Mainland and their daring attempt to steal a fortune from the HK Jokey Club.
As could be expected, Lam's outlook on the future of Hong Kong with the new Chinese overlords was not a bright one, but there is a passion evident here that must have sprung from having directorial freedom returned to him after the disappointment of working in Hollywood on the Jean Claude Van-Damme film.
5. Burning Paradise /火燒紅蓮寺 (1994)
Script: Nam Yin
Lam's only foray into martial arts cinema, Burning Paradise was produced by the genius producer/director Tsui Hark (just look to 1988's Peking Opera Blues for a taste of his mastery).
Lam's pugilistic period piece cuts right to the action as the opening credits roll on the burning of the legendary Shaolin Temple and the pursuit of the fugitive monks by the Manchu soldiers. The monks are lead by folk hero Fong Sai Yuk (played by newcomer Willie Chi Tin-Sang who would only star in four films in Hong Kong) are captured and imprisoned in a hellish, underground prison run by an evil martial art sect. Tiger and crane style duels take place on rocky outcrops and in dark caverns in a world that seems to be only a secret passage away from Indy's Temple of Doom.
While Lam was best known for crafting noir worlds, Burning Paradise is indeed a departure, due in part to producer Tsui Hark's usual overbearing creative influence. However, there is a dark streak to the story that had not been seen in popular martial arts films, giving this tale a decidedly unique, gothic feel.
From 1997 to 2017 Colin Geddes selected cutting-edge films for the Toronto International Film Festival, where he was in charge of the Midnight Madness and Vanguard programmes, specializing in diverse international genre cinema. He introduced countless new filmmakers to their first international audiences, and is one of the world's foremost horror film experts. Geddes has also done acquisition consulting for international sales and distribution companies, and worked with filmmakers on marketing, sales and festival strategy. In addition to his curating and consulting efforts, he is also a producer with over a dozen credits to his name.
He currently works as a curator at Shudder, the leading online video network for horror fans.
Advertisement
---
---
Advertisement
---
FROM AROUND THE WEB
Advertisement