I don't like horror books. At least, not the way I used to like them as a preteen addicted to anything spooky, creepy and downright hair-raising. R.L. Stine, Christopher Pike, but Stephen King in particular. Even though I was the biggest scaredy cat I knew, I devoured most of his library before I hit my teens. Then sometime between then and now, that love for the genre faded, replaced by other distractions. Maybe it was the glut of gore-sploitation films masquerading as horror, but I barely picked up anything macabre for years.
That is, until Locke & Key. The series hooked me from the first issue, despite having passing it by for years before finally listening to all the outstanding recommendations from friends. It wasn't about genre, it was simply a compelling story, but what drew me most to Locke & Key was the characters. These are people you legitimately care for within a page of their introductions. A family dealt a tragic hand but persevering, despite every new disaster sent their way. The series isn't about fighting evil or demons or the shadows that lurk just out of the corner of your eye— though there is more than enough of that to spare. It's about the Locke family barely holding everything together, each of them coping in their own way, making a mess of it all, and still finding joy among the heartache. They just happen to live in the increasingly mysterious Keyhouse, and own magical keys that hold impossible powers.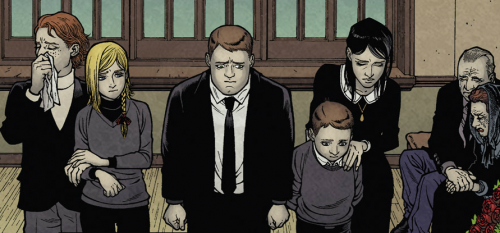 Locke & Key is an incredible read, and easily one of the strongest, most consistently written and drawn series to come out in years. Writer Joe Hill and artist Gabriel Rodriguez have crafted a gut-wrenching, sinister mythos, with the unfortunate Locke family at its core. It's what drew me and other fans I spoke with to this book. Every one was fascinated by a different character, and interpreted events in a completely new way. Fan speculation has run rampant, especially as the series comes to a close on December 18th in issue two of the oversized Alpha series. Some are mourning the end of the series but it's commendable that Hill and Rodriguez have let the story reach it's natural conclusion, when sales on Locke & Key could easily have allowed them to drag it out much longer. Quality over quantity: this may be the biggest testament to the passion of its creators, who have given fans the best story they possibly could.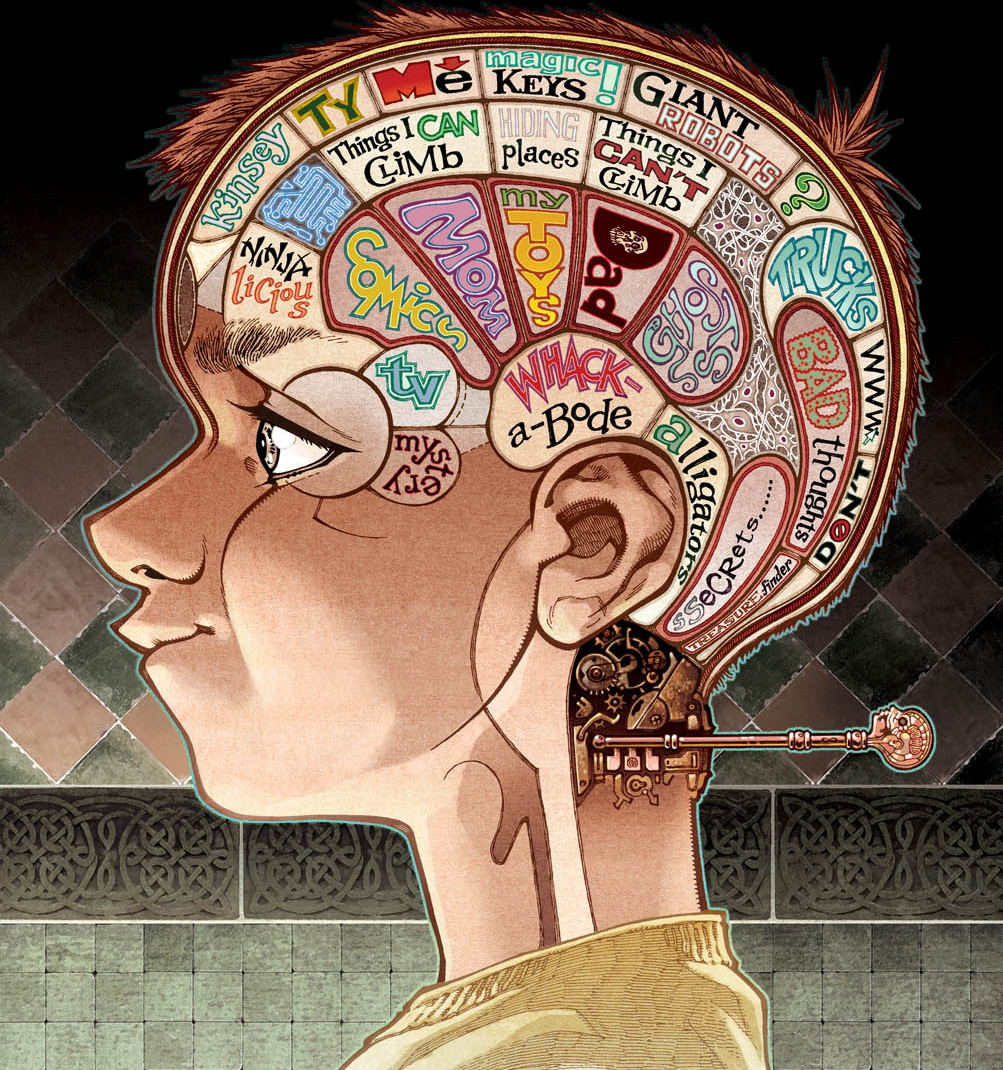 There is no Locke & Key without the Locke family, and while each member has their own fan-base, it seems the smallest Locke has gathered the most. "Bode is easily my favourite character," states Bryan Hawke from Springfield, USA. "The Keys aren't a source of anxiety for him but fun— well, at least at the start. I enjoy seeing the series from his perspective, and how he has grown and matured as the series has progressed. His adventures with the animal key will probably go down as one of my favourite issues." JonMOMB from Southampton, UK, is also a fan of Bode and explains why. "He's one of my favourite characters in comics, full stop. Authors and artists tend to write and draw children with an adult slant, but Hill and Rodriguez make Bode genuinely act and behave like a 6 year old. As a result, you get dragged into that childlike mindset where anything is possible because you're not grown up enough to know stuff like walking through a door and turning into a ghost shouldn't actually be possible, or even safe." Daniela from Buenos Aires, Argentina, agrees. "He represents everything a child should be. He's sweet, innocent and has a hunger for adventure that people tend to lose over time. It's so easy to see yourself in Bode."
Bode may have been the favourite of many people I spoke to but rest of the family weren't far behind. Brandon from Halifax, Canada, cites Kinsey as his favourite. "I love Kinsey. She's a spectacularly written character and has managed to get the most emotion out of me: whether she's struggling with her own fears and self-esteem, dealing with her father's tragic death or managing her relationship with her mother, she's always captivating." Kinsey's strength is what appealed to Steven from New York, USA. "Her decision to put all of her "fears" back inside of her head— I don't know if a lot of people would decide that, and I think it really showed how strong of a person she really is."
Strong women, flaws included, abound in Locke & Key, as Steven Jones in Highland Park, USA, points out. "Chief among its many virtues is how Locke & Key gives meaningful moments to its many strong female characters, particularly Nina, Kinsey, and Ellie. I have the softest spot in my heart for Ellie, who in some ways has the most complete arc of any character: from forlorn, lovestruck teen to regretful mom trying her best to give her son a happier childhood. Her death is the most poignant moment of the series: even at the end of a life filled with disappointments, she finds it in her heart to forgive the man who crushed so many of her dreams." Jason G, from Austin, USA lists Nina as his favourite character for some very personal reasons. "My mother is also a widow, so I've seen first hand how hard it is for someone to lose the love of their life. I immediately felt a place in my heart for Nina. She's been through so much that I can't help but to cheer her on and hope for her to come out of this depression. The second reason is that I have had issues with alcohol abuse. It was years ago and I've moved far away from that period in my life, but I can still relate to her struggles. I love rooting for someone to survive their hard times and become a stronger person in the end."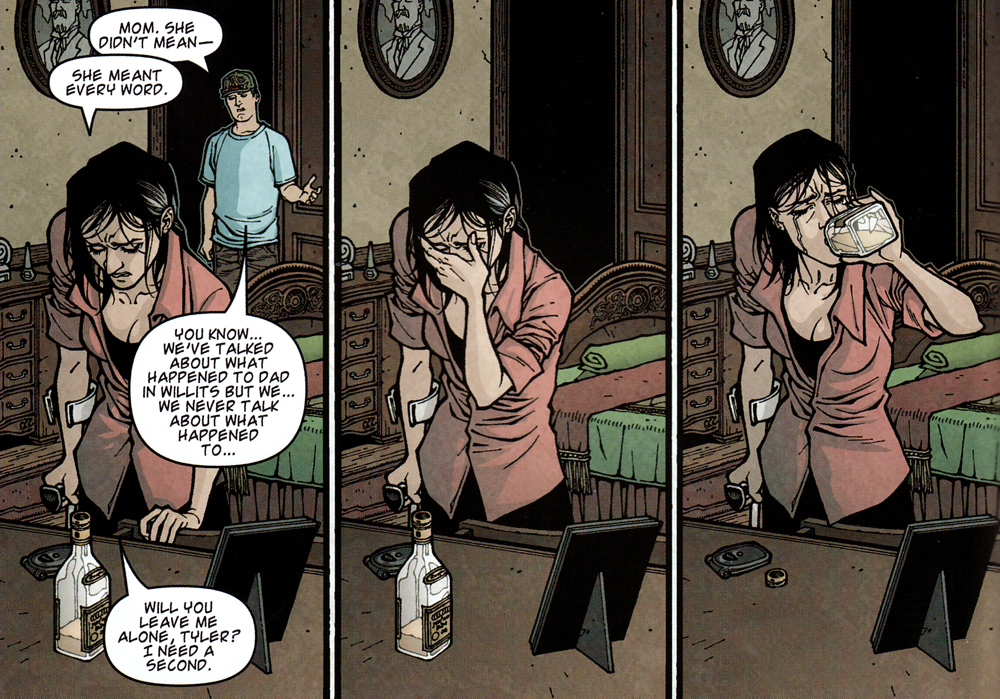 Locke & Key balances many narratives but if there was a lead, it could be said to be Tyler. "His transformation has been the most rewarding," says Will Bryan from Leary, USA. "He's almost exactly like his father, Rendell, and he's had to grow up a lot in the course of the books. I think a lot of people can identify with that." Michael Hodgson in Consett, UK, agrees, but with a caveat. "Being an older brother, I empathize most with Tyler. But it's a credit to the series that I enjoy all of the characters. You watch them grow as people and mature into strong protagonists. How can you not be proud of them when they have overcome such tragedy?" Picking a favourite wasn't easy for Steve Seigh from Talking Comics either, who initially also chose Tyler. "After rereading the entire series, I would have to say that Rufus Wheadon is my favorite character. There is a whole other kind of magic happening in the book when Rufus is involved. Rufus is selfless, creative, gentle, and unassuming, making him one of the purest souls to ever reside in Lovecraft. He's the one character I would want more than any other to be standing next to me when the shadows descend."
Fans may play favourites, but it's clear that everyone in the series holds a place in fans' hearts. "Forgetting for a moment that he's fictional, I want Scot Kavanagh to be my best friend." Jen K. From Los Angeles, USA, quips. "Seriously though, no other character has made me laugh (and sometimes cry) as much as Scot. That said, I've grown to love ALL of the characters— they are written and drawn so beautifully that they feel alive and I care about all of them. The strength of Locke & Key lies in the fact that the characters are fallible. They aren't cape-and-tights invincible superheroes. They are deeply, deeply flawed human beings, and because of their flaws, they are relatable. Because I relate to the characters, I care about them and am invested in their fate (which, incidentally, is equally likely to end in tragedy as triumph at this point)."
That's a sentiment felt by many readers, and Jen acknowledges that as she continues. "I have no idea how the story will end, but I fully expect that we will lose more people we love. An epic battle always has casualties, but ultimately I feel certain that loyalty, friendship, love, family, and, above all else, imagination will triumph." Not everyone shares Jen's optimism though, and while most fans don't have a specific theory about what's to come, they do know it will be brutal. "Part of me is expecting Dodge's redemption," speculates Franc G from Long Island, who has a signed copy of Welcome to Lovecraft #1 and a Ghost Key replica in his office at work. "The other part is rooting to see him disemboweled."  JonMOMB is even gorier with his speculation. "With bits of peoples insides all on the outside, lots of red ickyness everywhere, and hopefully Bode Locke kicking all kinds of ass."
No matter how it ends, Hill and Rodriguez have given Locke & Key fans from all over the world a hell of a ride. Each and every one I spoke to thanked the creators for the series, even as much as they might fear what's to come for the characters they love. "This is Joe and Gabriel's show," Kai Charles asserts. "I'm expecting heartache, possibly some book throwing but in the end, satisfaction."
---
Who's your favourite Locke & Key character? Will the Locke family survive Alpha #2? Tell us in the comments below or on Twitter (@fred42).
Advertisement
---
---
Advertisement
---
FROM AROUND THE WEB
Advertisement