Hooray for Hollywood! Ryan Murphy kicks Hollywood the Dream Factory in the pants with his new Netflix limited series. Co-created with Ian Brennan (Scream Queens), Hollywood is revisionist history done to the hilt. It reimagines Tinseltown's glory days through the lens of recent social movements like #OscarsSoWhite and #MeToo. Murphy and company playfully consider how the supposed Golden Age of cinema might have achieved greatness had Hollywood taken risks.
Instead of churning out formulaic studio movies, which is worse than ever at present with Disney slaughtering cinema by clogging the box office with Avengers spinoffs and intellectual property renewals, the well-oiled machine of Hollywood could have been a leader in ushering social change one casting choice at a time. Crammed with film geek references and wide-eyed idealism, the series offers both a love letter and a bitter pill. The series is an insider's shot at Tinseltown aimed at the hearts and minds of film buffs.
Hollywood's Leading Man
Hollywood, however, remains the city of dreams even as Murphy imagines it anew. The series stars David Corenswet (The Politician) as Jack, a war veteran who dreams of seeing his name on a marquee. With his imposing build, chiselled jawline, and all-American looks, Jack is the hallmark of Hollywood's ideal leading man in 1947. There's just one problem: he can't act. Jack can't land a gig no matter how hard he tries, much to the chagrin of his pregnant wife (Maude Apatow). But what Jack lacks in talent he makes up for in looks, as noted by the interested glances he receives from a man at the bar.
This mysterious stranger is Ernie (Dylan McDermott, who easily steals the show). Ernie's no cruiser aiming to pick up Jack. Rather, the silver fox offers him a gig. The job is simple, as Jack simply needs to pump gas at Ernie's station, which, er, has a reputation for "servicing" its clients' needs. Fans of the documentary Scotty and the Secret History of Hollywood will easily recognize the hotspot from Matt Tyrnauer's film. Murphy's series loosely draws from this aspect of Hollywood lore in which stars and starlets got everything from lube jobs to transmissions flushed in a service station rife with hunky men. The clients' include everyone from Cole Porter to Avis Amberg (Patti LuPone), the Norma Desmond-like washed-up actress married to the head of Ace Pictures (Rob Reiner). Putting a unique spin on the casting couch, Jack lands his ticket to stardom with a good lay.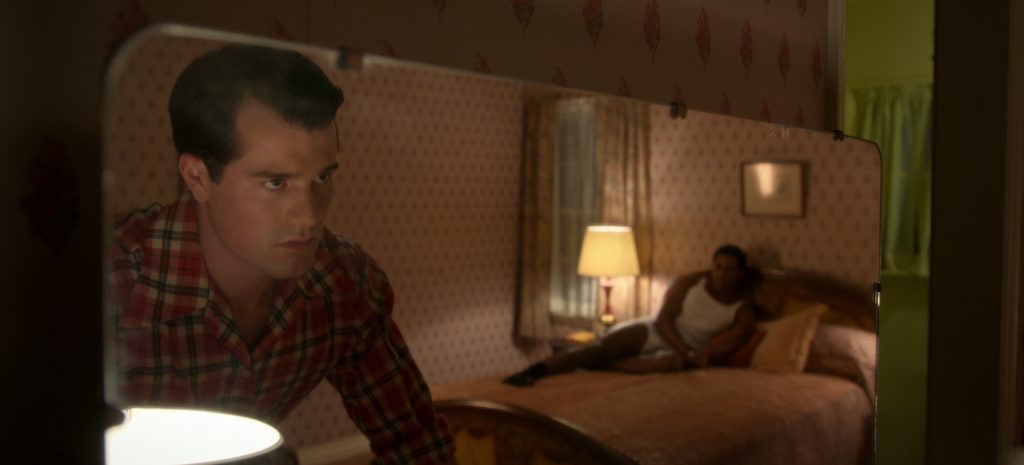 #OscarsSoWhite and Hollywood Representation
Jack's story is one of four key narratives in the series. Working alongside him at Ernie's is Archie (Jeremy Pope), an aspiring screenwriter with little hope of seeing his work greenlit. As a gay Black man writing for an industry disinterested in "race pictures" or "queers," he's a tough sell. However, his ideas have the goods to transform Hollywood.
His ideal picture is a star vehicle for Anna May Wong (Michelle Krusiec), the Chinese-American character actor from Shanghai Express. Despite having undeniable talent, Archie recognizes that Wong gets a raw deal from Hollywood, most notoriously losing the lead in The Good Earth to Luise Rainer, who better fit the part of a Chinese woman to studio executives. Wong gets her spotlight in Hollywood though as it sees her story among many contemporary equivalents. The shame on Wong's face when Rainer wins the Academy Award in flashback injects #OscarsSoWhite notoriety to the party.
Archie's other screenplay, however, excites the studios and leads to an unexpected confrontation with the industry's failure to improve representation. His script Peg is what Hollywood loves best: a love letter to itself. The film tells the story of Peg Entwistle, who tragically took her life by jumping from the Hollywoodland sign in 1932. Her story, which inspires Archie's Peg, underscores the cruel façade of the dream factory as Hollywood offers a reality to which few talented people can aspire. The series sees Peg's plight in every one of its young wide-eyed stars who grace the screen.
Rock Hudson and #MeToo
This idealism endures in Roy Scherer (Jake Picking) better known to cinephiles as Rock Hudson. Hollywood speculates at the power for positive change that might have occurred had the industry permitted stars like Hudson to be openly gay. The series sees Hudson living in secret with Archie after the two strike it up when Rock cruises by Ernie's and scores a ride. There are moments of crowd-pleasing bravery, like a red carpet appearance that would surely have caused a stir in 1947. One can only imagine the headlines Hedda Hopper would have penned about Hollywood's gayest couple.
However, Murphy's take on Hudson is pretty bold. Besides being the most prominent figure in Hollywood based directly on a living person, Hudson lets the series directly confront the perversions of sexual harassment that advanced careers on the backs of others. (No pun intended.) Hudson's agent, Henry Willson (Jim Parsons), is a truly lecherous figure also based on a personality from Hollywood's past. Parsons is skin-crawlingly good playing against type as the toxic agent, who exploits Hudson's ambition and good looks in a sadistic game of power and control. Short of having secretaries exclaim, "Paging Harvey Weinstein!" Tinseltown's sex addiction runs rampant in Hollywood. From the casting couch to George Cukor's wild sex parties, Hollywood names names and salaciously outs bad behaviour.
From Feud to Hollywood
Besides tapping into the cultural pulse through recent history, Hollywood offers an oasis for cinephiles who miss moviegoing escapism. The series is fun extension of Murphy's "televisual universe" after his insider's take on Tinseltown in Feud: Bette vs. Joan. Hollywood dazzles as much as its predecessor did with its gorgeous recreation of the heyday of studio filmmaking. The production design, costumes, and tricks of the trade let film buffs get drunk on celluloid. Particularly when the journey brings key Hollywood players to the Oscars, the series recalls Feud's highlight episode that captured everything one loves and hates about the movie business. Awards junkies and Oscar revisionists shall rejoice as Murphy gives the ultimate "take back the Oscar" moments to correct history. Gentleman's Agreement fans might cry foul, but that know that Celeste Holm was better in All About Eve, anyway.
The behind-the-scenes glimpses at the production process offer a novel peek behind the curtain. Murphy and company skewer Hollywood and twist the knife in its juicy insides. Despite the glitz and glamour, the show portrays Hollywood as disgusting as it is gorgeous. The doubled-edged sword of the Dream Factory underlies the production of Peg as Archie's film taps an aspiring director (Glee's Darren Criss) and inspires a rivalry between two up-and-coming starlets. One is a blonde bombshell and the studio head's daughter (Samara Weaving). The other is an insanely talented Black actress (Laura Harrier) relegated to playing the mammy in studio fare. As film-on-film odysseys go, this one is for everyone who studied Hollywood history and wished they could offer a corrective.
Hollywood's Dream Cast
Murphy's latest series admittedly invites the same criticism this reviewer had with Bette vs. Joan. It simply breezes through its story too quickly. There's more than enough material here for a full ten to twelve episode run. Just as Feud featured ample build-up to the production of Whatever Happened to Baby Jane?, but barely afforded the shoot a full episode (presumably for copyright reasons), Hollywood offers a multi-episode tease towards the filming of Peg, but gets lost in too many subplots that overwhelm the core story. Sure, there is great material in the scenes featuring Ace Studios' resident "old maid" (a spectacular Holland Taylor) and its closeted executive (an equally fine Joe Mantello). However, Hollywood spins so many subplots that it can barely cover the material at its core. In setting up so many arcs, it inevitably offers more superficial musing than deep probing.
It's constantly watchable, though, thanks to the talented ensemble. Murphy and company assemble one of the most hilariously photogenic casts ever united, which plays into the series' novel queering of Hollywood history as every frame of Hollywood exudes sex appeal. (Perfectly appropriate since studio bigwigs only had tits on the brain.) The quartet of fetching male leads gamely embodies the intoxicating idealism of the series with Corenswet in particular channelling the stock-actor pedigree of the studio era to perfection. Both Corenswet and Picking humorously nail some terrible auditions as Jack and Rock struggle in their screen tests. Veterans LuPone and McDermott, meanwhile, are easily the standouts. Their spirited takes tap into the series' tongue-in-cheek humour. Add to the outstanding ensemble a near-comical number of cameo appearances, and the series delights by sending up classic stars while heralding new ones.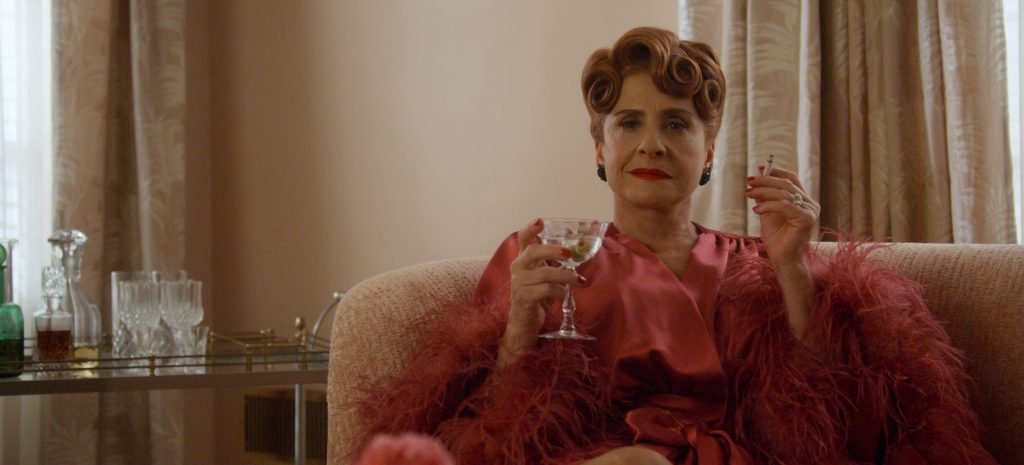 Hollywood Hindsight and Idealism
One spend hours unpacking Hollywood's cornucopia of Easter eggs and their contemporary yolks being scrambled. However, the series can't shake its retrospective gaze and romanticism. On one level, it overly simplifies the context and circumstances in which the characters find themselves. It's very much a portrait made with the benefit of hindsight. However, the naïveté of Murphy and Brennan's approach is refreshing in its openly cheesy idealism.
Hollywood argues that change might be hard, but the difficulty comes in taking risks. Had more people gambled in the way these characters do, one can only imagine how the world might be today given the reach of Hollywood's movies and their power for representation. This essence is what the show really gets: what movies mean on a personal level to each person gazing up on the screen hoping to see their life reflected just as much as they might be longing for an escape. Particularly in the inevitable climax at the Academy Awards, which features appearances by Queen Latifah as Hattie McDaniel and #MeToo silence breaker Mira Sorvino further evokes figures sidelined by the industry's failure to change. Hollywood triumphantly, cornily, and refreshingly salutes everyone who has yet to take the spotlight.
Hollywood is now on Netflix.
Advertisement
---
---
Advertisement
---
FROM AROUND THE WEB
Advertisement