The time has finally come for documentaries to largely take over some of the most hallowed screens in Toronto for the HotDocs International Documentary Film Festival. The second largest film festival in the city (you know, next to that other one with the thing), HotDocs showcases 189 features and short films this year alone across 10 city venues. With that much verite volume, it's hard to stay atop everything and not everything gets made available to us to include in our HotDocs advanced coverage and reviews (starting tomorrow). So before we get into what we thought about what we've seen so far, here's an advance list of films (in no particular order) we weren't able to catch before the festival. If you guys are looking for us, this is where we will be.
Dreams of a Life
Director: Carol Morley
Program: Special Presentations
This story of a seemingly loved and adored North London woman who died alone sounds hauntingly creepy and emotionally sad on paper. Joyce Vincent's decomposed skeleton was found in her home a full three years after she died with no one even noticing. Part fact and pat fictional recreation, there's obviously a lot more to this story than meets the eye.
Screens
Wednesday, May 2nd, 9:45pm, Royal
Friday, May 4th, 9:15pm, Isabel Bader
The Impostor
Director: Bart Layton
Program: Special Presentations
Equally as strange sounding as Dreams of a Life is director Layton's tale of a kidnapped Texas 13 year old who resurfaces several years later in Spain as the victim of torture, but it might not even be the same kid since the kid returned to them is obviously French. Already building huge buzz on the festival circuit, this was one of the most requested titles by our staff writers to cover.
Screens
Friday, April 27th, 9:00pm, Bloor
Saturday, April 28th, 1:15pm, Lightbox 1
Monday, April 30th, 11:00am, Isabel Bader
Marley
Director: Kevin Macdonald
Program: Special Presentations
Following close behind The Imposter in terms of sheer volume of requests, is Last King of Scotland director Macdonald's sprawling and comprehensive look at the life of musical legend Bob Marley. At two hours and twenty five minutes, it's certainly an undertaking, but after a 4/20 release date in the States (hehehe) and a simultaneous VOD launch on Facebook, Marley looks to take this year's festival by storm.
Screens
Thursday, May 3rd, 3:30pm, Isabel Bader
Saturday, May 5th, 8:15pm, Bloor
Theo Fleury: Playing With Fire
Directors: Matt Embry and Larry Day
Program: Canadian Spectrum
Based on former Calgary Flames star Fleury's best selling book about how he was sexually abused as a junior league player and how it affected his truncated NHL career, hockey enthusiasts should be lined up around the block for this one. The subject matter might be tough to swallow, but Fleury's path to redemption and reconciliation with the game he left behind looks like something to be admired
Screens
Friday, May 4th, 9:30pm, Lightbox 1
Saturday, May 5th, 1:15pm, Isabel Bader
Sunday, May 6th, 6:30pm, Cumberland 3
The Bastard Sings the Sweetest Song
Director: Christy Garland
Program: Canadian Spectrum
This story of a bus driver trying to reconnect with his 75 year old alcoholic mother with a deeply traumatic past, not only sounds like an emotional journey on its own, but it also seeks to talk a bit about class struggles in Guyana, making it a documentary that will make the subtly political seem deeply personal.
Screens
Thursday, May 3rd, 9:45pm, Royal
Sunday, May 6th, 7:00pm, Royal
Only the Young
Directors: Elizabeth Mims, Jason Tippet
Program: International Spectrum
In what sounds like an intriguing cross between an early David Gordon Green film and an Arcade Fire album concept, Mims and Tippet follow a pair of teenagers in love and their friend who struggle to find things to do not only in their quiet desert town, but also before they inevitably have to grow up. Sounding alternately sweet and heartbreaking like first loves often end up being, the buzz on this title grows ever more thunderous as the festival approaches.
Screens
Tuesday, May 1st, 7:00pm, Lightbox 3
Thursday, May 3rd, 5:30pm, Bloor
Sunday, May 6th, 4:30pm, Lightbox 2
Waiting for Lightning
Director: Jason Rosenberg
Program: World Showcase
One of two films in this year's festival about skateboarding (the other being legend Stacey Peralta's semi-autobiographical Bones Brigade), Waiting for Lightning tells the story of boarder Danny Way's desire and dream to jump the Great Wall of China. Documenting Way's rise to prominence in his sport and the difficulties faced in trying to pull off such a feat, this looks to be as equally personal as Peralta's film.
Screens
Saturday, April 28th, 7:15pm, Royal
Monday, April 30th, 4:00pm, Cumberland 2
Saturday, May 5th, 1:30pm, Cumberland 2
An Affair of the Heart
Director: Sylvia Caminer
Program: Next
Admit it. You love famed 80s teen heartthrob Rick Springfield. Even if you think you don't the sheer lasting power of the song "Jesse's Girl" and his lengthy run on General Hospital speaks volumes to his still dedicated fan base. This amusing and occasionally dark look at this form of fandom will earn major bonus points if there's even one fleeting mention of his 1984 star vehicle Hard to Hold, but it sounds like the elements are in place for a great film, regardless.
Screens
Sunday, April 29th, 8:45pm, Bloor
Monday, April 30th, 7:15pm, Royal
Thursday, May 3rd, 6:30pm, Cumberland 3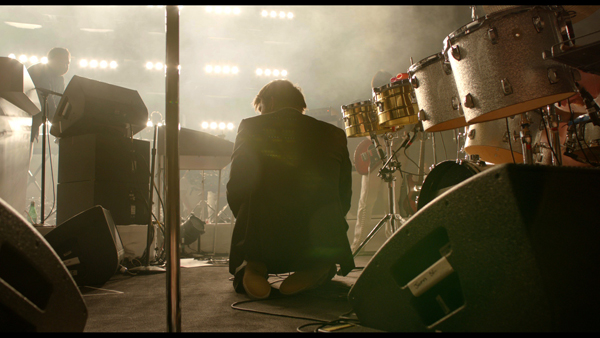 Shut Up and Play the Hits
Directors: Will Lovelace and Dylan Southern
Program: Next
After taking a really insightful look at the band Blur in their film No Room Left to Run, Lovelace and Southern return to document the preparation and aftermath of beloved, but short lived band LCD Soundsystem's farewell show at Madison Square Garden. With famed rock journalist Chuck Klosterman acting as a guide through an interview with band founder James Murphy, Lovelance and Southern seem to want to appeal beyond the band's fervent fan base to average viewers.
Screens
Tuesday, May 1st, 9:30pm, Lightbox
Thursday, May 3rd, 9:30pm, Lightbox
Saturday, May 5th, 6:30pm, Lightbox
Charles Bradley: Soul of America
Director: Poull Brien
Program: Next
In what sounds like one of the festival's most uplifting and inspiring true stories, a 62 year old illiterate soul singer from the streets of the Brooklyn housing projects is given the chance to abandon his odd jobs and James Brown impersonation gigs, by simply being himself and getting the chance at a record deal. It sounds like a story custom made for the believer in all of us.
Screens
Monday, April 30th, 9:45pm, Royal
Tuesday, May 1st, 4:15pm, Cumberland 3
Saturday, May 5th, 6:30pm, Cumberland 2
For more details, a full list of films, tickets, and more, please visit hotdocs.ca.
Advertisement
---
---
Advertisement
---
FROM AROUND THE WEB
Advertisement