Meet Noelle Stevenson: a crazy high achiever who, despite still finishing up her senior year studying illustration at the Maryland Institute College of Art, is already creating comics that are being compared to those of Kate Beaton, Eleanor Davis, Faith Erin Hicks, and The Venture Bros. You might have seen her "Party Thraduil" art being passed around the internet – or even being cosplayed at ECCC. If not, prepare to get acquainted because Stevenson and her art are super-rad.
Despite being in art school, Stevenson was reluctant to delve into comics; apprehensive about the potentially exclusionary atmosphere of comic culture. But after taking a Sequential Art class during her sophomore year, Stevenson discovered that comics are actually the best, and quickly got into indie comics (branching out into the mainstream after being tempted into the Marvel universe by films like X-Men: First Class, Captain America, and Thor). Stevenson then began to adapt her work into a words-and-pictures format, which granted a certain ease of communication, allowing for greater expression in her art.
Drawn to indie comics because of their potential for endless and unrestricted storytelling, Stevenson began to publish her work on Tumblr and in 2011, became internet-famous(!) after starting The Broship of the Ring: a hilariously accurate series of comics which imagines our favourite LOTR characters as apathetic, fixie-riding, latte-art-making hipsters.
But Stevenson's true claim to comics-fame is her amazing, twice-weekly webcomic (and her senior thesis!): Nimona. First dreamed up during a junior year character-creation exercise, the comic's titular character is a chubby, pink haired, trigger happy shapeshifter, with enthusiasm and attitude to spare. Set in a medieval, futuristic mash-up universe, Nimona takes on the sidekick role to knight-turned-mad-scientist and by-the-books-supervillain (but all around nice guy) Lord Ballister Blackheart, who is constantly at odds with his arch-nemesis Sir Ambrosius Goldenloin of the (actually pretty evil) Institution of Law Enforcement and Heroics.
Besides her witty and charming humour (and Nimona's penchant for blowing things up without warning), the true genius in Stevenson's webcomic lies in the interaction between Nimona and Lord Blackheart, and the examination of the often grey, morally ambiguous areas between "good" and "evil." And I'm not the only one to notice; last year, Stevenson won Slate magazine's Cartoonist Studio Prize for Best Web Comic of the Year, and io9 named Nimona one of the Best New and Short Webcomics of 2012. Even more impressively, after interning at BOOM! Studios in LA, Stevenson was scooped up by a literary agent at Inkwell, and has just penned a deal with HarperCollins to publish Nimona as a two book YA graphic-novel series in 2015.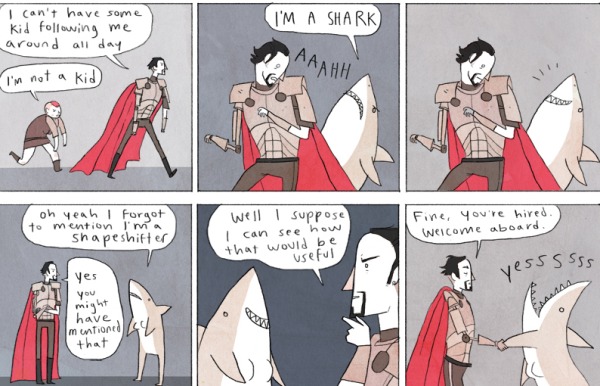 Though I love both The Broship of the Ring and Nimona, I have to admit that my favourite comics by Stevenson are actually her most random pop culture one-offs. No nerdy pop culture icon is safe from Stevenson's pen: The Avengers, Sherlock, LOTR, X-Men, The Hunger Games, Breaking Bad, Jeremy Renner, Adventure Time, Les Miserables, and even Doctor Who have all gotten the webcomic treatment over on Stevenson's Tumblr, Ginger Haze. Check out some of my personal favourites here, and then go and find your own!
You can find Stevenson on Twitter, and be sure to check her website and Tumblr for more hilarious posts and comics – and don't forget to check in on Nimona a couple of times a week, too!
Advertisement
---
---
Advertisement
---
FROM AROUND THE WEB
Advertisement